Anti-Base Campaigners Flock to World Heritage Jeju Island
JEJU ISLAND, South Korea, February 24, 2012 (ENS) – The South Korean Navy is building a military base on Jeju Island, a UNESCO World Heritage Site just 300 miles from the Chinese mainland. The base will become a port for U.S. Navy Aegis destroyers outfitted with the missile defense systems that are key to Pentagon planning for this strategic location, surrounded by China, North Korea, Russia and Japan.
But the 400-year old Gangjeong fishing and farming village on Jeju Island is being destroyed to build the base. The base site has the cleanest water on the island and the world's finest lava tube cave system. Endangered soft-coral reefs offshore will be destroyed when the seabed is dredged to get U.S. warships into the port.
Today, to demonstrate their opposition to the Gangjeong Naval Base, 150 peace groups from across Korea and around the world are gathering on Jeju. They are attending the 20th annual organizing conference of the nonprofit Global Network Against Weapons & Nuclear Power in Space, which is headquartered in Brunswick, Maine.
Each year the Global Network holds its conference in a different part of the world. The theme for this year's conference is "Jeju for Island of Peace."
The theme recalls that Jeju was dubbed the "Peace Island" by the Korean government in January 2005. The name commemorates the events that began in 1948 when Jeju residents rose up to protest what they viewed as a long-term division of the Korean nation by boycotting the unilateral election in Seoul.
They were labeled as Communists and suppressed by local police and national military forces which were allegedly backed by the U.S. government. Numerous villages were burned and civilians slaughtered, in a period that lasted the entire duration of the Korean war.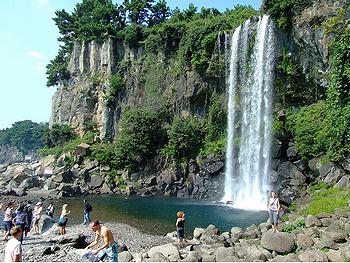 Visitors enjoy one of Jeju Island's many waterfalls (Photo by berlynietis)
Now there are plans to dock 20 ships equipped with advanced missile systems here. Aegis warships test their systems at the Pacific Missile Range Facility on the Hawaiian island of Kauai. To express their opposition to this testing, several Global Network leaders held a series of public meetings in Hawaii February 18-22 before heading to South Korea.
In 2007, the UNESCO World Heritage Committee inscribed the Jeju Volcanic Islands and Lava Tubes on the List of World Heritage as "a natural property of outstanding beauty which bears testimony to the history of our planet."
Jeju has become the only "triple crown" winner in UNESCO's nature and science field with designations of Biosphere Reserve in 2002, World Natural Heritage in 2007, and World Geopark in 2010. As one of the final contenders for the New7Wonders of Nature, Jeju has been recognized by the world for its outstanding value.
Jeju Governor Woo Keun Min has plans to make Jeju a center for eco-tourism, and he hopes to attract two million foreign tourists annually.
Visitors come to see Mount Halla, the highest in Korea, with its waterfalls, multi-shaped rock formations and lake-filled crater. They explore lava tube caves with multi-coloured carbonate formations of roofs and floors.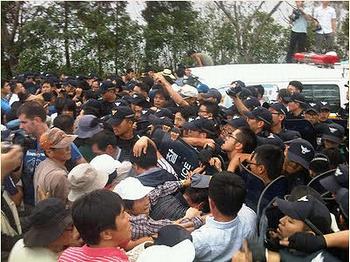 Police battle protesters at an anti-base demonstration, Jeju Island, August 24, 2011 (Photo courtesy No Base Stories of Korea)
But conservationists fear that the docks and naval base will cause irreversible environmental damage, as a result of leaked pollutants and construction projects. The Global Network points to the naval bases in Pearl Harbor, Hawaii and Okinawa, Japan that have "turned once pristine environments into ecological nightmares."
Global Network Coordinator Bruce Gagnon said, "When I, and other Global Network members, called the South Korean embassy in Washington, DC to express support for the Gangjeong villagers fighting to save their way of life, we were told, 'Don't call us. Call your own government. They are forcing us to build this base.'"
"It is clear that the current doubling of U.S. military operations in the Asia-Pacific region is going to have severe implications for people who live there and for world peace," said Gagnon.
"In a society traumatized and brutalized by military persecution, the idea of a military base on the island that will house 25,000 troops is difficult for Jeju's people to accept," writes Dr. Anne Hilty, a psychologist from New York, now living on Jeju Island.
In an article for the "Jeju Times" she wrote, "The central government has given 7.8 billion won in compensation to village residents and proposes to build an 'eco-friendly' naval base as well as a commercial port for tourism. But villagers remain far from satisfied, and protests continue."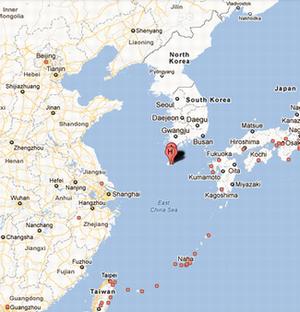 Jeju Island, marked with an H on a red dot, is surrounded by China, Japan and North Korea with Russia to the north. (Map courtesy Google Maps)
The Jeju protesters will get support this week from the peace activists from England, India, Japan, Sweden, Taiwan and the United States and from across South Korea who are participating in the Global Network conference.
Late last week, nine Catholic priests climbed over the fence and made their way onto the rocks by the sea in Gangjeong village to protest Navy base construction. They were all arrested.
Focus of discussions at the Global Network conference will be the Obama administration's "pivot" of U.S. foreign and military policy toward the Asia-Pacific region and its controversial "missile defense" deployments in the region.
Dave Webb, who chairs the Global Network and also serves as national chair of the Campaign for Nuclear Disarmament in the UK, says the threats to Jeju Island are not coming from some ancient enemy but from the South Korean government, "influenced and encouraged by the U.S. military."
"Like millions of people around the world they have found themselves on the front line of the struggle against empire, greed and militarism," said Webb. "It is so important that their courage and resistance is recognized and supported. We are meeting on Jeju Island in order to do just that."
This is Jeju's year in the environmental spotlight.
In September, the island will host the world's largest environmental event – the World Conservation Congress of the International Union for Conservation of Nature, IUCN – held only every four years. Over 15,000 environmental specialists, scientists, students, and locals are expected to attend the 10-day event.
Copyright Environment News Service (ENS) 2012. All rights reserved.