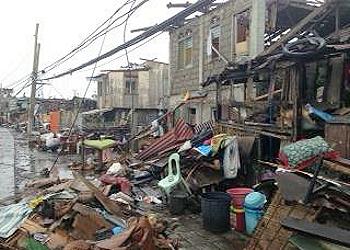 MANILA, Philippines, November 12, 2013 (ENS) – Another typhoon has struck the Philippines less than two days after Super Typhoon Yolanda, elsewhere called Haiyan, left the island nation with an estimated 10,000 people dead and nearly 10 million others affected.
Typhoon Zoraida is not as severe a storm as Yolanda/Haiyan. It made landfall at 4:00 am on Monday as a Tropical Depression over Davao Oriental, a province located on the southern island of Mindanao.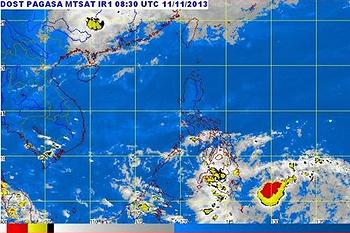 The Philippine Atmospheric, Geophysical and Astronomical Services Administration, PAGASA, reports that Zoraida is now moving northwestward across the islands of Bohol, Cebu, Negros and Panay. Some of these areas, particularly Cebu, are still struggling to cope with the devastation wrought by the weekend's super typhoon.
Zoraida has a maximum sustained winds of 55 kph (32 mph) near the center. It is forecast to move northwest at 30 kph and on Thursday morning is expected to be outside the Philippine archipelago, but not before it makes life even more miserable for survivors of Yolanda and the relief workers who are trying to help them.
Philippines President Benigno Aquino assured the country on Tuesday that government resources are in place to assist people along the path of Typhoon Zoraida.
At a press briefing today in the Malacanang Palace Presidential Spokesperson Edwin Lacierda brushed off the criticism that the government is prioritizing resources for the survivors of Typhoon Yolanda, neglecting other parts of the country.
Relief goods are prepositioned in Mindanao and troops are ready to assist people, Lacierda said. "Our DSWD [Department of Social Welfare and Development] personnel are also in place. They will stay put in Mindanao to anticipate the storm Zoraida," he said.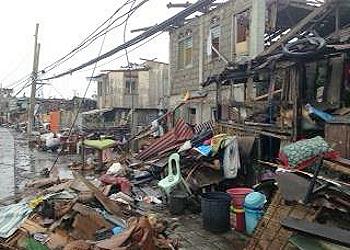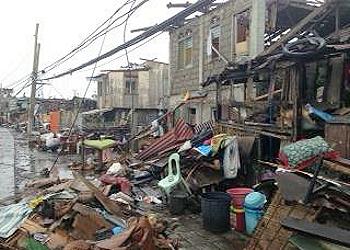 The Philippines is one of the most disaster-prone countries in the world. Zoraida is the 26th typhoon to strike the archipelago this year. Last month the Philippines were hit by a 7.2 magnitude earthquake, which destroyed the homes and livelihoods of some 350,000 people.
On November 8, Typhoon Yolanda/Haiyan made landfall in the central Philippines, triggering heavy rains that caused widespread flooding and landslides, particularly in East Samar and Leyte provinces.
As of Monday, Typhoon Yolanda/Haiyan had caused at least 1,774 confirmed deaths. An estimated 615,770 people have been displaced and an estimated 9.7 million people are affected. The storm damaged or destroyed some 23,200 houses, as well as public infrastructure and agricultural land, across 41 provinces, according to the National Disaster Risk Reduction and Management Council, NDRRMC.
However, local officials project that the typhoon killed an estimated 10,000 people in Leyte Province alone, where storm surges reached 13 feet and sustained winds surpassed 175 miles per hour.
President Aquino Monday called Typhoon Yolanda/Haiyan "one of the strongest typhoons in this country's history, if not the world's."
The President called on the international community for understanding. "As Yolanda battered the country, electricity and communications were lost in many areas," the President said. "For us to give the aid that is required, we need to know what is needed in each area; and we had difficulty obtaining this data."
"There were also a number of local governments that, because of the extent of the destruction, were paralyzed, because among those who fell victim to the storm were their own personnel and officials," said Aquino. "Just think: we returned to a situation where information had to be spread through word-of-mouth – no TVs, cellphones, or internet; stores and establishments were closed; it was difficult to organize relief efforts. This was the root cause of the chaos that erupted in some areas."
Foreign donors continue to offer support for ongoing Philippine relief operations, said the President's Office today.
At least 28 countries or states have pledged support for the ongoing relief efforts.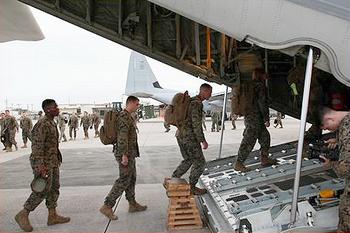 Lacierda told reporters that the donors include Australia, Belgium, Canada, China, Denmark, European Union, Finland, France, Germany, Hungary, Indonesia, Israel, Japan, Luxemburg, Malaysia, the Netherlands, New Zealand, Norway, Russia, Singapore, Spain, Sweden, Taiwan, Turkey, the United Arab Emirates, the United Kingdom, the United States, and Vietnam.
Many international organizations have also committed their assistance, Lacierda said, mentioning the United Nations Children's Fund (UNICEF), Doctors without Borders, Oxfam, and the United Nations Office for the Coordination of Humanitarian Affairs.
British Prime Minister David Cameron announced Monday night that his government is sending a cargo plane and the destroyer HMS Daring to assist the Philippine government.
United Nations and U.S. civilian disaster assessment teams are on the scene. U.S. Marines based in Japan worked to outfit hard-hit Tacloban City's shattered airport with lights, radar and other equipment so the facility can operate 24 hours a day to serve relief personnel.
The United Nations today appealed for nearly a third of a billion dollars to provide humanitarian assistance, such as food, clean water, shelter and basic medicines. UN Emergency Relief Coordinator Valerie Amos launched the $301 million flash appeal from Manila, the capital.
The Philippines government has sent 800 soldiers and policemen to Tacloban City to restore peace and order, controlling the looters who invaded many stores in a desperate search for food, fuel and water.
The devastation in Tacloban City has shocked aid workers and journalists. World Food Program Country Director Praveen Agrawal, who took part in an assessment mission on Saturday, said he met one man who was caught up in the sudden flood of seawater and rain which hit Tacloban but, incredibly, survived.
"He was caught by the first surge [of the storm] in his village that first flushed him inland and then, as the waters swung back out, he was dragged out to sea and brought back 12 kilometers away near the airport," said Agrawal.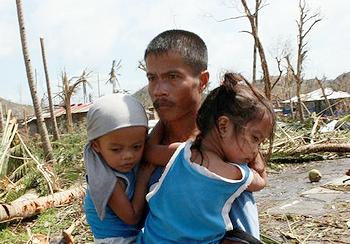 Now providing food, water, medicine and housing, clearing roads and restoring power are the government's top priorities, said President Aquino. "From our calamity funds, contingency funds, and savings, we have 18.7 billion pesos that can be used to rehabilitate areas that were devastated by this typhoon," he said.
The United States announced that the aircraft carrier USS George Washington, which was in Hong Kong, and three escort ships have been dispatched to the Philippines to assist in recovery efforts.
The U.S. Government is providing $20 million in immediate humanitarian assistance, including emergency shelter, food assistance, relief commodities, and water, sanitation, and hygiene support.
USAID's Office of U.S. Foreign Disaster Assistance activated a Disaster Assistance Response Team, which conducted humanitarian assessments in Ormoc, the second-largest city in heavily affected Leyte Province, and surrounding areas, reporting near-complete damage in some areas, particularly along the coast. In Ormoc city, the typhoon damaged or destroyed 80 to 90 percent of visible housing. Debris and downed power lines continue to block roads.
U.S. military aircraft are supporting assessment flights over affected areas to determine additional humanitarian needs and assisting the Armed Forces of the Philippines' search-and-rescue operations.
The UN World Food Program estimates that nearly 2.5 million people will require immediate food assistance in the aftermath of the typhoon and has mobilized an initial $2 million for the response. The World Food Program expects to focus first on the most vulnerable 500,000 people, providing high-energy biscuits for at least seven days to supplement food assistance provided by the Philippine government, before shifting to targeted distribution of rice, vegetable oil, and pulses once the supply of safe drinking water has been restored and families are able to access cooking facilities.
In China, seven people were killed and another four are missing as of 10 am Tuesday as Typhoon Haiyan blasts across southern China, according to official figures.
The National Disaster Reduction Commission announced that more than three million people in China's southern provinces of Hainan and Guangdong and Guangxi Zhuang Autonomous Region had been affected by the typhoon.
Copyright Environment News Service (ENS) 2013. All rights reserved.