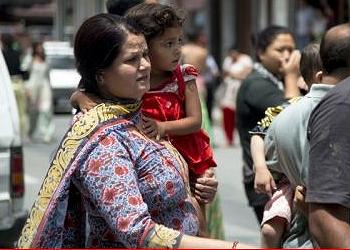 KATHMANDU, Nepal, May 12, 2015 (ENS) – People in Nepal's capital city of Kathmandu had just begun to pick up the pieces after the massive 7.8 magnitude earthquake that claimed more than 8,000 lives late last month, when another major quake today shook an area between Kathmandu and Mount Everest.
Geologists called it an aftershock, but today's quake, centered 76 km (47 miles) east and north of Kathmandu, was a 7.3 magnitude temblor, nearly as strong as the initial quake on April 25. It was felt from Tibet to Bangladesh.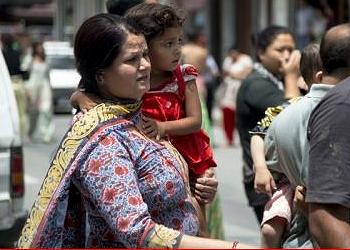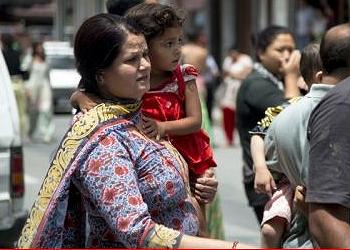 According to Home Ministry spokesman Laxmi Prasad Dhakal, 65 people were killed on Tuesday, while some 2,000 people were injured.
In the first two hours after Tuesday's event, six more aftershocks occurred in and near Kathmandu.
Parliament was in session on Tuesday afternoon when the shaking started, and lawmakers crowded out of the parliament building.
Frightened members of the public are again taking refuge in open spaces such as New Baneshwar square in front of the parliament building as more houses and other structures have collapsed following the repeated quakes.
The government had established temporary camps after the devastating earthquake on April 25. But as daily life gradually returned to normal the temporary camps were closed except for a few. These temporary camps have now been reopened.
Nepal Army, Nepal Police and Armed Police Force together with rescue teams from around the world have been deployed to search for survivors. But landslides have closed roads and obstructed humanitarian aid distribution in remote villages.
Initial reports gathered by the Nepal Red Cross Society from its district branches indicate that hundreds of homes have collapsed; many of these were already damaged by the April 25 earthquake.
Maude Froberg, spokesperson for the International Federation of Red Cross and Red Crescent Societies, was en route to the town of Tatopani close to the Tibetan border Tuesday when the shaking started. Her convoy was forced to turn back to Kathmandu after reports of landslides in the area.
"We were high up in the mountains. It was quite terrifying as there were about 10 aftershocks and we felt that there could be a landslide at any moment," Froberg said. "Over the course of the afternoon we saw a lot of vehicles heading out of Tatopani towards Kathmandu."
At a Canadian Red Cross field hospital high in the mountains in Dhunche the team witnessed a dramatic landslide when a nearby hillside collapsed into the valley below. Click here to see their video on YouTube.
"The combination of rains and aftershocks now makes our job even more challenging as the roads become highly perilous," explains Martin Faller, head of operations for the IFRC in Asia Pacific.
"Today's earthquake has dealt a double blow to many of the same people who were hit by the April 25 quake," said Faller. "More people will now be in need of emergency shelter but they will also need support dealing with the trauma they have experienced. People are very scared."
Geologically, Tuesday's quake occurred as the result of thrust faulting on or near the Main Himalayan Thrust – the interface between the underthrusting India plate and the overriding Eurasia plate to the north, according to the U.S. Geological Survey.
This boundary region of the India and Eurasia plates has a history of large and great earthquakes,
Before April 25, four events of magnitude six or larger had occurred within 250 km of this area over the past century.
A magnitude 6.9 earthquake in August 1988, 140 km to the south-southeast of the May 12 event, caused close to 1,500 fatalities.
The largest, a magnitude 8.0 event known as the 1934 Nepal-Bihar earthquake, ruptured a large section of the fault to the south of Tuesday's event and east of the April 2015 mainshock, in a similar location to the 1988 earthquake. It severely damaged Kathmandu, and is thought to have caused around 10,600 deaths.
Copyright Environment News Service (ENS) 2015. All rights reserved.
Environment News Service (ENS) © 2015 All Rights Reserved.