Another Deadly Quake Hits Eastern Turkey
ANKARA, Turkey, November 9, 2011 (ENS) – A magnitude 5.6 earthquake struck eastern Turkey Wednesday evening at 19:23 local time, rattling the same area already devastated by a stronger earthquake on October 23.
Tonight's quake near the provincial capital city of Van toppled a six-story hotel and caused 18 houses to collapse, trapping an unknown number of people inside. At least three people have died in the rubble.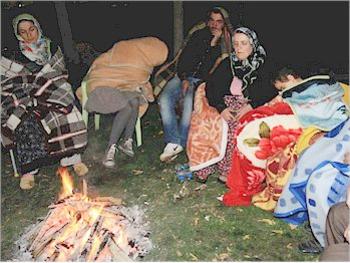 Earthquake survivors are camping outside for fear of aftershocks. (Photo courtesy EarthquakeReport.com)
Rescuers have pulled at least 11 people alive from the rubble, according to the Anatolian news agency. Many residents are spending the night outdoors for fear of more aftershocks.
The Turkish seismological agency Koeri reports the quake measured magnitude 5.6 at a shallow depth of five kilometers. Just seven minutes later, a 4.5 aftershock shook the same remote and mountainous area.
Footage on state-run TRT television Wednesday showed residents attempting to lift chunks of rubble to rescue survivors. More than 100 people are believed to be trapped beneath the remains of the hotel, another hotel and a school, which also collapsed.
The six-story hotel was being used by journalists and aid workers who were in Van dealing with the aftermath of the magnitude 7.2 earthquake on October 23 in which 604 people died and more than 4,152 others were injured.
The epicenter of Wednesday's quake is beside Van Lake in the small lake town of Edremit, 16 kilometers (nine miles) south of the city of Van.
Deputy Prime Minister Besir Atalay said rescue teams are on their way to the region from the capital, Ankara, and elsewhere.
The Turkish Red Crescent has sent 15,000 tents and some 300 rescue workers, TRT reported.
Copyright Environment News Service (ENS) 2011. All rights reserved.