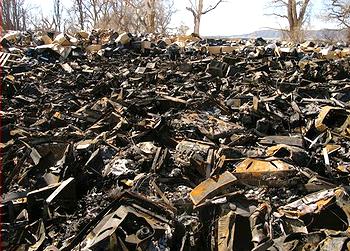 Utah Recycler Abandons Tons of Toxic e-Waste … U.S. Forces Smelly SO2 Emitters Into $50 Million Upgrades … PEER: 'Cattle Trample Sage-grouse Recovery' … Green Groups Sue to Save Walruses from Arctic Drilling … Conservation Partners Envision Recovery From BP Oil Spill … Anti-Nuclear Pioneer Honored by 14 Organizations
Utah Recycler Abandons Tons of Toxic e-Waste
SEATTLE, Washington, November 13, 2014 (ENS) – Stone Castle Recycling, one of Utah's largest electronic waste recyclers, has abandoned its three facilities. Law enforcement officials have arrested the owner, who went missing in an effort to avoid responsibility.
The company has ceased all operations and has left behind several warehouses and yards filled with an estimated 7,600 tons of toxic electronic wastes and charred residues.
Last week, U.S. Environmental Protection Agency representatives in Denver said Stone Castle owner and CEO Anthony Stoddard was on the run.
Stoddard was arrested November 6 in Iron County, Utah. A probable-cause affidavit states that he tried to sell and salvage parts from vehicles that did not belong to him, according to KSL-TV in Salt Lake City.
Stoddard is also the subject of a lawsuit, filed on behalf of his landlord in Clearfield. A complaint states that Stoddard owes more than $50,000 in monthly lease payments, KSL reports.
An EPA cleanup is tentatively planned for the Parowan site in mid-November. The Department of Environmental Quality continues to work with city governments in Clearfield and Cedar City to remove materials there.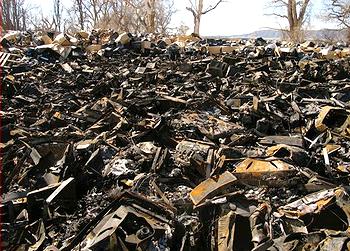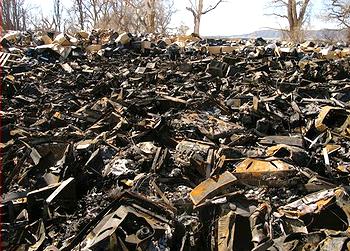 The abandonment follows fires at the three Stone Castle sites located in Clearfield, near Salt Lake City, Parowan in central Utah, and Cedar City, and a subsequent investigation and report by the Seattle-based Basel Action Network, BAN, released in March.
The report was followed by intensified enforcement actions from the Utah Department of Environmental Quality and the U.S. EPA seeking to ensure that the company paid for and conducted the cleanup and proper disposal or recycling of its piles of collected waste.
On March 2, the most dramatic fire occurred in Parowan where Stone Castle was illegally storing electronic and other waste in an open field, according to BAN Executive Director Jim Puckett.
The fire is believed to have released toxic heavy metals, dioxins, and polycyclic aromatic hydrocarbons in the smoke that now remain in the ash. The EPA estimates the cleanup cost in the hundreds of thousands of dollars.
"They left a toxic mess," said Puckett. "And much of it remains a risk to nearby residents and to the groundwater. It all needs to be cleaned up as soon as possible."
Puckett says the Parowan site was known to have contained discards from Deseret Industries, a retail thrift store chain owned and operated by the Church of Latter-day Saints, also known as Mormons. Under U.S. law, the former holders and generators of waste also bear responsibility for toxic waste dumpsites and may be forced to bear the cost of cleanup.
BAN has asked Eric Anderson, responsible for recycling operations of the Church of Latter-day Saints, to have the church take a leadership role in the cleanup. So far, says Puckett, the church has not indicated a willingness to do so.
The Stone Castle abandonment is part of what appears to be a growing nationwide "epidemic of TV/computer monitor accumulation and abandonment," says Puckett. "There are now many recently documented cases of the mismanagement of TV glass material by Luminous Recycling in Denver, Colorado, Dow Management in Yuma, Arizona, 2trg in Cincinnati, Ohio and Creative Recycling in Tampa, Florida," among others, he alleged.
Copyright Environment News Service (ENS) 2014. All rights reserved.
U.S. Forces Smelly SO2 Emitters Into $50 Million Upgrades
BATON ROUGE, Louisiana, November 13, 2014 (ENS) – Three subsidiaries of the world's largest fertilizer producer, the Potash Corporation of Saskatchewan, based in Canada, have agreed to reduce toxic air emissions at eight U.S. production plants.
The settlement with the U.S. government resolves claims that these PCS subsidiaries violated the Clean Air Act when they modified facilities in ways that released smelly and toxic sulfur dioxide into surrounding communities.
The settlement requires PCS Nitrogen Fertilizer, AA Sulfuric Inc., and White Springs Agricultural Chemicals Inc. to install, upgrade and operate state-of-the-art pollution reduction measures, as well as install emissions monitors at eight sulfuric acid plants across facilities in Geismar, Louisiana (one plant), White Springs, Florida (four plants), and Aurora, North Carolina (three plants).
The three companies will spend an estimated $50 million on these measures, and will pay a $1.3 million civil penalty.
"This agreement, the largest so far in our ongoing Clean Air Act enforcement efforts against sulfuric-acid producers, will ensure cleaner air for citizens across the Southeast and will send a strong signal to the industry that noncompliance has serious consequences," said Acting Assistant Attorney General Sam Hirsch for the Department of Justice's Environment and Natural Resources Division.
The EPA expects the actions that the companies have agreed to take will reduce harmful emissions by over 13,090 tons per year, which includes some 12,600 tons a year of sulfur dioxide, 430 tons a year of ammonia and 60 tons a year of nitrogen oxide.
Cynthia Giles, assistant administrator for EPA's Office of Enforcement and Compliance Assurance, said, "This case will bring these companies into compliance and require additional action to cut pollution to benefit communities, especially those most vulnerable to air pollution."
In the future, the companies can also retire plants to comply with the settlement.
The settlement also includes a "supplemental environmental project," estimated to cost between $2.5 and $4 million, to protect the community around a PCS Nitrogen nitric acid plant in Geismar, Louisiana, and requires PCS Nitrogen to install and operate equipment to reduce emissions of nitrogen oxide and ammonia.
The settlement also resolves alleged violations based on Louisiana law at the Geismar, Louisiana, facility, and the Louisiana Department of Environmental Quality will receive $350,000 of the $1.3 million penalty.
This project is part of EPA's commitment to advancing environmental justice by reducing the disproportionate environmental impacts on communities near industrial facilities, in this instance, by reducing fine particulates that can aggravate respiratory disease.
Sulfur dioxide, the predominant pollutant emitted from sulfuric acid plants, is a contributor to acid rain, smog and haze. Sulfur dioxide and another pollutant emitted by these plants, nitrogen oxide, are converted in the air to particulate matter that can cause severe respiratory and cardiovascular impacts and premature death.
Copyright Environment News Service (ENS) 2014. All rights reserved.
PEER: 'Cattle Trample Sage-grouse Recovery'
WASHINGTON, DC, November 13, 2014 (ENS) – Commercial livestock grazing across the West is the biggest threat to the imperiled Greater sage-grouse, according to comments filed Monday by the national nonprofit Public Employees for Environmental Responsibility (PEER), which represents employees of natural resource agencies.
The Greater sage-grouse, a ground-dwelling bird dependent on large tracts of sagebrush, grasses and forbs, has declined across its range due to habitat loss and degradation from livestock grazing, development, mining, agriculture, and oil and gas exploration.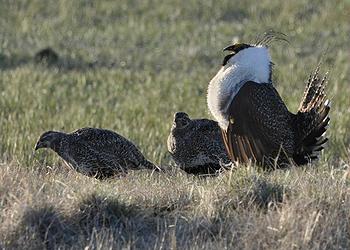 PEER submitted comments to the U.S. Fish and Wildlife Service, which is deciding whether to list the bird for federal protection under the Endangered Species Act. Through December 31, the Service is seeking data on Greater Sage-grouse status and on efforts to conserve the species and improve its habitat to avoid the need for listing.
Drought across the West has increased rancorous competition between cattle and wild animals for forage. In Battle Mountain, Nevada, for instance, the only BLM manager who reduced grazing on drought-stricken tracts became the target of a rancher campaign for his removal.
In July, Battle Mountain District Manager Douglas Furtado ordered livestock removed from parched range on a 332,000-acre allotment in northern Nevada after conditions fell below thresholds that ranchers and BLM had previously agreed would trigger removal.
Protesting ranchers demanded Furtado's removal as an "abusive federal employee" even as conservation groups urged that he be commended.
PEER's comments are based on information displayed on the group's new grazing website. The site offers an interactive map combining range health data from the U.S. Bureau of Land Management with high resolution satellite imagery for comparison of BLM data with ground conditions visible from space.
"We hope this website will serve both as a tool for scientists, activists, and citizens, and a model for how the agency might steward its data and supplement time-consuming field monitoring with a 'sky-truthing' approach," said Kirsten Stade, PEER's advocacy director. "The sage-grouse does not have much time, and our approach is critically needed to complement ongoing field efforts if we are to restore rangeland health in the face of ongoing habitat fragmentation and climate change."
The results of BLM's land health status evaluations of 20,000 BLM grazing allotments across the West, which PEER obtained through the Freedom of Information Act, are also on the site.
PEER's analysis shows that at least 73 percent of priority grouse habitat is located within more than 9,000 BLM grazing allotments in Montana, Wyoming, Colorado, Idaho, Utah, Nevada, Oregon, and California.
More than 15 million acres of priority sage-grouse habitat are in allotments failing to meet standards due to livestock grazing impacts. Ninety percent of this habitat is failing due to current, not historic, grazing practices.
Another 15 million acres, or 28 percent, lies within allotments that still remain to be evaluated by BLM, although the agency began conducting evaluations in the late 1990s.
"The sage grouse faces an uphill battle until the BLM accurately documents and drastically curtails livestock overgrazing in its habitat," said Stade. "The agency's own data reveal that to date its efforts have been inadequate."
Copyright Environment News Service (ENS) 2014. All rights reserved.
Green Groups Sue to Save Walruses from Arctic Drilling
ANCHORAGE, Alaska, November 13, 2014 (ENS) – A coalition of conservation organizations is suing the U.S. Fish and Wildlife Service, challenging a rule that permits oil companies to harm Pacific walruses during Arctic Ocean oil drilling.
The Service adopted the regulation, which allows for "the incidental take of walruses in connection with oil and gas activities," even though the agency acknowledged that walruses could be affected adversely in large numbers in crucial habitat areas.
Shell Oil intends to drill under this government rule as early as next year. The company was investigated and fined after multiple missteps and close calls during its efforts to drill in the Arctic Ocean in 2012.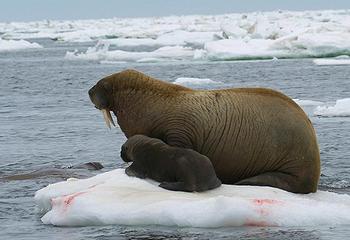 The rule is being challenged in court by the public interest environmental law firm Earthjustice on behalf of Alaska Wilderness League, Center for Biological Diversity, Greenpeace, Resisting Environmental Destruction on Indigenous Lands, Sierra Club and by the Natural Resources Defense Council.
Arctic Ocean sea ice is rapidly melting due to climate change, endangering Chukchi Sea walruses that depend on the ice for resting, raising their young, feeding, and avoiding predators.
As the ice melts, the walruses have been forced ashore. As few weeks ago, 35,000 walruses crowded together on the Alaskan Arctic coast.
Walruses are vulnerable to stampedes and trampling when forced to use coastal resting areas. They must swim 100 miles from coastal haulout areas to the Chukchi Sea feeding grounds where they find the clams and other bottom species they need to survive.
The groups argue that oil operations have the potential to chase walruses away from food-rich foraging areas, trigger stampedes, and harm the animals with deafeningly loud seismic blasts. Drilling risks catastrophic oil spills that could not be cleaned up in Arctic conditions.
The September minimum sea-ice extent reached a new record low in 2012, encompassing only about half the area it covered on average from 1981-2010.
In 2014, the sea ice shrank to 5.02 million square kilometers (1.94 million square miles), the sixth-lowest extent in the satellite record.
"The Fish and Wildlife Service needs to do a much better job of protecting walrus mothers and calves struggling to survive in the dramatically changing Chukchi Sea," said Earthjustice Attorney Erik Grafe.
"The last thing Arctic walruses need is dirty drilling in the middle of their most important habitat. It's time for oil companies to stop sticking their drills where they don't belong, and it's up to the U.S. Fish and Wildlife Service to lay down the law," said Rebecca Noblin of the Center for Biological Diversity.
"Shell is putting the Arctic walrus in double jeopardy," said Greenpeace Arctic Campaign Specialist John Deans. "Their world is melting because of oil companies' greedy thirst for more fossil fuels, and now their home will could be under imminent threat from a Shell spill. The Obama administration needs to put sane regulations in place that protect this sensitive species."
Shell has proposed to operate two drilling rigs in the Chukchi Sea, which could produce more than 400,000 barrels of oil a day.
Copyright Environment News Service (ENS) 2014. All rights reserved.
Conservation Partners Envision Recovery From BP Oil Spill
WASHINGTON, DC, November 13, 2014 (ENS) – In response to the Deepwater Horizon disaster and decades of slow ecosystem decline, a new report outlines a host of voluntary conservation opportunities in and around the Gulf of Mexico.
Issued by the Partnership for Gulf Coast Land Conservation, a program of the Land Trust Alliance, the report identifies priority focus areas for land conservation and economic revival.
The report, "A Land Conservation Vision for the Gulf of Mexico Region," presents regional and state maps showing priority locations for conservation and restoration activities. It is intended as a resource for state and federal policymakers, and for members of the Partnership for Gulf Coast Land Conservation, a coalition of 30 local, regional, state and national land conservation groups.
"Our shared vision to conserve the coastal region's valuable natural areas will guide voluntary conservation actions in Alabama, Florida, Louisiana, Mississippi and Texas for years to come," said Rand Wentworth, Land Trust Alliance president.
"As we work together to conserve and revive a region that is losing up to $22.7 billion in tourism revenue and $8.7 billion in commercial fishing activity from the Deepwater Horizon spill, we will collaborate with private landowners and local stakeholders to protect habitats, natural resources and economic opportunities," said Wentworth.
Following the three-month long oil spill that began in April 2010 with the explosion and fire that sank the Deepwater Horizon oil rig leased by BP off the Louisiana coast, the Alliance in 2010 organized a partnership uniting all major private, nonprofit organizations working to protect and restore lands across the five-state coastal region.
The Conservation Fund provided strategic conservation planning, training and guidance to member organizations, and The Nature Conservancy compiled the key maps featured in the report.
Bob Stokes, chairman of the Partnership's executive committee and president of the Galveston Bay Foundation in Texas, said the region's many land conservation groups are now collaborating in unprecedented ways.
"Land trusts across the Gulf Coast rarely had a chance to work closely together prior to the Deepwater Horizon spill," he said. "The Partnership serves as a powerful, unified voice about the need for land conservation in light of the damage from the spill and historic damage to the Gulf's natural resources. We've come together with our Conservation Vision and we will continue to work together to ensure it is implemented."
Visit www.gulfpartnership.org for more information and resources.
Copyright Environment News Service (ENS) 2014. All rights reserved.
Anti-Nuclear Pioneer Honored by 14 Organizations
WASHINGTON, DC, November 13, 2014 (ENS) – Michael Mariotte, the president of the Nuclear Information and Resource Service (NIRS), was honored Monday by more than a dozen environmental organizations in recognition of his three decades of work to educate the public and lawmakers about the dangers of nuclear power.
The Lifetime Achievement Award honoring Mariotte was bestowed by Environment America, Friends of the Earth, Greenpeace, Physicians for Social Responsibility, Public Citizen, Sierra Club, the Alliance for Nuclear Accountability, Beyond Nuclear, Center for Study of Responsive Law, The Guacamole Fund, the Independent Council for Safe Energy Fund, the Institute for Energy and Environmental Research, the World Information Service on Energy, and NIRS.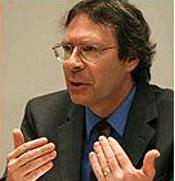 The award was presented to Mariotte by consumer advocate Ralph Nader at the Carnegie Institute for Science.
Among his many achievements over 30 years, Mariotte led the successful fight to block the Calvert Cliffs-3 reactor project in Maryland.
In the 1990s, he initiated a program to support fledgling anti-nuclear groups across Eastern Europe and the former Soviet Union with tens of thousands of dollars in grants and visits by U.S. energy experts to Ukraine, Czech Republic, Bulgaria and Hungary.
Drawing upon public awareness of the 1986 Chernobyl reactor disaster, Mariotte played a major role in the fight to defeat federal "Mobile Chernobyl" legislation that would have permitted the mass transportation nationwide of irradiated fuel/nuclear waste, with the outcome hinging on a one-vote margin of victory in the U.S. Senate in 2000.
Mariotte influenced an entire generation of anti-nuclear activists by bringing the idea of "anti-nuclear action camps" from Europe to the U.S. and helped organize six of them – three in New England and three in the Midwest. The Vermont Yankee reactor shutdown announcement came 15 years to the day after the arrests of members of the first New England action camp.
Mariotte, 61, who is being treated for pancreatic cancer, remains active in opposing the expansion of nuclear power.
A former journalist, Mariotte joined NIRS in February 1985, became executive director in October 1986, and was named its president on January 1, 2014. Mariotte currently runs the NIRS website, NIRS' GreenWorld blog, and the NIRS social media outreach programs.
Copyright Environment News Service (ENS) 2014. All rights reserved.