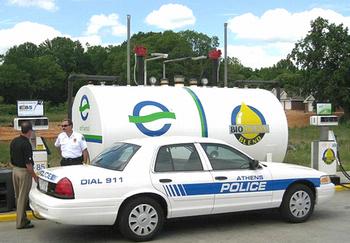 Appeals Court Upholds 2013 Renewable Fuel Standard … Safety Board Urges Tougher Refinery Rules After Tesoro Deaths … New York Assembly Passes First U.S. Ban on Plastic Microbeads … New York Governor Commits $1 Billion to Solar Power … Malibu Teachers Protest School PCB Cleanup Plan … American Bird Conservancy to Sue Over 30-Year Eagle Kill Rule
Appeals Court Upholds 2013 Renewable Fuel Standard
WASHINGTON, DC, May 6, 2014 (ENS) – The U.S. Court of Appeals for the District of Columbia has denied a petroleum industry challenge to the 2013 Renewable Fuel Standard requirements.
The case was brought by a small oil refiner, Monroe Energy LLC, based in Trainer, Pennsylvania. Monroe Energy refines and distributes crude oil through a 51 mile-long pipeline, operating as a subsidiary of Delta Air Lines Inc. Delta purchased the 185,000-barrel-per-day refinery in 2012.
In its ruling, the court rejected Monroe's arguments that the 2013 standards were invalid because the U.S. Environmental Protection Agency was late in finalizing the volumes, and that the EPA should have reduced overall and Advanced Biofuel volume requirements when it reduced cellulosic ethanol volumes last year.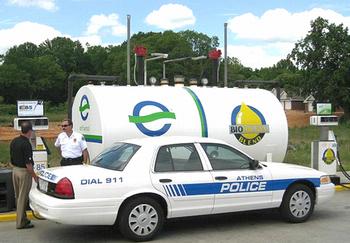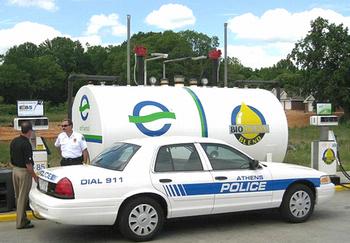 The EPA reduced the 2013 cellulosic biofuel requirements because production of this fuel from agricultural and forest waste has been slow to start and has not yet reached the legislated volume.
The case is part of a larger battle over the 2005 Renewable Fuel Standard that requires U.S. refiners to incorporate an annually increasing amount of biofuels into the U.S. diesel and gasoline supply, up to 36 billion gallons by 2022.
The Renewable Fuel Standard requires refiners and importers to acquire transferrable credits known as renewable identification numbers, or RINs, to prove they have complied with the standard. But only companies that blend their own fuels can generate those credits, and Monroe Energy does not have the equipment to do this blending.
Monroe argued before the court that it is unfairly forced to buy all the RINs it needs to comply with the standard, so the company is subject to penalties due to conditions beyond its control.
"The RIN program perversely penalizes independent refiners for market conditions that they are powerless to change," Monroe contended.
Monroe Energy's legal challenge was combined with lawsuits brought by the American Petroleum Institute, and American Fuel & Petrochemical Manufacturers.
The two oil industry trade groups argued that the EPA's 2013 renewable fuel quotas were based on improper fuel demand projections and that targets for cellulosic biofuel were "unrealistically high."
The National Biodiesel Board, the biodiesel industry trade association, intervened in the case to defend enforcement of the statutory Renewable Fuel Standard volumes, particularly in the Advanced Biofuel category.
When the ruling was issued today, Anne Steckel, vice president of federal affairs for the National Biodiesel Board, said, "The court's decision today is only the latest in a long series of cases in which the courts have found that the Renewable Fuel Standard is a fair and reasonable program for achieving our national energy objectives, including promoting more Advanced Biofuel such as biodiesel."
"The Renewable Fuel Standard is working, and we strongly encourage the petroleum industry to get on board," she said. "There is plenty of room for fossil fuels and renewable fuels in the United States, and consumers will be better off with a choice."
Biodiesel is made from soybean oil, recycled cooking oil and animal fats. With plants across the country, it is the first and only EPA-designated Advanced Biofuel produced on a commercial scale nationwide. The industry reached record production last year of nearly 1.8 billion gallons, supporting more than 62,200 jobs.
The EPA is still completing its renewable fuel targets for 2014. In November 2013, the agency proposed requiring refiners to use 15.2 billion gallons of renewable fuels in 2014, about three billion gallons below the amount mandated in federal statutes.
Copyright Environment News Service (ENS) 2014. All rights reserved.
Safety Board Urges Tougher Refinery Rules After Tesoro Deaths
ANACORTES, Washington, May 6, 2014 (ENS) – The U.S. Chemical Safety Board has unanimously recommended "sweeping changes" to the way refineries are regulated at both federal and state levels.
The recommendations stem from an investigation into the deadly heat exchanger explosion and fire at the Tesoro refinery in Anacortes on April 2, 2010.
An explosion and fire killed seven employees when a nearly 40-year-old heat exchanger failed during a maintenance operation to switch a process stream between two parallel banks of exchangers.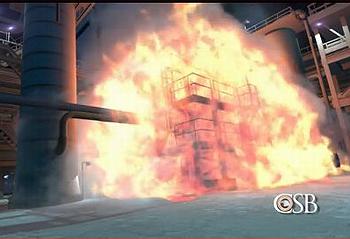 In a public meeting in Anacortes on April 30, CSB Chairman Rafael Moure-Eraso said, "We found a causal factor of the tragedy to be long-term, undetected High Temperature Hydrogen Attack, HTHA, of the steel equipment, which led to the vessel rupture on the day of the accident and the massive release of highly flammable hydrogen and naphtha."
"We found the industry's standard for determining vulnerability of equipment to HTHA, to be inadequate," he said. "We also found Tesoro's safety culture to be lacking, which led to a complacent attitude toward flammable leaks and occasional fires over the years."
Moure-Eraso said, "We are calling on the Environmental Protection Agency to revise rules in its Chemical Accident Prevention Provisions to require the use of inherently safer systems analysis and what are called the "hierarchy of controls" to the greatest extent feasible when facilities are establishing safeguards for identified process hazards."
The Chemical Safety Board recommends that the EPA require facilities to perform inherently safer systems analysis for all management of change, incident investigation, and process hazard analysis reviews and internal company safety recommendations, before the construction of a new process, process unit rebuilds, significant process repairs, and in the development of corrective actions.
"Workers and the public might be surprised to know that this is not currently a requirement in the chemical industry," said Moure-Eraso.
While this recommendation is "groundbreaking for a federal agency," he said, "the application of inherent safety is broadly accepted and has been applied in industry good practice guidelines for many years."
The CSB recommended these changes to Tesoro and to the American Petroleum Institute, the industry group which issues guidance on High Temperature Hydrogen Attacks. The board made similar wide-ranging reform recommendations to the governor and legislature of the State of Washington and the state's chemical industry regulator, the Department of Labor and Industries – Division of Occupational Safety and Health
The Chemical Safety Board is a federal agency charged with investigating industrial chemical accidents. Board members are appointed by the President and confirmed by the Senate.
In the current regulatory framework, companies may identify a hazard such as a High Temperature Hydrogen Attack, but they are not required to install materials that are resistant to such attacks.
Moure-Eraso said, "We call on EPA to work with industry on this important reform, which will without doubt be instrumental in preventing catastrophic accidents." Until the EPA can changethe regulations, the board recommends the agency use its authority under the Clean Air Act's General Duty Clause "without delay."
"To the loved ones, friends and colleagues of the seven who perished from this terrible accident, and to other workers and communities elsewhere who endure chemical plant fires, explosions and releases," Moure-Eraso said, "we dedicate the Tesoro investigation report now unanimously approved by our board."
Copyright Environment News Service (ENS) 2014. All rights reserved.
New York Assembly Passes First U.S. Ban on Plastic Microbeads
ALBANY, New York, May 6, 2014 (ENS) – The New York State Assembly Monday unanimously passed first-in-the-nation legislation banning the sale of beauty and cosmetic products that contain tiny plastic particles, often marketed as microbeads.
The plastic beads, which were recently discovered in high levels in the New York waters of Lake Erie, may persist in the environment for centuries and accumulate toxic chemicals on their surface, threatening fish, wildlife and public health.
New York Attorney General Eric Schneiderman crafted the Microbead-Free Waters Act with Assembly Environmental Conservation Committee Chair Robert Sweeney.
He praised the State Assembly for passing the bill, saying, "By passing the Microbead-Free Waters Act, the Assembly has taken an important step toward protecting and restoring New York's waterways, from the Great Lakes to the Hudson River to Long Island Sound."
Microbeads are found in more than 100 products, including facial scrubs, soaps, shampoo and toothpaste, where they replace ground walnut shells, sea salt, and other natural materials used as an abrasives.
When products containing microbeads are used in the home, the beads are rinsed down the drain and into our sewer systems. Because of their small size and buoyancy, microbeads escape treatment by sewage plants and are discharged into rivers, lakes and oceans.
Once in the water, microbeads, like other plastics, attract and accumulate toxic chemicals commonly found in waters across the state, and can be mistaken as food by small fish and wildlife.
The Microbead-Free Waters Act would prohibit the distribution and sale in New York of any beauty product, cosmetic or other personal care product containing plastic particles less than five millimeters in size.
Sweeney said, "Today, we've taken an important step toward ridding our oceans, lakes and waterways of microbeads. People are unwilling to sacrifice water quality just to continue to use products with plastic microbeads. I never met anyone who has wanted plastic on their face or in their fish."
In 2012, a team of researchers including scientists from the State University of New York at Fredonia discovered high levels of microbeads in the Great Lakes. The highest concentrations were recorded in the New York waters of Lake Erie.
Half of all plastics collected on the surface of Lake Erie were spherical, multi-colored beads identical to the microbeads used in beauty products. The other half was larger plastic litter that had broken down in the environment, such as detergent bottles and Styrofoam.
SUNY Fredonia researchers performing food web surveys found plastic in the gastrointestinal tracts of perch.
They found that polychlorinated biphenyls, PCBs, gravitate and attach to the surface of plastic microbeads. When small fish eat these contaminated plastics, the chemicals are passed on to the larger fish that eat them and to people, birds and other wildlife.
Dr. Marcus Eriksen of the 5 Gyres Institute was lead author on the paper reporting the first open-water survey of the Great Lakes for plastic pollution.
"We found more small plastic pieces in the Great Lakes than in many of the ocean garbage patches, and the majority were microbeads," he said. "The 5 Gyres Institute commends New York Attorney General Eric Schneiderman for his global leadership in responding quickly to this emerging source of plastic pollution, and we thank the New York State Assembly for acting quickly and passing the Microbead-Free Waters Act."
Sierra Club Atlantic Chapter Conservation Director Roger Downs said, "Plastic pollution is insidious. It doesn't degrade like natural materials and persists for decades, if not centuries in our environment."
"New York Attorney General Eric Schneiderman has set the bar on holding the beauty products industry accountable," said Downs, "and we urge other states around Great Lakes basin, and across the country to follow New York's leadership and pass similar legislation."
Copyright Environment News Service (ENS) 2014. All rights reserved.
New York Governor Commits $1 Billion to Solar Power
ALBANY, New York, May 6, 2014 (ENS) – New York Governor Andrew Cuomo has announced a nearly $1 billion commitment to NY-Sun, to expand deployment of solar power and transform New York's solar industry to a sustainable, subsidy-free sector.
Cuomo announced the NY-Sun Initiative in 2012. The public-private partnership provides long-term funding certainty that will boost existing businesses and attract new investments to New York from global solar companies for greater economic growth.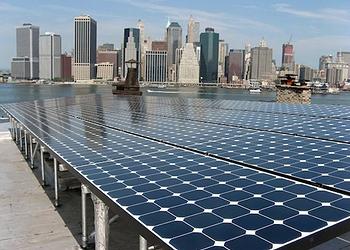 NY-Sun is part of the governor's commitment to protect the environment and lower energy costs for all New Yorkers by improving the efficiency and reliability of the electric grid.
"This $1 billion investment underscores New York's commitment to growing the clean energy economy," Governor Cuomo said. "By providing long-term funding certainty, the state is attracting private sector investment, creating new economic opportunities and supporting sustainable development."
"NY-Sun can work to provide innovative solutions, create a more resilient and flexible power grid, lower the state's carbon footprint and promote a cleaner and healthier environment for all New Yorkers."
"The NY-Sun Initiative coupled with our determination to modernize the utility industry moves New York to a market-based, decentralized approach in advancing energy policy," said Richard Kauffman, chairman of Energy and Finance for New York.
New York now has more than 400 solar companies operating across the State from Long Island to Buffalo. Combined, this market employs more than 5,000 highly skilled jobs and continues to grow.
To accompany the NY-Sun Initiative, the New York Public Service Commission has approved an order to transition from government-sponsored energy programs to market-based sustainable programs for the solar industry.
"The Commission recognizes the substantial opportunities that solar power offers residential and commercial customers to reduce electricity bills and improve the environment," said Public Service Commission Chair Audrey Zibelman. "NY-Sun is a key building block in the State's efforts to build a vibrant, clean energy economy in New York State."
New York State Solar Energy Industries Association President Shaun Chapman said, "Governor Andrew Cuomo's NY-Sun program has created the greatest market opportunity for solar anywhere in the United States without exception. NYSEIA and its more than 100 member companies stand ready to provide private capital, good jobs, and clean energy to all New Yorkers."
To drive market penetration on a large-scale basis, the Public Service Commission order provides long-term, stable funding over a 10-year period to support photovoltaic  projects throughout the state.
The new funding commitment also provides $3.5 million for a consumer education effort on the benefits of solar photovoltaic systems; to improve the public's understanding about the various PV contract types, such as direct ownership, leases and power purchase agreements; and other opportunities, such as community solar and energy storage.
Copyright Environment News Service (ENS) 2014. All rights reserved.
Malibu Teachers Protest School PCB Cleanup Plan
MALIBU, California, May 6, 2014 (ENS) – Teachers working in contaminated Malibu public school buildings are protesting the school district's initial cleanup plan as both illegal and unsafe, according to a letter filed with California and federal officials Monday by Public Employees for Environmental Responsibility, PEER, on behalf of 29 staff from the Malibu Middle and High Schools and Juan Cabrillo Elementary School.
Preliminary testing at Malibu High School has uncovered toxic chemicals at levels that exceed regulatory limits, according to a statement released in November by the Santa Monica-Malibu Unified School District.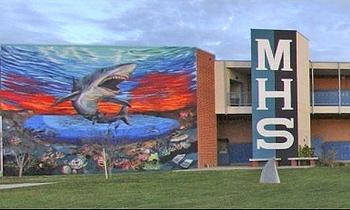 High levels of polychlorinated biphenyls, PCBs, were found on the Malibu High School-Middle School campus years earlier, but teachers, students and parents were not notified, some Malibu residents allege.
PCBs are toxic persistent pollutants banned in the United States since 1979. They are classified as probable human carcinogens and linked to immune, reproductive, nervous, and endocrine system damage.
Six Malibu teachers have been recently diagnosed with various cancers and at least 10 teachers have been diagnosed with thyroid disease, rates of incidence far higher than those in the general population.
The latest controversy concerns the proposed remediation plan by Environ International, a San Francisco-based consultant hired by the Santa Monica-Malibu Unified School District.
PEER and the teachers complain that Environ International plans to address only one aspect of contamination on the campuses although their plan is entitled "Comprehensive PCB-Related Building Materials Inspection, Management and Removal."
The federal Toxic Substances Control Act requires PCBs to be removed from schools when found in concentrations of 50 parts per million or higher.
Yet the Environ plan calls for leaving PCBs in classrooms and other school buildings even above the 50 ppm federal limit until the rooms are either demolished or renovated at some uncertain time in the future.
In the meantime, the plan calls for Best Management Practices, which PEER says "are indistinguishable from ordinary cleaning."
Environ's plan does not call for testing of soil on the campuses, despite PCBs of unknown origin uncovered in the limited area of campus soil previously tested before planned construction.
The plan does not include testing for materials identified as potentially containing PCBs to determine if they actually contain PCBs and in what concentrations.
The Environ plan would ignore potential PCB-containing materials at Juan Cabrillo Elementary School, the teachers warn.
Even where PCBs were exposed to the air due to broken or deteriorating caulk, the Environ plan would not necessarily remove the PCBs. Instead, Environ proposes to "manage in place" by making undefined "repairs" or encapsulations.
"It is simply unacceptable that the teachers and students of these schools will remain continuously exposed to PCB-containing materials," said PEER attorney Paula Dinerstein, who sent the letter on behalf of teachers urging that the U.S. Environmental Protection Agency reject the Environ plan.
The concerns raised by teachers are echoed by parents and residents. On May 7, the district board has scheduled a "listening session" to hear their concerns.
The presence of toxic contaminants on the Malibu campuses became known in 2010, when more than 1,000 tons of soil containing chlordane and DDT at unacceptable health levels as well as other toxic chemicals – lead, arsenic, cadmium, benzene and toluene – were removed from one small area of the high school-middle school campus.
The next installment of the plan concerning soil testing and remediation is scheduled to be unveiled in late June when PEER says it will be harder for teachers and parents to review.
Dinerstein said, "The district has been going through the motions of community involvement while managing to turn a deaf ear to repeated clear demands for comprehensive testing and complete toxic remediation of these schools."
Copyright Environment News Service (ENS) 2014. All rights reserved.
American Bird Conservancy to Sue Over 30-Year Eagle Kill Rule
WASHINGTON, DC, May 6, 2014 (ENS) – The American Bird Conservancy has notified the Department of the Interior of its intention to sue the agency over its December 9, 2013, final regulation that allows wind energy companies and others to obtain 30-year permits to kill eagles without prosecution by the federal government.
The previous rule provided for a maximum duration of five years for each permit.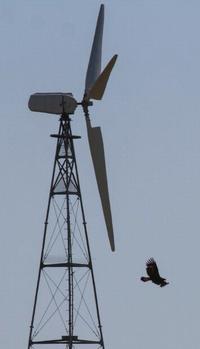 The Conservancy claims the the DOI and the U.S. Fish and Wildlife Service violated the National Environmental Policy Act, the Endangered Species Act, and the Bald and Golden Eagle Protection Act in connection with the new eagle kill rule.
"ABC has heard from thousands of citizens from across the country who are outraged that the U.S. Fish and Wildlife Service wants to let the wind industry legally kill our country's iconic Bald and Golden eagles," said Michael Hutchins, national coordinator of ABC's Bird Smart Wind Energy Campaign.
"The rule lacks a firm foundation in scientific justification and was generated without the benefit of a full assessment of its impacts on eagle populations," Hutchins said.
American Bird Conservancy is initiating this legal action in order to have the rule invalidated pending full compliance with federal environmental statutes.
For example, the 30-year eagle permit rule was adopted in the absence of any NEPA document or any ESA consultation regarding impacts. It is therefore a "… glaring example of an agency action that gambles recklessly with the fate of the nation's Bald and Golden eagle populations," the letter says.
"Bald Eagle populations may be technically recovered, but their popularity and symbolic importance to our nation suggests that the American people are not going to tolerate the deaths of many," said Hutchins. "Golden Eagles are another matter. Much more needs to be known about their status before the U.S. Fish and Wildlife Service can safely decide how many wind energy companies can kill with no net loss to the population."
As the April 30 notice to DOI states, "ABC strongly supports wind power and other renewable energy projects when those projects are located in an appropriate, wildlife-friendly manner and when the impacts on birds and other wildlife have been conscientiously considered and addressed before irreversible actions are undertaken."
"On the other hand, when decisions regarding … projects are made precipitously and without compliance with elementary legal safeguards designed to ensure that our nation's invaluable trust resources are not placed at risk, ABC will take appropriate action to safeguard eagles and other migratory birds," the notice states.
In 2009, 22,000 wind turbines were in operation across the United States, representing 25 gigawatts of installed capacity, a fraction of the 300 GW of production capacity needed to meet the 2030 federal goal of 20 percent of U.S. electrical generation coming from renewable energy.
Wind energy project growth is expected to impact almost 20,000 square miles of terrestrial habitat – an area larger than the combined areas of New Jersey, Connecticut, Delaware, and Rhode Island – and over 4,000 square miles of marine habitat by 2030, warns the Conservancy, some of this critical to threatened species.
Copyright Environment News Service (ENS) 2014. All rights reserved.