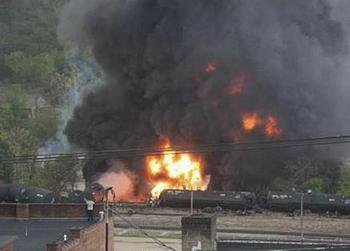 Emergency Order Targets Bakken Crude Oil Rail Shipments … Solar Panels Installed on White House Roof … Sea Shepherd ''Operation Reef Defense' Diver Attacked … Greenpeace USA: Nearly 100% Renewable Energy Is Possible … Chevron Pipe Line Fined for Utah Oil Spills … 9/11 Attacks 'Act of War,' Building Owner Denied Cleanup Costs … Court Protects World's Only Wild Red Wolves
DOT Emergency Order Targets Bakken Crude Oil Rail Shipments
WASHINGTON, DC, May 14, 2014 (ENS) – Considering a series of oil train explosions and fires in the past six months, the U.S. Department of Transportation, DOT, today issued an Emergency Order requiring all railroads operating trains carrying large amounts of Bakken crude oil to notify State Emergency Response Commissions about the operation of these trains through their states.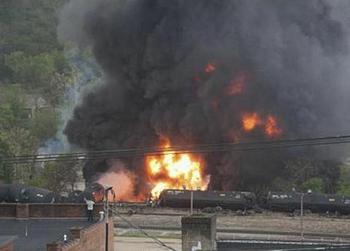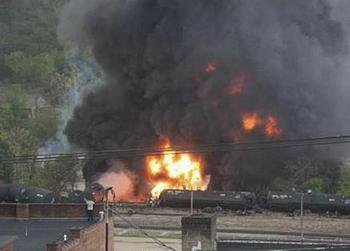 Bakken crude, extracted from shale underlying parts of Montana and North Dakota, is very volatile and contains high levels of combustible gases.
Most recently a train carrying Bakken crude derailed and exploded in Lynchburg, Virginia April 30. Other recent oil train fires have happened in Alabama and Quebec.
Today, the DOT's Federal Railroad Administration and the Pipeline and Hazardous Materials Safety Administration, PHMSA, issued a Safety Advisory strongly urging those shipping or offering Bakken crude oil to use tank car designs with the highest level of integrity available in their fleets.
These agencies are advising crude oil carriers to avoid the use of older legacy DOT-111 or CTC-111 tank cars for the shipment of Bakken crude oil.
Up to 80 percent of the Canadian fleet, and 69 percent of U.S. rail tank cars are of the DOT-111 type.
"The safety of our nation's railroad system, and the people who live along rail corridors is of paramount concern," said Transportation Secretary Anthony Foxx.
"All options are on the table when it comes to improving the safe transportation of crude oil, and today's actions, the latest in a series that make up an expansive strategy, will ensure that communities are more informed and that companies are using the strongest possible tank cars," said Foxx.
Effective immediately, the Emergency Order requires that each railroad operating trains containing more than one million gallons of Bakken crude oil, approximately 35 tank cars, in a particular state to provide the State Emergency Response Commissions notification about the expected movement of such trains through the counties in that state.
The notification must include estimated volumes of Bakken crude oil being transported, frequencies of anticipated train traffic and the route through which Bakken crude oil will be transported.
The Emergency Order also requires the railroads provide contact information for at least one responsible party at the host railroads to the State Emergency Response Commissions and assist the commissions to share the information with emergency responders in affected communities.
But the American Fuel and Petrochemical Manufacturers, a lobby group for oil refiners, said Wednesday, that Bakken crude is no more dangerous to ship than oil from other shale regions and is being correctly loaded and transported under existing federal rules. New rules are not warranted, the group maintains.
DOT is pursuing what Foxx calls "a comprehensive, all-of-the-above approach" in minimizing risk and ensuring the safe transport of crude oil.
Over the last 10 months, the DOT agencies have undertaken more than a dozen actions to enhance the safe transport of crude oil. They launched "Operation Classification" in the Bakken region to verify that crude oil is being properly classified; and they have issued safety advisories, alerts, emergency orders and regulatory updates and conducted special inspections.
The agencies are moving ahead with a rulemaking to enhance tank car standards. And they are working towards agreement with railroad companies on a series of immediate voluntary actions they can take by reducing speeds, increasing inspections, using new brake technology and investing in first responder training.
Copyright Environment News Service (ENS) 2014. All rights reserved.
Solar Panels Installed on White House Roof
WASHINGTON, DC, May 14, 2014 (ENS) – The White House has released a new video highlighting the installation of solar panels on the roof of the First Family's residence.
"Solar panels on the White House, I think, are a really important message that solar is here. We are doing it. We could do a lot more," said Energy Secretary Ernest Moniz, in the video.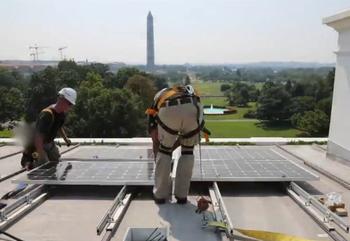 "The clean energy revbolution is not something for the distant future. It's happening right now, and we want to capture that," said Moniz.
White House Usher James Doherty said, "The size of the array here is the size that would go on a typical American house. Due to security concerns we couldn't cover the entire roof with solar panels although it would be good from an energy saving standpoint."
Every aspect of the White House solar installation is sourced from somewhere in the United States, from the solar components to the inverter technology to the labor that installed the panels.
Cyrus Wadia, of the White House Office of Science and Technology, said that every four minutes some small business or homeowner in the country is going solar.
"The industry is going through a transition," Wadia said. "We need to diversify to a clean energy portfolio, as articulated in the Presidents Climate Action Plan, which we are actively engaged in now. And we also need to spur the solar industry. Last year alone we created over 23,000 jobs in solar energy."
The finished product, a rooftop solar array generating clean electricity, symbolizes the building momentum for solar across the country.
More solar power is on the way. Last week, President Barack Obama announced new efforts, including commitments from more than 300 organizations to expand the use of solar energy and energy efficiency.
Copyright Environment News Service (ENS) 2014. All rights reserved.
Sea Shepherd 'Operation Reef Defense' Diver Attacked
KAILUA-KONA, Hawaii, May 14, 2014 (ENS) – Hawaii Department of Land and Natural Resources' enforcement officers are investigating an incident last week in which a diver documenting an aquarium trade wildlife collection operation on a Hawaiian reef off the Kona Coast was attacked by a reef fish collector.
On Thursday, May 8, Maui resident Rene Umberger was diving as part of the Sea Shepherd Conservation Society's Operation Reef Defense, documenting the reef and two aquarium fish collectors at work.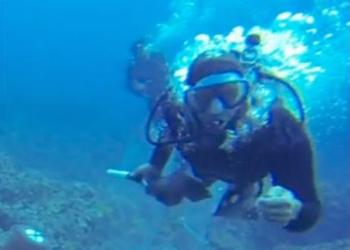 "As they filmed from a distance, one of the collectors noticed the camera from afar and quickly "rushed" Umberger without warning and pulled the air regulator from her mouth, nearly drowning the diver at 50 feet below the surface," Sea Shepherd said in a statement.
The air regulator provides oxygen from a diver's air tank, and forcibly removing it from a diver's mouth can cause death in seconds.
Umberger's air regulator was damaged but she was able to put it back into her mouth. Sea Shepherd divers continued to document the incident on video as the reef wildlife collector made threatening gestures in their direction.
Umberger is a former dive instructor and dive guide, but a diver with less experience could have panicked, and not replaced the air regulator or tried to quickly swim to the surface, a dangerous move.
"This violent assault is nothing short of attempted murder," said Sea Shepherd USA Administrative Director, Susan Hartland. "The fish trafficker responsible should be charged and held responsible to the fullest extent of the law."
On viewing the video, Sea Shepherd founder, Captain Paul Watson, said, "This incident shows just how far fish collectors are willing to go in their greedy operations that are turning reef ecosystems, once teeming with life, into barren wastelands."
"The reefs are dying in our time, and Sea Shepherd remains committed to exposing the destruction caused by the lucrative global aquarium trade," Watson said.
An estimated 350,000 reef animals are taken off the Kona Coast of Hawaii each year and sold to the aquarium trade. More than 90 percent will be dead within a year either initially from  the stress of capture and transport or from the stressful conditions of captivity.
Sea Shepherd's Reef Defense Coordinator Mike Long said, "As part of Reef Defense in Hawaii, Sea Shepherd is engaged in working with the island community to support their initiative to respect the ocean and coral reef wildlife. This incident was very unfortunate and we know that it is not representative of the people of Hawaii. The aquarium trade is a dark hobby. We are grateful to be here and involved in a movement to protect such a remarkable ecosystem."
Photo: fish collector approaches diver Rene Umberger (Screengrab from Sea Shepherd video)
Copyright Environment News Service (ENS) 2014. All rights reserved.
Greenpeace USA: Nearly 100% Renewable Energy Is Possible
WASHINGTON, DC, May 14, 2014 (ENS) – By 2050, the United States can switch to nearly 100 percent renewable energy and phase out coal and nuclear power, according to a new report from Greenpeace and the Global Wind Energy Council.
The report, "Energy [R]evolution – A Sustainable USA Energy Outlook," provides a blueprint for transforming U.S. electricity, transportation, and heating systems to reduce carbon emissions that heat up the climate. http://www.greenpeace.org/usa/en/media-center/reports/energy-revolution-2014/
"Growing concerns about climate change and air pollution, along with quickly falling costs of renewable energy, are already upending the utility industry's business model and threatening to turn fossil fuel reserves into stranded assets," said Sven Teske, a renewable energy expert with Greenpeace International.
"The Energy [R]evolution report demonstrates that the rapid changes in the energy sector could expand dramatically, with major implications for many industries," said Teske.
The report details how by 2050, renewable energy sources could provide around 97 percent of electricity produced in the United States and 94 percent of the country's total heating and cooling demand, accounting for around 92 percent of our final energy demand.
The Greenpeace-Wind Energy council plan would lead to about 1.5 million energy-related jobs in 2030. That is roughly 35 percent more than projected under the business as usual scenario outlined by the Energy Information Agency 2013 Annual Outlook.
By phasing out coal and oil, fuel cost savings in the scenario described would be $6.1 trillion, or $153 billion per year, and overall costs would be about 50 percent lower than the government outlook, the report calculates.
The United States would reduce carbon pollution 39 percent below 2005 levels by 2025 and 60 percent below 2005 levels by 2030, the groups estimate.
"The most recent National Climate Assessment makes it very clear that we need national policies to expedite a clean energy economy," said Kyle Ash, senior legislative representative for Greenpeace USA.
"Fortunately, the energy market is phasing out coal and phasing in renewable energy at a rapid pace, but this must be quickened to avoid climate consequences much worse than the wildfires, droughts, and superstorms the country is already experiencing," said Ash.
This report is the latest in a series of global, regional, and national Energy [R]evolution scenarios which are online at: www.energyblueprint.info.
Copyright Environment News Service (ENS) 2014. All rights reserved.
Chevron Pipe Line Fined for Utah Oil Spills
DENVER, Colorado, May 14, 2014 (ENS) – The U.S. Environmental Protection Agency reached a settlement with Chevron Pipe Line Company Monday resolving Clean Water Act violations associated with two oil spills at the company's facilities in Utah.
Under the settlement, the Bellaire, Texas-based company will pay a civil penalty of $875,000 to be deposited into the Oil Spill Liability Trust Fund, a fund used by federal agencies to respond to oil spills.
The agreement is associated with two spills from pipelines owned by Chevron Pipe Line.
On June 11, 2010, a discharge of 800 barrels of oil from the company's Rangely to Salt Lake Crude System No. 2 pipeline led to the Red Butte Creek Spill in Salt Lake City, Utah.
The oil entered Red Butte Creek and flowed downstream to Liberty Lake, a centerpiece of Liberty Park in downtown Salt Lake City. The lake was closed for nearly a year while cleanup and restoration activities took place.
On March 18, 2013, a discharge of some 499 barrels of diesel fuel from the company's Northwest Products System No. 1 Oil Line in Box Elder County impacted wetlands next to Willard Bay, a reservoir connected to the Great Salt Lake.
Soil, surface water, and groundwater contamination at the spill site required extensive containment and clean-up measures. The spill affected wildlife and caused the temporary closure of Willard Bay State Park. Chevron Pipe Line no longer owns the Northwest Products System.
The settlement follows several recent penalties and compliance actions associated with the Red Butte Creek spill, including agreements between Chevron Pipe Line and the State of Utah, Salt Lake City, and the U.S. Department of Transportation's Pipeline and Hazardous Materials Safety Administration.
In December 2013, the company reached a settlement with the State of Utah which includes penalties and funds for specific damages and restoration and mitigation activities associated with the Willard Bay spill.
Copyright Environment News Service (ENS) 2014. All rights reserved.
9/11 Attacks 'Act of War,' Building Owner Denied Cleanup Costs
NEW YORK, New York, May 14, 2014 (ENS) – Because the 9/11 attacks on the World Trade Center were "an act of war," the owner of a nearby building polluted with toxic dust from the incident will be reimbursed for money spent on cleanup, the U.S. Court of Appeals for the Second Circuit ruled Friday.
Upholding the ruling of a lower court judge, the appeals court decided that real estate developer Cedar & Washington Associates could not recover funds under the federal Comprehensive Environmental Response, Compensation and Liability Act, CERCLA.
Writing for the three-judge appellate panel, Judge Dennis Jacobs said, "CERCLA was not intended to create liability for the dispersal of debris and wreckage from a catastrophe that was indistinguishable from military attack in purpose, scale, means and effect."
Cedar & Washington had sued the Port Authority of New York and New Jersey, the owners of the World Trade Center, their lessees and the airlines that owned the planes hijacked by terrorists and flown into the towers on September 11, 2001.
Cedar & Washington claimed they should be responsible for the cost of cleaning toxic dust from the building at 140 Washington St.
The judges rejected Cedar & Washington's argument that the dust from the World Trade Center was made worse by the actions or negligence of the airlines or the property owners.
Copyright Environment News Service (ENS) 2014. All rights reserved.
Court Protects World's Only Wild Red Wolves
RALEIGH, North Carolina, May 14, 2014 (ENS) – A federal court has issued a preliminary injunction against the North Carolina Wildlife Resource Commission's authorization of coyote hunting, including by spotlight at night, in the five county area of eastern North Carolina inhabited by the world's only wild population of about 100 red wolves.
Gunshot is the leading cause of death for these endangered animals. Red wolves and coyotes are similar in appearance, and red wolves are can be mistaken for coyotes, even in daylight.
Fifty red wolves have died from confirmed or suspected gunshot wounds since January 2008.
Since 2012, five shooters who killed red wolves reported to authorities that they had mistaken the wolves for coyotes.
After six red wolves were shot and killed in a six week period last fall, the law center asked the court for an emergency ban on coyote hunting in the recovery area.
The Southern Environmental Law Center filed the motion for emergency relief in the U.S. District Court for the Eastern District of North Carolina on behalf of the Red Wolf Coalition, Defenders of Wildlife, and the Animal Welfare Institute.
"Today's decision provides the thoughtful, balanced approach to red wolf conservation that we hoped for," said Sierra Weaver, a senior attorney at the Southern Environmental Law Center who represents the groups.
"As the court found today, coyote hunting is causing more harm than good to both red wolf conservation and coyote control efforts. Today's ruling is good for red wolves, and good for landowners," Weaver said.
North Carolina is inhabited by the world's only wild population of red wolves. Red wolves bred in captivity were reintroduced on a North Carolina peninsula within their native range in the late 1980's after red wolves were declared extinct in the wild. Once common throughout the Southeast, intensive predator control programs and loss of habitat eliminated wild red wolf populations.
Kim Wheeler, executive director of the Red Wolf Coalition, said the court's decision could be a roadmap for stakeholders to work together for red wolf conservation.
Copyright Environment News Service (ENS) 2014. All rights reserved.