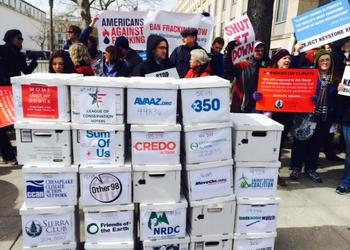 Two Million Against Keystone XL, Bison Trap Blockade, Kalamazoo Spill Protesters, Inert Pesticide Ingredients, DC Gas Leaks, Catalina Island Foxes
Keystone XL Opponents Deliver Two Million Comments … Bison Trap Blockader Arrested, Charged, Released … Kalamazoo Tar Sands Spill Demonstrators Sentenced … EPA Sued Over 'Inert' Pesticide Ingredients … 5,900 Gas Leaks Found Beneath Washington, DC … Catalina Island Foxes Multiply in Quick Recovery
Keystone XL Opponents Deliver Two Million Comments
WASHINGTON, DC, March 7, 2014 (ENS) – Today, on the last day of the public comment period for the proposed Keystone XL tar sands pipeline, opponents held a rally in front of the U.S. State Department to deliver more than two million comments to the State Department.
The comments urge Secretary of State John Kerry and President Barack Obama to reject the 1,179-mile pipeline proposed by TransCanada. If approved by the President as being in the U.S. national interest, it would carry dibuted bitumen from the Alberta tar sands to Steele City, Nebraska. There it would link to existing pipelines to carry the bitumen to refineries on the Texas Gulf Coast.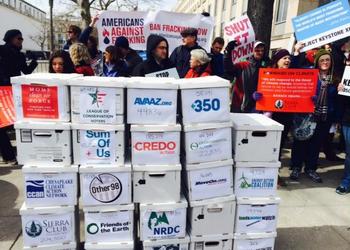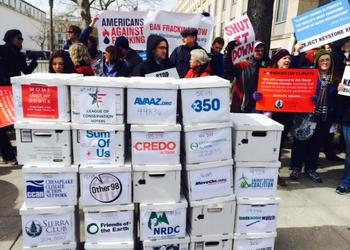 A Presidential Permit is required for the pipeline because it would cross the Canada-U.S. border from Alberta into Montana.
The public comment period regarding the national interest of the pipeline began on February 5, after the State Department published its final environmental review.
These two million+ comments top the more than one million comments submitted last year that expressed concern about the draft environmental review, showing a growth in concern about the risky project.
Over the past year, hundreds of anti-Keystone XL rallies and vigils have been held across the country. Opponents fear the extraction, transport, refining and burning of tar sands oil will worsen climate change, and result in adverse environmental and health impacts at every stage of the process.
Bill McKibben, founder of the climate advocacy nonprofit 350.org, said, "For three years now there's been an absolutely unprecedented outpouring of reaction to this pipeline proposal: from scientists, Nobel laureates, economists, theologians, and most of all from us ordinary Americans across the country. It's the biggest blizzard of public comment about any infrastructure project – and now we'll see if the Obama administration will listen to the people, or to the big oil boys."
The pipeline's route through Nebraska was invalidated by the February 19 ruling of a Nebraska judge, but the state has appealed that ruling, so the route remains in effect until the appeal is decided.
The U.S. EPA's comments on two previous State Department analyses included concerns about the agency's process and findings. The most recent analysis concluded that the pipeline would exacerbate climate pollution under certain scenarios and noted serious water issues.
Secretary Kerry has stated that the ongoing 90 day National Interest Determination process, in which eight agencies can comment on whether the pipeline is in the U.S. national interest, marks the beginning of his involvement in the process.
Addressing a group of students and government officials February 16 in Jakarta, Indonesia, Kerry called climate change perhaps "the world's most fearsome weapon of mass destruction," raising hope that he will recommend the rejection of Keystone XL.
Delivery of the comments is supported by ads in Washington, DC blue and orange line metro cars that read, "Secretary Kerry: You've spent a lifetime challenging Weapons of Mass Destruction. Don't ignite one. Say no to Keystone XL."
Nearly 900,000 of the comments delivered today came from international pipeline opponents, including South African retired bishop Desmond Tutu. People around the world are watching Secretary Kerry on this issue, and his recommendation on Keystone XL will shape his international reputation and efficacy.
More than 86,000 people have signed a Pledge of Resistance to commit acts of civil disobedience if Secretary Kerry recommends approval of Keystone XL to President Obama.
Gene Karpinski, League of Conservation Voters president, said, "When we asked our hundreds of thousands of members across the country to send comments to the State Department, they responded with an overwhelming call to reject the Keystone XL tar sands pipeline. Nobody has done more to fight climate change than Secretary Kerry, and I'm confident that as he reviews the public comments, the science, and the facts, he will find that this dirty, dangerous pipeline is not in the national interest and must be rejected."
Copyright Environment News Service (ENS) 2014. All rights reserved.
Bison Trap Blockader Arrested, Charged, Released
YELLOWSTONE NATIONAL PARK, Wyoming, March 7, 2014 (ENS) – When livestock trailers arrived at Yellowstone's Stephens Creek bison trap Thursday, their way was blocked by an activist opposed to the slaughter of America's last wild bison locked to a concrete-filled 55-gallon barrel.
Comfrey Jacobs, 20, stalled transport to slaughter operations for more than two hours before a welder arrived to cut him loose.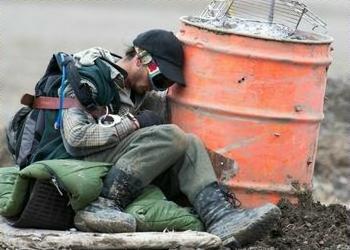 Jacobs was arrested by Park rangers and taken to Yellowstone's jail in Mammoth, Wyoming. He was charged with disorderly conduct, breaking the Stephens Creek closure, and interfering with a government operation, then released.
This is the first time a citizen has exercised civil disobedience at Yellowstone's Stephens Creek bison trap, located in the Gardiner Basin.
"I have no regrets. I accept all the consequences of my actions and hope it raises awareness on this issue," Comfrey told members of Buffalo Field Campaign, who were present to document the action and lend support.
Since February 7, some 450 wild buffalo have been captured in Yellowstone National Park's Stephens Creek bison trap, according to the Buffalo Field Campaign. Park spokesman Al Nash told reporters 318 bison have been trapped so far this year.
Most of the buffalo have been and will be shipped to slaughter, while some are going to government research facilities. Nearly 320 bison have been shipped to slaughter and 250 more have been killed by hunters.
Yellowstone National Park initiates a 7-mile public access closure surrounding their Stephens Creek bison trap while highly controversial bison management activities are underway. Yellowstone National Park has also been uncharacteristically secretive this year: Superintendent Dan Wenk is the first Yellowstone superintendent to prevent his staff from disclosing information to the public. After Buffalo Field Campaign patrols saw the livestock trailers leave the Park, they called Yellowstone's public information officer, who said no information would be provided until Monday.
"I have been calling Yellowstone officials on a daily basis, multiple times a day and I'm getting very frustrated with this dishonorable lack of transparency," said Buffalo Field Campaign spokesperson Stephany Seay. "Yellowstone officials have told us they know exactly the information we are looking for, but are unwisely choosing to make the public and the media wait."
Wild bison are currently managed under the controversial state, federal and tribal Interagency Bison Management Plan, IBMP. The treatment of America's last wild bison population is influenced by Montana's livestock industry, which sees the bison as carriers of the abortive disease brucellosis. There has never been a confirmed transmission of the disease from bison to cattle.
Under the IBMP, more than 4,650 wild bison have been killed or otherwise eliminated from these last wild populations.
Yellowstone and its IBMP partners have set a population target of 3,000-3,500 bison, yet a Yellowstone bison carrying capacity study has determined that the Park can sustain upwards of 6,200 wild bison. Thousands of acres of public lands surrounding Yellowstone could sustain thousands more, bison advocates say.
"I belive year-round habitat in the Greater Yellowstone Ecosystem and Montana is the solution for wild bison population management, not genetically damaging and limiting the herds through slaughter or constant harassment and abuse through hazing operations," Jacobs said.
"Comfrey Jacobs is a hero to a whole lot of people," said Buffalo Field Campaign Executive Director Dan Brister. "He has given hope and inspiration to thousand of people who are upset by the slaughter of America's last wild buffalo."
Copyright Environment News Service (ENS) 2014. All rights reserved.
Kalamazoo Tar Sands Spill Demonstrators Sentenced
LANSING, Michigan, March 7, 2014 (ENS) – Three protesters who attached themselves to excavators last summer at an Enbridge Inc. pipeline repair site were sentenced Wednesday to the one month they already served in jail, plus 13 months probation, by Ingham County Circuit Judge William Collette.
A jury delivered a guilty verdict against the three on January 31 on charges of trespassing and resisting and obstructing an officer.
They must also pay plus $45,000 in restitution to the police, the judge announced to more than 100 supporters who packed the tension-filled courtroom.
About 40 protesters took part in the July 22 demonstration at an Enbridge work site near Grimes Road and Dexter Trail in Stockbridge Township.
Enbridge was replacing part of a 285-mile pipeline that ruptured earlier that month, dumping some 800,000 gallons of crude oil into a tributary of the Kalamazoo River.
Lisa Leggio, 35, of Holland, Michigan; Barbara Carter, 22, of Detroit; and Vicci Hamlin, 40, of Michigan City, Indiana attached themselves to two construction machines at the site. Michigan State Police cut them off the equipment.
"Though my heart aches for moments I will miss, I regret nothing," wrote Leggio from the Ingham County Jail while awaiting sentencing.
The Kalamazoo River oil spill occurred in July 2010 when a pipeline operated by Enbridge burst and flowed into Talmadge Creek, a tributary of the Kalamazoo River. A six-foot break in the pipeline resulted in the largest inland oil spill, and one of the costliest spills, in U.S. history.
The pipeline carries diluted bitumen, a heavy crude oil from Canada's Athabasca oil sands. Thirty-five miles of the Kalamazoo River were closed for clean-up until June 2012, when parts of the river were re-opened.
On March 14, 2013 the U.S. Environmental Protection Agency ordered Enbridge to dredge portions of the river to remove submerged oil and oil-contaminated sediment.
The three women are members of the nonprofit Michigan Coalition Against Tar Sands, which seeks to unite the people of Michigan towards a common goal of stopping all transportation and refining of tar sands oil in the state and advocates against all production and transportation of tar sands oil.
"The sentencing of our friends only deepens our resolve," said one MICATS supporter, who declined to be identified.
"All around the world, corporations like Enbridge are getting away with murder in the name of profit. While it may not look like a gun to a head, it looks like a refinery spewing cancer-causing chemicals into the air, the poisoning of water, and the eradication and assimilation of cultures and ecosystems everywhere," the supporter said. "We will fight back."
Copyright Environment News Service (ENS) 2014. All rights reserved.
EPA Sued Over 'Inert' Pesticide Ingredients
SAN FRANCISCO, California, March 7, 2014 (ENS) – Claiming that undisclosed "inert" ingredients in pesticides are often more toxic than active ingredients, three health and environmental groups are suing the U.S. Environmental Protection Agency to force disclosure.
Center for Environmental Health, Beyond Pesticides, and Physicians for Social Responsibility are challenging the EPA for failing to complete rulemaking that would require pesticides manufacturers to disclose the inert ingredients in their products.
An inert ingredient is any ingredient that is not targeted to killing a pest. These chemicals are more toxic than active ingredients, which manufacturers are required to disclose.
"The EPA said that these inert ingredients should be labeled to protect consumers but has done nothing to require such labeling. In the meantime, families and children exposed to these chemicals are suffering illnesses their doctors can't adequately treat because they have no idea what chemicals they are dealing with," said Wendy Park, an attorney at Earthjustice, the public interest law firm representing the three groups.
"The fact is that the EPA has identified hundreds of these 'inert' chemicals as hazardous or potentially hazardous," said Park. "We need a safeguard in place to protect communities."
The public knows little about the chemicals contained in most pesticides because under the Federal Insecticide, Fungicide, and Rodenticide Act, pesticide manufacturers are only required to list "active" ingredients that target a pest and not "inert" ingredients.
Pesticide labels only identify the weight percentage of inert ingredients, which can amount to 99 percent of the substance. In 1997, EPA's own study found that "many consumers have a misleading impression of the term 'inert ingredient' believing it to indicate water or other harmless ingredients."
Caroline Cox, research director of Center for Environmental Health, said, "Pesticides are in the water we drink, the air we breathe, and the food we eat. Pesticide companies should not be able to keep us in the dark about the identity and toxicity of these chemicals."
In 2006, a coalition of 22 nongovernmental organizations, together with 15 state attorneys general, including California, Illinois, and Massachusetts, filed petitions for a rule requiring disclosure of hazardous inert ingredients. After EPA failed to respond, the Center for Environmental Health filed a lawsuit in 2009 to compel EPA to begin the rulemaking process.
Shortly afterwards, the EPA issued an advanced notice of proposed rulemaking, soliciting comment on two alternative proposals. One would require listing of all ingredients already identified as hazardous and the other would require listing of all ingredients. The comment period for the proposals closed in April 2010, but EPA has taken no action since then.
Copyright Environment News Service (ENS) 2014. All rights reserved.
5,900 Gas Leaks Found Beneath Washington, DC
DURHAM, North Carolina, March 7, 2014 (ENS) – More than 5,893 leaks from aging natural gas pipelines have been found under the streets of Washington, DC by a research team from Duke University and Boston University.
A dozen of the leaks could have posed explosion risks, the researchers said. Some manholes had methane concentrations as high as 500,000 parts per million of natural gas – about 10 times greater than the threshold at which explosions can occur.
Four months after reporting the leaks to city authorities, the research team returned and found that nine were still emitting dangerous levels of methane.
"Finding the leaks a second time, four months after we first reported them, was really surprising," said Robert Jackson, a professor of environmental sciences at Duke who led the study.
Nationally, natural gas pipeline failures cause an average of 17 fatalities, 68 injuries, and $133 million in property damage every year, according to the U.S. Pipeline and Hazardous Materials Safety Administration.
In addition to the explosion hazard, natural gas leaks emit methane, a powerful greenhouse gas that catalyzes ozone formation.
Pipeline leaks are the largest human-caused source of methane in the United States and contribute to $3 billion of lost and unaccounted for natural gas each year.
Jackson's team and researchers from Boston University and Gas Safety, Inc. mapped gas leaks under all Washington's 1,500 road miles using a high-precision instrument installed in a GPS-equipped car. Lab analyses confirmed their findings.
The average methane concentration from the leaks was 2.5 times higher than background air samples. Methane levels in some leaks were 45 times higher than normal background levels.
Four individual street-level leaks were found to emit the amount of natural gas used by up to seven homes.
Last year, the team mapped Boston, finding more than 3,300 natural-gas pipeline leaks beneath 785 road miles in the city.
"The average density of leaks we mapped in the two cities is comparable, but the average methane concentrations are higher in Washington," said Nathan Phillips, a professor at Boston University's Department of Earth and Environment.
The researchers recommend coordinated gas-leak mapping campaigns in cities with aging pipeline infrastructure prone to leaks.
The new study comes as the nation's aging pipeline infrastructure is generating increased attention from lawmakers. Last November, Senator Edward Markey, a Massachusetts Democrat, introduced two new bills to speed up the replacement of natural gas pipelines in states with older infrastructures by offering new federal funding.
"We need to put the right financial incentives in place," said Jackson. "Companies and public utility commissions need help to fix leaks and replace old cast iron pipes more quickly."
"Repairing these leaks will improve air quality, increase consumer health and safety, and save money," he said. "Pipeline safety has been improving over the last two decades. Now is the time to make it even better."
The study is published in the peer-reviewed journal "Environmental Science & Technology."
Copyright Environment News Service (ENS) 2014. All rights reserved.
Catalina Island Foxes Multiply in Quick Recovery
AVALON, California, March 7, 2014 (ENS) – For the first time since 1999, when the canine distemper virus began killing foxes on California's Catalina Island, the number of foxes is greater than the pre-virus population.
The Catalina Island Conservancy reports that its annual census of the Catalina Island fox found more than 1,850 of the federally endangered animals on the island, an increase of about 350 over last year.
"The continued increases in the fox population serves as additional proof of the ongoing success of the Fox Recovery Program," said Ann Muscat, president and CEO of the Catalina Island Conservancy, which manages the recovery program.
"In 15 years, this federally endangered species has gone from near-extinction, with a mere 100 foxes on Catalina, to 18 times that many," Muscat said. "This is one of the fastest recoveries of an endangered species on record."
The Catalina Island fox is found only on Catalina Island and is the largest endemic species on the Island. Weighing less than six pounds, the fox has been a resident of the Island for more than 6,000 years.
In 1999, canine distemper virus wiped out the island's fox population, causing the U.S. Fish and Wildlife Service to list the Island Fox as an "endangered" species in March 2004.
"We are pleased to see the fox population continue to thrive, especially this year when drought conditions reduced the amount of food available for the foxes," said Calvin Duncan, a wildlife biologist with the Catalina Island Conservancy.
Copyright Environment News Service (ENS) 2014. All rights reserved.