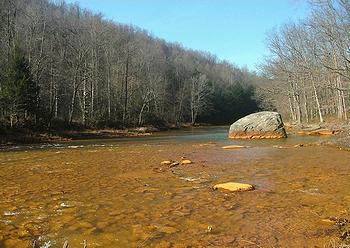 Coal Companies Fined $27M, Kickbacks Land Superfund Manager in Prison, Clergy Reject Keystone XL, California Water for Fish, Alt Energy Fraud, Dental Mercury Lawsuit
Polluting Coal Companies Fined Record $27.5 Million … Superfund Project Manager Gets 14 Years for Kickbacks … Clergy Lobby Against Keystone XL Pipeline … Agencies Plead for Human Use of Water Now Protecting Fish … California Man Guilty in $7 Million Alt Energy Fraud … Groups Sue FDA Over Mercury in Dental Amalgam
Polluting Coal Companies Fined Record $27.5 Million
WASHINGTON, DC, March 5, 2014 (ENS) – Alpha Natural Resources, Inc., one of the nation's largest coal companies, Alpha Appalachian Holdings (formerly Massey Energy), and 66 subsidiaries have agreed to spend $200 million to install and operate wastewater treatment systems and implement system-wide upgrades to reduce polluted discharges from coal mines in five states.
The companies also will pay a civil penalty of $27.5 million for thousands of permit violations, the largest penalty in history under Section 402 of the Clean Water Act, the Department of Justice and the U.S. Environmental Protection Agency announced today.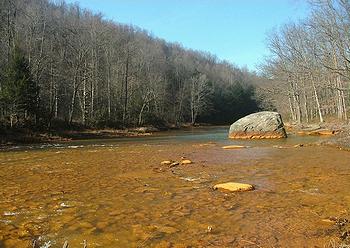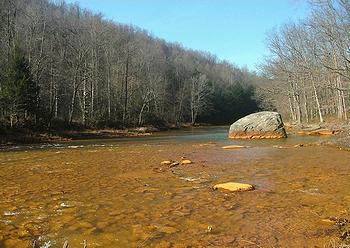 The settlement covers 79 active mines and 25 processing plants in Kentucky, Pennsylvania, Tennessee, Virginia, and West Virginia,
EPA estimates the upgrades and advanced treatment required by the settlement will reduce discharges of total dissolved solids by over 36 million pounds each year, and will cut metals and other pollutants by nine million pounds a year.
"This settlement is the result of state and federal agencies working together to protect local communities from pollution by enforcing the law," said Cynthia Giles, assistant administrator of EPA's Office of Enforcement and Compliance Assurance. "By requiring reforms and a robust compliance program, we are helping to ensure coal mining in Appalachia follows environmental laws that protect public health."
Robert Dreher, acting assistant attorney general for the Justice Department's Environment and Natural Resources Division, said, "Today's agreement is good news for communities across Appalachia, who have too often been vulnerable to polluters who disregard the law. It holds Alpha accountable and will bring increased compliance and transparency among Alpha and its many subsidiaries."
In addition to paying the penalty, the companies must build and operate treatment systems to eliminate violations of selenium and salinity limits, and also implement comprehensive, system-wide improvements to ensure future compliance with the Clean Water Act.
These improvements include developing and implementing an environmental management system and periodic internal and third-party environmental compliance audits.
The companies must also maintain a database to track violations and compliance efforts at each outfall, improve the timeliness of responding to violations, and consult with third party experts to solve problem discharges. In the event of future violations, the companies will be required to pay stipulated penalties, which may be increased or doubled for continuing violations.
The government alleged that, between 2006 and 2013, Alpha and its subsidiaries routinely violated limits in 336 of its state-issued Clean Water Act permits, resulting in the discharge of excess amounts of pollutants into hundreds of rivers and streams in the five states. Violations included discharge of pollutants without a permit.
EPA documented at least 6,289 violations of permit limits for pollutants that include iron, pH, total suspended solids, aluminum, manganese, selenium, and salinity at 794 different discharge points.
Records show multiple pollutants were discharged in amounts of more than twice the permitted limit on many occasions. Most violations stemmed from the company's failure to properly operate existing treatment systems, install adequate treatment systems, and implement appropriate water handling and management plans.
Today's settlement resolves violations of a $20 million settlement with Massey Energy in 2008. Alpha, headquartered in Bristol, Virginia, purchased Massey in June 2011 and has since been working cooperatively with the federal government to develop the terms of today's settlement.
Copyright Environment News Service (ENS) 2014. All rights reserved.
Superfund Project Manager Gets 14 Years for Kickbacks
NEWARK, New Jersey, March 5, 2014 (ENS) – A former project manager for a prime contractor at two U.S. EPA Superfund sites in New Jersey, was sentenced Tuesday to 14 years in prison for multiple bid-rigging, fraud and kickback schemes, the Department of Justice announced.
Last September, a jury convicted Gordon D. McDonald of engaging in separate bid-rigging, kickback and fraud conspiracies with three subcontractors at two New Jersey Superfund sites – Federal Creosote in Manville, and Diamond Alkali in Newark – in return for kickbacks of more than $1.5 million.
McDonald also was convicted of engaging in an international money laundering scheme, major fraud against the United States, committing two tax violations and obstruction of justice.
The 14 year prison term represents the longest prison sentence ever imposed in an antitrust crime.
In addition to the prison sentence, McDonald was sentenced in U.S. District Court in Newark by Judge Susan Wigenton to pay a $50,000 fine. The court will order restitution at a later date.
The various conspiracies took place at different time periods from December 2000 to April 2007. McDonald was initially charged in an indictment returned on August 31, 2009.
"Today's sentencing reflects the seriousness of the crimes committed," said Bill Baer, assistant attorney general in charge of the Justice Department's Antitrust Division. "The prison sentence imposed by the court shows that if you engage in bid-rigging, fraud and kickback schemes your illegal actions will result in a longer prison sentence."
Evidence presented at trial showed that McDonald accepted kickbacks from sub-contractors in exchange for the award of sub-contracts at Federal Creosote.
McDonald provided co-conspirators at Bennett Environmental Inc., a Canadian-based company that treats and disposes of contaminated soil, with bid prices of their competitors, which allowed them to submit the highest possible bid prices and still be awarded the sub-contracts.
McDonald also accepted kickbacks in exchange for the award of sub-contracts at the Federal Creosote and Diamond Alkali sites from the owner of JMJ Environmental Inc., a wastewater treatment and chemical supply company, and the co-owner of National Industrial Supply LLC, an industrial pipe supplier.
He also participated in a conspiracy with the owner of JMJ and co-conspirators to rig bids and allocate sub-contracts for wastewater treatment supplies and services at Federal Creosote.
Including McDonald, nine individuals and three companies have pleaded guilty or been convicted of charges arising out of this investigation. More than $6 million in criminal fines and restitution have been imposed and six of the individuals have been sentenced to serve prison sentences ranging from five to 168 months.
The cleanup at Federal Creosote is partly funded by the EPA. An interagency agreement between the EPA and the U.S. Army Corps of Engineers designated that the Army Corps hire the prime contractors at Federal Creosote.
According to a settlement with the EPA and the New Jersey Department of Environmental Protection, Tierra Solutions was required to fund remedial action and maintenance of Diamond Alkali. Tierra Solutions hired the prime contractor for the remedial action and maintenance of Diamond Alkali.
The Justice Department is asking anyone with information concerning bid rigging, kickbacks, tax offenses or fraud relating to subcontracts awarded at the Federal Creosote Superfund site or Diamond Alkali Superfund site to contact the Antitrust Division's New York Office at 212-335-8000 or visit www.justice.gov/atr/contact/newcase.htm.
Copyright Environment News Service (ENS) 2014. All rights reserved.
Clergy Lobby Against Keystone XL Pipeline
SAN FRANCISCO, California, March 5, 2014 (ENS) – Faith leaders in the path of TransCanada's proposed Keystone XL tar sands pipeline today issued a statement urging President Barack Obama to reject the pipeline in order to "curb carbon emissions and protect God's Creation."
"This is an issue of justice," said Pastor Kyle Childress, whose Austin Heights Baptist Church in Nacogdoches, Texas lies 15 miles from the pipeline. "TransCanada is running over people, destroying God's earth, and pouring out climate-changing carbon, all in the name of short-term profit – and expecting our communities to shoulder the burden."
More than 150 clergy members have joined some 4,000 people of faith in signing a letter asking the President to deny a permit for the pipeline's construction, adopt clean energy technologies and policies that will lead a global clean energy movement.
Release of the letter coincides with the close of the U.S. State Department's last public comment period before President Obama decides whether or not the pipeline is in the U.S. national interest.
Because it would cross the Canada-U.S. border carrying diluted bitumen from the Alberta tar sands to refineries in Texas, the project needs a Presidential Permit, which will only be granted if Obama decides it is in the national interest.
"As people of faith, we share your conviction that we are commanded by God to care for our planet and that the failure to respond to the threat of climate change would betray our children and future generations," the letter says, referring to the President's State of the Union address.
The letter was written by Interfaith Power & Light, a national organization with 40 state affiliates reaching 15,000 congregations advocating for climate protection, clean energy, and stewardship of Creation.
"People of faith have a responsibility to preserve God's gift of clean air, water and land," said the Rev. Sally Bingham of San Francisco's of Grace Cathedral, president and founder of Interfaith Power & Light.
"The Keystone Pipeline is too great a risk to that call to be gardeners. We were put in the garden to till and to keep. This dangerous pipeline jeopardizes the health of the garden and all living things," said Bingham. "We find it sinful that financial gain is being considered more important than preserving the air, water and land for future generations. In other words, that money can trump moral responsibility."
Last week, in a move that could further delay the beleaguered project, a Nebraska judge ruled unconstitutional the law giving the governor pipeline siting authority. The judge declared "null and void" the law's permission for TransCanada to claim landowners' property in the path of the pipeline on the basis of eminent domain, an authority used by governments to take private property for public use.
The State Department has already once suspended the environmental assessment process for Keystone XL while the route through Nebraska was altered to avoid the environmentally-sensitive Sand Hills region over the Ogllala Aquifer. A new route was authorized by state lawmakers, although it still crosses over part of the aquifer, but that route was invalidated by the judge's ruling, although the Nebraska government has filed an appeal.
"The people of Nebraska love their land and have made their voices clear – stop the TransCanada pipeline," said Rev. Kim Morrow of First-Plymouth Congregational Church in Lincoln, Nebraska.
"We must protect the Ogallala Aquifer and the sensitive Sandhills region of our state," Morrow said. "Our ranchers and farmers have been affronted by the bully tactics used to try to seize land that has been in their families for generations. This pipeline holds no benefits for Nebraska, and instead just risks jumping from the frying pan into the fire with climate change."
Clergy members across the country agree. "As a man of faith, Obama should recognize this moment as an opportunity to protect God's creation and shape his legacy around the long-term energy strategy of America," said the Rev. Dr. Joel Hunter of Northland Church in Longwood, Florida. "This is a pivotal moment for the President."
Copyright Environment News Service (ENS) 2014. All rights reserved.
California Agencies Plead for Human Use of Water Now Protecting Fish
SAN FRANCISCO, California, March 5, 2014 (ENS) – With California suffering a drought emergency, a dozen Southern California water agencies have filed court documents with the Ninth Circuit Court of Appeals Tuesday in a case involving the doubling of critical habitat for the Santa Ana Sucker, an endangered fish.
The water agencies say California is losing millions of acre feet of drinking water that is flowing into the Pacific Ocean "because of the U.S. Fish and Wildlife Service's disregard for a federal law that requires agencies to consider the impact of their actions on the human environment" when they designate critical habitat for endangered species.
"The Fish and Wildlife Service refuses to take the blinders off to look at the human consequences of what they're doing," said Pat Milligan, president of San Bernardino Valley Municipal Water District, one of the appellant agencies. "In its efforts to provide as much water as possible for species, the Fish and Wildlife Service is denying water to California farmers and flood protection to its urban residents," Milligan said.
"By depriving Southern California residents the ability to put local sources of water to use, it is placing additional pressure upon other sources of water such as the Delta that it claims to be trying to protect," he said.
The documents water agencies filed respond to arguments made by the Service after a dozen Southern California water agencies sued the federal agency.
The water agencies argued last June that the Ninth Circuit should overturn a lower court decision that would allow the doubling of critical habitat for the Santa Ana Sucker, without taking into consideration the impact upon the Delta or the human environment of more than three million Southern California residents.
The water agencies are also asking for all 11 judges in the Ninth Circuit to revise the court's interpretation of the Endangered Species Act and National Environmental Policy Act, NEPA, to make it consistent with the rulings of other federal courts across the country.
Last year alone, water agencies were forced to allow more than half a million acre feet of drinking water to flow from the Sacramento-San Joaquin Delta into the Pacific because of Fish and Wildlife Service regulations. That's enough water to sustain more than two million urban residents for a year.
At the same time, agencies lost another 300,000 acre feet of water to the Pacific that could have been used to put thousands of acres of land back into crop production.
Similar regulations are limiting the ability of Southern California water agencies to capture and store rainwater and snowmelt.
On the other hand, in October 2012, U.S. District Court Judge James Selna upheld protections for 9,300 acres of critical habitat for the Santa Ana sucker, a small native fish that has vanished from 95 percent of its historic range since the 1970s.
Twelve water districts and cities had challenged the 2010 designation that protected sucker habitat in San Bernardino, Riverside, Orange and Los Angeles counties.
The Center for Biological Diversity, California Trout, San Bernardino Valley Audubon Society and the San Gorgonio Chapter of the Sierra Club intervened in the case on behalf of the U.S. Fish and Wildlife Service to defend the habitat designation.
"This dispute, created by the Service, really reflects a lack of cooperation between federal, state and local agencies, which is precisely the opposite of what the ESA requires," said Greg Wilkinson, an attorney representing Southern California water agencies.
Wilkinson said Selna ruled as he did because federal appeals courts have issued conflicting opinions on whether NEPA applies to the designation of critical habitat. The Ninth Circuit, which governs California, Arizona, Nevada, Oregon, Washington, Idaho, Montana, Hawaii and Guam, ruled in 1995 that NEPA does not apply in states within its jurisdiction. But every other federal court has ruled that NEPA does apply to the states within their jurisdiction.
Public agencies across California have filed amicus briefs urging the Ninth Circuit to overturn a U.S. District Court decision upholding the expansion of critical habitat for the Santa Ana Sucker, citing their concerns about the effects of the decision on Southern California water supplies.
Agencies filing amicus briefs include the Association of California Water Agencies, which represents 440 agencies that deliver 90 percent of California's water supplies; State Water Contractors; Metropolitan Water District of Southern California; the Los Angeles County Flood Control District; the Main San Gabriel Watermaster; and the Western Riverside County Conservation Authority.
Copyright Environment News Service (ENS) 2014. All rights reserved.
California Man Guilty in $7 Million Alt Energy Fraud
LOS ANGELES, California, March 5, 2014 (ENS) – A California man has been convicted of federal fraud charges for his involvement in a $7 million investment scheme that lured investors with false promises relating to the development of an alternative energy technology, says Richard Hartunian, the U.S. Attorney for the Northern District of New York.
On February 28, a Los Angeles jury convicted Richard M. Rossignol, 63, who now resides in Shingle Springs, California, of one count of conspiracy to commit mail and wire fraud.
Judge Audrey Collins presided over the seven-week trial in U.S. District Court in Los Angeles. Following the verdict, Judge Collins scheduled a sentencing hearing for June 16. At sentencing, Rossignol faces a sentence of up to 20 years in federal prison.
Rossignol and a co-defendant, William A. Stehl, 69, of Ventura, were arrested in Oxnard, California four years ago on an indictment filed in the Northern District of New York. Both men were charged with conspiracy to commit mail and wire fraud. Stehl was charged with several tax charges and lying to federal agents.
The conspiracy count alleged that from 2001 to March 2010, Stehl, Rossignol and others induced victims to invest money in companies that were purportedly developing or utilizing an alternative energy source Stehl claimed he had developed.
Investors were told that one of Stehl's applications related to the processing of precious metals supposedly contained in a slag pile in Silver City, New Mexico.
Stehl and Rossignol were charged with fraudulently obtaining money from investors by making false representations about the status of the process, claiming that contracts and licensing agreements had either been signed, or were about to be signed, and would result in significant financial returns for the investors.
Stehl and Rossignol obtained more than $7 million from more than 300 victims. None of the investors received the returns promised, and most of their money was used for personal expenditures by Stehl and Rossignol.
Stehl was living near Saranac Lake, New York when the scheme started. Stehl moved to Southern California in late 2005. Fraud victims lived across the nation, including in Sacramento, California; Los Angeles; Charleston, West Virginia; and New York.
The indictment was originally filed in the Northern District of New York, but in October 2012 the case was transferred to the Central District of California to accommodate Stehl, who was injured in an explosion in a building in Sylmar, California in August 2011.
In November 2013, Judge Collins granted a request by Stehl's attorneys to have a separate trial, which is now scheduled for July 22. Rossignol is free on bond.
The investigation in this case was conducted by Special Agents of the Internal Revenue Service Criminal Investigation, New York Field Office, and the Federal Bureau of Investigation, Albany, New York Resident Agency. The case is being prosecuted by Assistant United States Attorney Kevin Dooley of the Binghamton branch office in the Northern District of New York.
Copyright Environment News Service (ENS) 2014. All rights reserved.
Groups Sue FDA Over Mercury in Dental Amalgam
WASHINGTON, DC, March 5, 2014 (ENS) – A lawsuit filed today claims that despite growing evidence of harm caused by mercury in dental amalgam, the Food and Drug Administration continues to delay its decision to protect public health against this danger.
Plaintiffs in the current lawsuit include: International Academy of Oral Medicine and Toxicology, Moms Against Mercury, DAMS, Inc., CoMeD, Inc., and several individuals who were adversely affected by the mercury from amalgam fillings.
Plaintiffs submitted their first petitions to the FDA in July 2009. This lawsuit consolidates the allegations set forth in five previous petitions submitted to FDA.
In 2010, at the urging of its own scientific advisory panel, the FDA agreed to review its amalgam rule based on current science. The agency announced its intention to complete its review by 2011, but still has not acted.
Filed in DC District Court, the lawsuit claims that the agency has failed to respond within a reasonable time to petitions calling for either a formal ban of amalgam use, or placement of the substance in FDA's Class III, which requires additional restrictions for vulnerable individuals, more stringent proof of safety, and an Environmental Impact Statement.
According to attorney James Love, who represents the plaintiffs, American consumers and dental professionals are being misled by the American Dental Association, the largest and most powerful advocate for continued amalgam use.
"The ADA has misrepresented FDA's lack of regulation as proof of safety, and continues to use this toxic dental filling, despite scientifically demonstrated risks," said Love.
"Most individuals remain unaware that those 'silver' fillings, prevalently used as a dental restoration and covered by insurance policies, consist of 45-55 percent metallic mercury, and that there are health and environmental risks associated with those fillings."
Top scientists have repeatedly warned the FDA of the risk of harm caused by dental fillings. Love points to an incident in 2006, when the FDA consulted a Joint Panel of physicians and dentists to review the agency's own White Paper on dental amalgam. The panel ruled 13 to 7 that the White Paper did not demonstrate adequate proof of safety.
In 2009, in their position statement, the Scientific Advisory Board of the International Academy of Oral Medicine and Toxicology said, "It is incompatible with current, valid scientific evidence to continue to endorse or otherwise condone the use of a permanently implanted material in teeth that continuously emits a very potent enzyme inhibitor and metabolic toxin."
"We have banned mercury in disinfectants, thermometers, and many other consumer products," said Griffin Cole, DDS, president of the IAOMT. "There is no magic formula that makes mercury safe when it's put into our mouths. It's inexcusable to use mercury in dental fillings when there are much safer alternatives."
Mercury is a persistent toxic chemical that can build up in the body, affecting the kidneys and the nervous system. Young children are most sensitive to mercury and can be exposed to mercury through breast milk, says Love, who adds, :The fetus is exposed to mercury from placental transfer of mercury from a pregnant woman's teeth containing amalgam."
In a 2007 lawsuit, Moms Against Mercury alleged that more than 30 years ago the FDA was legally obligated to classify dental amalgam, but did not do so. In response to this lawsuit, the FDA agreed to classify dental amalgam but placed it in Class II, assigning no controls to protect the public.
The plaintiff groups point out that the largest user of dental amalgam containing mercury is the U.S. government, which uses amalgam to fill cavities in the teeth of welfare recipients, prisoners, those residing on Indian Reservations and members of the military.
Copyright Environment News Service (ENS) 2014. All rights reserved.