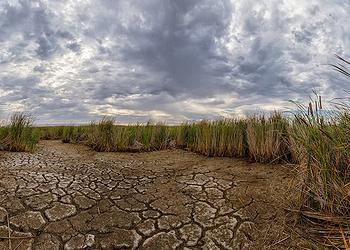 California Groundwater Sinks to Record Low … BNSF Agrees to One-Man Crews for Oil Trains … Giant Post-Combustion CO2 Capture Project Under Construction … Minnesota Power Agrees to Cut Emissions, Fund Eco-Projects … Recovering Wood Storks Downlisted to Threatened
California Groundwater Sinks to Record Low
FARMERSVILLE, California, July 18, 2014 (ENS) – Agriculture Secretary Tom Vilsack said today that his agency is providing $9.7 million in emergency water assistance to 73,000 residents in 11 California counties experiencing the driest year on record.
"This drought is devastating those who live, work and raise their families in much of rural California," said Vilsack, who heads the U.S. Department of Agriculture. "It is threatening the survival of whole communities and livelihoods of folks throughout the state. From Siskiyou County in the north to Kern County in the south, this disaster is crippling communities up and down the 600-mile spine of California."
"The emergency water grants we are announcing today are triple the amount we committed to when President Obama and I visited the state earlier this year," Vilsack said.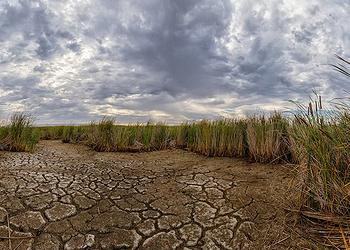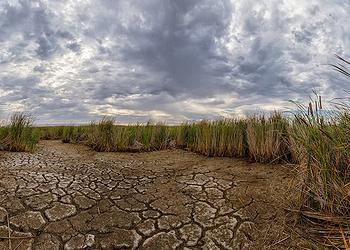 Groundwater levels in the San Bernardino Basin Area are now at their lowest levels in recorded history, even lower than the previous low point in 1964, which took place at the end of the 20-year drought.
A group of 14 California water agencies is launching a public relations campaign and a new website at www.iefficient.com next week to heighten public awareness of water facts and what businesses and residents must do to conserve water, not just during the current drought, but on an ongoing basis.
Bob Tincher, manager of water resources for San Bernardino Valley Municipal Water District, SBVMWD, said, "This isn't just an issue for San Bernardino, but many other cities depend up this basin for much of their water supply, including Redlands, Highland, Loma Linda, Rialto, Colton and Riverside."
Roughly 700,000 businesses and residents depend on the San Bernardino Basin Area for their water, said Tincher.
But the two regional agencies that import water from Northern California and the Colorado River to supplement local groundwater supplies – SBVMWD and Western Municipal Water District in Riverside – are now facing the unprecedented challenge of low groundwater levels.
Also, major cutbacks in State Water Project water deliveries from the Sacramento San Joaquin Delta and the Colorado River limit their ability to recharge local groundwater basins.
The cutbacks are primarily a result of the drought, although water deliveries also are reduced by court-mandated cutbacks to protect endangered species, such as the Delta smelt.
In addition, says Tincher, the customer base does not realize that imported water makes up close to 30 percent of its supplies, for direct consumption and for groundwater recharge.
In March, Newport Beach-based Probolsky Research, commissioned by 14 water agencies, surveyed about 400 Inland Empire residents. They found that only three to five percent of respondents knew that the Sacramento-San Joaquin Delta is a key source of water for residents and businesses in western San Bernardino and Riverside counties.
Said Tincher, "If Inland Empire residents do not know that we are dependent on water imported from Northern California for close to a third of our water supply then they will not understand the need for projects such as the Bay Delta Conservation Plan, which will safeguard our critical imported water supplies."
Formed by a coalition of state and federal agencies, the Bay Delta Conservation Plan calls for construction of two massive tunnels to convey fresh water under the Delta to the pumping stations that distribute the water to Central and Southern California through the Central Valley Project and the State Water Project aqueducts.
The project is expected to reduce, or eliminate, impacts to endangered species, restore reliability to Central and Southern California's imported water supplies and reduce the amount of salt transported into Southern California.
The project also safeguards imported supplies from the possible collapse of an antiquated levy system during an earthquake that could allow salt water to enter the fresh water delivery system.
The Bay Delta Project is expected to be underway by 2017 and completed by 2026. Learn more at: www.baydeltaconservationplan.com.
Copyright Environment News Service (ENS) 2014. All rights reserved.
BNSF Agrees to One-Man Crews for Oil Trains
FORT WORTH, Texas, July 18, 2014 (ENS) – Just one engineer will be able to operate trains carrying petroleum products on routes protected by a collision-avoidance system required by Congress in 2008, under a new tentative agreement between BNSF Railway and a railroad workers union.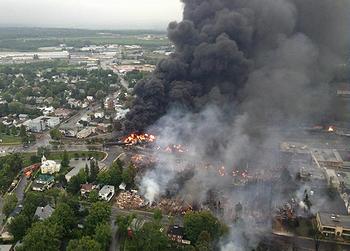 Sûreté du Québec
BNSF, which serves the western two-thirds of the United States, is the largest hauler of crude oil by rail in North America.
The agreement was first reported Thursday by "Railway Age," a trade publication and confirmed by McClatchy News.
A BNSF spokeswoman confirmed the agreement with the International Association of Sheet Metal, Air, Rail and Transportation Workers. If ratified by union members, it would cover 60 percent of the BNSF system.
Last August, the Federal Railroad Administration issued an emergency order requiring a minimum of two employees for oil trains after the July 6, 2013, derailment in Lac-Megantic, Quebec, Canada. Forty-seven people died, and more than 30 buildings, roughly half of the downtown area, were destroyed.
A lone engineer was in charge of that train.
The city prohibited all access to the downtown until June 2014 for a massive decontamination effort. The soil decontamination is expected to take until December 2014, although the water table appears uncontaminated.
The Transportation Safety Board of Canada has yet to release its findings on the causes of the disaster.
Under the new BNSF agreement, a single engineer would operate most trains with the support of a remotely based "master conductor" on routes equipped with Positive Train Control collision-avoidance system.
But BNSF spokesperson Roxanne Butler told McClatchy the agreement would not apply to trains carrying large volumes of hazardous materials, including crude oil and ethanol.
Copyright Environment News Service (ENS) 2014. All rights reserved.
Giant Post-Combustion CO2 Capture Project Under Construction
WASHINGTON, DC, July 18, 2014 (ENS) – Construction has begun on the first commercial-scale post-combustion carbon capture retrofit project in the United States, and the largest such project in the world.
The Petra Nova Project will use cutting edge technology to help decrease the power plant's greenhouse gas emissions.
The construction is being handled by the U.S. Department of Energy, in partnership with NRG Energy Inc. and JX Nippon.
Once completed, the project will capture about 1.4 million metric tons of carbon dioxide, CO2, annually from an existing coal-fired power plant in Texas.
The captured CO2 will then be used to extract additional, hard-to-access oil from a previously depleted field 80 miles away, storing the carbon underground in the process.
Energy Secretary Ernest Moniz said, "As part of the President's all-of-the-above approach to American energy, the department is advancing the technologies that will help ensure we can continue to develop all of our abundant energy resources responsibly and sustainably."
"With coal expected to remain a significant part of the energy portfolio in the U.S. and internationally, first-of-a-kind projects like Petra Nova will move us toward a low-carbon energy future," he said.
Originally conceived as a 60 megawatt capture project for which they received $167 million in support from the Department of Energy, the project sponsors expanded the design.
Now the facility is designed to capture emissions from 240 MW of generation at the Houston-area power plant without more federal investment.
The Petra Nova Project will capture 90 percent of the CO2 using a process deployed at an Energy Department-sponsored three-year pilot-scale test in Alabama. There it captured more than 150,000 metric tons of CO2 a year from a coal-fired power plant.
With this capture rate, coal-fired power generation would have a greenhouse gas footprint lower than that of a traditional natural gas-powered plant, the Energy Department says.
After compressing and transporting the captured CO2 through a pipeline, the greenhouse gas will be used to displace previously unreachable oil. Once the oil is separated from the CO2, the greenhouse gas will be injected back into the underground oil field for permanent storage. Carbon dioxide has been successfully used since the early 1970s to bring up more oil from reservoirs previously considered to be uneconomic for further production.
Today, NRG is actively considering more such projects at other NRG coal-fired power units.
Copyright Environment News Service (ENS) 2014. All rights reserved.
Minnesota Power Agrees to Cut Emissions, Fund Eco-Projects
WASHINGTON, DC, July 18, 2014 (ENS) – In a legal settlement with the United States, Minnesota Power, an Allete company based in Duluth, has agreed to install pollution control technology and meet strict emission rates to cut air pollution from three of the company's coal-burning power plants.
The company estimates that it will spend over $500 million to implement the required measures at the three power plants located in Cohasset, Hoyt Lakes, and Schroeder, Minnesota.
The settlement also requires that the company pay a civil penalty of $1.4 million to resolve Clean Air Act violations and spend at least $4.2 million on environmental projects to benefit local communities.
The state of Minnesota is co-plaintiff in the settlement and will receive $200,000 of the penalty.
The settlement will resolve claims that the company violated the New Source Review provisions of the Clean Air Act by illegally modifying these plants without obtaining required permits and installing and operating the best available air pollution control technology, according to a joint statement by the Department of Justice and the U.S. Environmental Protection Agency Wednesday.
EPA projects that the actions required by the settlement will reduce harmful emissions by over 13,350 tons per year, which includes 8,500 tons per year of sulfur dioxide.
"Reducing harmful emissions from large sources of air pollution is a national priority for EPA," said Cynthia Giles, assistant administrator for EPA's Office of Enforcement and Compliance Assurance. "By meeting some of the lowest emission rates in the country, Minnesota Power will continue to provide energy to communities across northeastern Minnesota, while at the same time, reducing sulfur dioxide and nitrogen oxide in the air, which can pose serious health risks."
The company must reduce sulfur dioxide (SO2), nitrogen oxide (NOx), and particulate matter emissions from the three power plants, which include nine operating units, as well as a biomass-and-coal-fired cogeneration plant which provides power and steam to an adjacent paper mill. In addition, the company must retire, refuel, repower, or reroute emissions at five other units, among other measures.
SO2 and NOx are converted in the air to particulate matter that can cause severe respiratory and cardiovascular impacts and premature death, the EPA warns.
The settlement also requires that the company spend $4.2 million on projects that will benefit the environment and local communities, including $2 million to build a large-scale solar installation system to benefit a local tribe, the Fond du Lac Band.
In addition, the company will provide between $500,000 and $1 million to replace, retrofit, or upgrade wood burning appliances to reduce pollution, and $200,000 to the National Park Service to restore wetlands at Voyageurs National Park.
For the remaining money, the company can select from the following four project types: land donation and restoration, electric vehicle charging stations, clean diesel projects, or installation of renewable energy.
Minnesota Power provides electric service to some 143,000 people and 16 municipalities within a 26,000-square-mile area in northeastern Minnesota.
Copyright Environment News Service (ENS) 2014. All rights reserved.
Recovering Wood Storks Downlisted to Threatened
TOWNSEND, Georgia, July 18, 2014 (ENS) – The U.S. Fish and Wildlife Service is down-listing the wood stork from endangered to threatened under the Endangered Species Act, after three decades of conservation and recovery.
In June Secretary of the Interior Sally Jewell made the announcement at the Harris Neck National Wildlife Refuge, home to the largest wood stork rookery in Georgia.
The conservation work was done by the federal government in partnership with states, tribes, conservation groups, private landowners, and other stakeholders, said Secretary Jewell.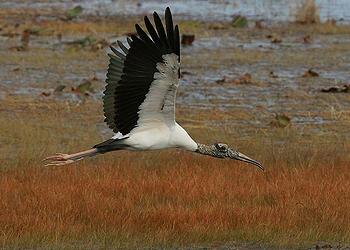 "From the cypress swamps of Georgia, to the inland waterways of Florida, wetlands and their wildlife are emblematic of the American Southeast," she said. "Through important conservation partnerships, the U.S. Fish and Wildlife Service is working to rebuild a healthy wetland ecosystem, which, in turn, is helping restore the wood stork's habitat, double its population since its original listing and keep the bird moving in the right direction toward recovery."
"We are thankful for the great efforts of our conservation partners who are helping us shepherd this remarkable species toward recovery," said U.S. Fish and Wildlife Service Director Dan Ashe. "Reclassification of the wood stork to threatened status does not diminish protection measures for the bird under the ESA, and we will continue to work with our partners to fully recover the bird, including with our counterparts in Florida, South Carolina and Georgia, and great organizations like Ducks Unlimited and the Corps of Engineers."
When wood storks were listed as endangered in 1984, their population was dropping a precipitous five percent a year. Since then, the U.S. breeding population has shown substantial improvement in the numbers of nesting pairs as a whole and an expansion of its breeding range.
However, the five-year average of 10,000 nesting pairs, identified in the current recovery plan as the threshold for delisting, has not yet been reached.
When the Service originally listed the U.S. breeding population, the bird's range included Florida, Georgia, South Carolina and Alabama with breeding in Central and South Florida.
Historically, the Florida Everglades and the Big Cypress ecosystems supported large breeding colonies of wood storks. Since listing, the species' range has expanded to include parts of North Carolina and Mississippi, with nesting in Florida, Georgia, South Carolina and North Carolina.
The Wetlands Reserve Program has restored more than 200,000 acres of wetlands in Florida and more than 115,000 acres in Alabama, Georgia and South Carolina.
As part of the reclassification decision, the Service determined that the stork's U.S. breeding population is a Distinct Population Segment under the law, separate from wood storks that breed in Central and South America.
The U.S. Distinct Population Segment is protected by the Endangered Species Act and the Migratory Bird Treaty Act. Populations breeding in Central and South America are not listed under the ESA, although wood storks in Mexico are protected by that country's legal equivalent.
Copyright Environment News Service (ENS) 2014. All rights reserved.
© 2014, News Editor. All rights reserved.