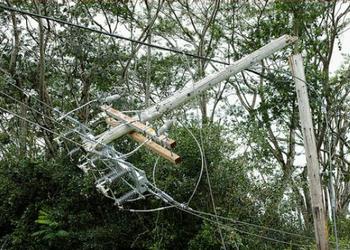 Hurricane Iselle Affects Voting in Hawaii … California Will Vote on $7.5 Billion Water Bond … FDA: Beware Online Sales of Fraudulent Ebola Medicine … Pharmaceuticals, Chemicals Contaminate Landfill Leachate … Nine Cities to Reduce Sewage Discharge to San Francisco Bay … Michigan's Largest Solar Array Going Up at Ford Headquarters … Court Rules California Gas Power Plant Permit Illegal
Hurricane Iselle Affects Voting in Hawaii
HONOLULU, Hawaii, August 15, 2014 (ENS) – The winner of Hawaii's cliff-hanger of a U.S. Senate Democratic primary race will be decided today by voters in two small precincts on the Big Island of Hawaii that were closed during last week's voting because of Tropical Storm Iselle.
U.S. Senator Brian Schatz, the appointed incumbent, is in a cliff-hanger with U.S. Representative Colleen Hanabusa for the seat left empty with the death of long-time Senator Daniel Inoye in December 2012.
UPDATE: Schatz defeated Hanabusa by fewer than 1,800 votes on Friday,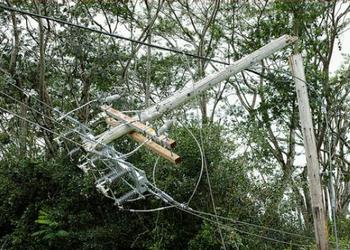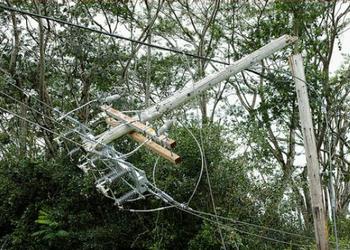 Both candidates have been working the Puna district, campaigning and offering humanitarian aid to those still in need after Iselle knocked out power and flooded many areas.
On Thursday, Judge Greg Nakamura denied Hanabusa's request for an emergency temporary restraining order Thursday in 3rd Circuit Court on the Big Island.
Hanabusa's lawyers argued, "As of this filing, voters in the affected area are still without power and local roads remain blocked. With blocked roads, widespread damage, and limited means of communication, there is no practical manner to ensure that all residents will receive adequate notice of the announced election or be able to access the precincts on that day."
Chief Election Officer Scott Nago made the decision after consultation with the Hawaii Attorney General, Department of Defense and the Office of the County Clerk.
"Only voters who are assigned to Hawaiian Paradise Community Center (04-01) and Keoneopoko Elementary School (04-02), who did not previously vote by absentee mail ballot or at an early vote site will be allowed to vote," according to the Elections Office.
Just 1,635 votes separate Brain Schatz from Colleen Hanabusa in the Democratic primary, held Saturday.
There are 8,255 registered voters in the two precincts.
On primary election night, the two contenders were neck-and-neck with as few as 11 votes separating them at one point. Hanabusa had an early lead, but Schatz moved ahead later.
Copyright Environment News Service (ENS) 2014. All rights reserved.
California Will Vote on $7.5 Billion Water Bond
SACRAMENTO, California, August 15, 2014 (ENS) – As California parches in the worst drought in state hisotry, Governor Jerry Brown has signed legislation to put a comprehensive water bond before voters this November.
The new bond includes $7.12 billion in new debt, plus the repurposing of existing unspent bond funds of $425 million for a total of $7.545 billion.
None of the repurposed bond funds will be taken from existing projects. The measure will be Proposition 1 on the November ballot.
"Water is the lifeblood of any civilization and for California it's the precondition of healthy rivers, valleys, farms and a strong economy," said Governor Brown. "With this water bond, legislators from both parties have affirmed their faith in California's future."
The legislation signed by Governor Brown on Wednesday, AB 1471 by Assemblymember Anthony Rendon (D-Lakewood), replaces the current $11.1 billion water bond on the November ballot.
The bipartisan legislation passed the Senate 37-0 and the Assembly 77-2.
The bond provides for water use efficiency and recycling, groundwater cleanup and management and $2.7 billion for additional water storage.
It invests in safe drinking water, particularly in disadvantaged communities, and provides for watershed restoration and increased flows in some of California's most important rivers and streams.
For full text of the bill, visit: http://leginfo.legislature.ca.gov
The water bond is supported by a broad coalition including dozens of agricultural, business, labor, environmental, water and wildlife organizations.
Copyright Environment News Service (ENS) 2014. All rights reserved.
FDA: Beware Online Sales of Fraudulent Ebola Medicine
WASHINGTON, DC, August 15, 2014 (ENS) – The U.S. Food and Drug Administration is advising everyone to beware of products sold online claiming to prevent or treat the Ebola virus.
Since the recent outbreak of the Ebola virus in West Africa, which now has put over one million people at risk, the FDA has seen and received consumer complaints about a variety of products claiming to either prevent infection by the Ebola virus or treat the infection.
The agency said in a statement Thursday that there are currently no FDA-approved vaccines or drugs to prevent or treat Ebola.
"Although there are experimental Ebola vaccines and treatments under development, these investigational products are in the early stages of product development, have not yet been fully tested for safety or effectiveness, and the supply is very limited," said the FDA.
"There are no approved vaccines, drugs, or investigational products specifically for Ebola available for purchase on the Internet," the FDA stated. By law, dietary supplements cannot claim to prevent or cure disease.
"Those promoting these unapproved and fraudulent products must take immediate action to correct or remove these claims or face potential FDA action," the agency said.
The Centers for Disease Control and Prevention advises that Ebola "does not pose a significant risk to the U.S. public."
Ebola is a viral hemorrhagic fever disease. Symptoms include fever, headache, joint and muscle aches, weakness, diarrhea, vomiting, stomach pain, lack of appetite, and abnormal bleeding. Symptoms of the virus can appear anywhere from two to 21 days after exposure, but is most commonly seen on days eight to 10.
In the United States, Ebola is not a water-borne or food-borne illness and is not transmitted through the air. Ebola is spread through direct contact with the body fluids of an infected person, or with objects like needles that have been contaminated with the virus. People who do not show symptoms are not contagious.
Copyright Environment News Service (ENS) 2014. All rights reserved.
Pharmaceuticals, Chemicals Contaminate Landfill Waste Water
RESTON, Virginia, August 15, 2014 (ENS) – Pharmaceuticals, personal care products, and other contaminants are widespread in water that has passed through landfill waste, called leachate, according to researchers with the U.S. Geological Survey.
In the first national assessment of these chemicals of emerging concern, USGS scientists collected leachate from 19 active landfills across the United States.
They analyzed the untreated leachate samples – before treatment and environmental release – for 202 chemicals, including pharmaceuticals, hygiene products, home-use chemicals, pesticides, plastics.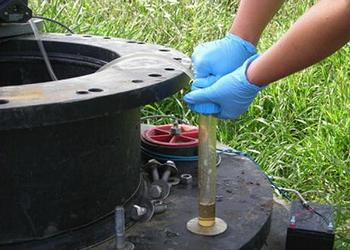 Of the 202 chemicals investigated, the scientists found 129.
Chemicals commonly detected include:
•       bisphenol A: found in 95 percent of samples, used to make plastics and resins
•       cotinine: detected in 95 percent of samples, a chemical formed from nicotine
•       N,N-diethyltoluamide: detected in 95 percent of samples, also known as DEET, an insect repellent
•       lidocaine: detected in 89 percent of samples, used as anti-itching and local anesthetic
•       camphor: detected in 84 percent of samples, used in a variety of medicines and lotions
"This represents the first step in USGS efforts to quantify the contribution of contaminants of emerging concern in leachate from active landfills to the environment," said Dana Kolpin, the USGS research team leader. "Follow-up research will examine contaminant concentrations in treated and untreated leachate that is released to the environment."
Of the chemicals found, concentrations varied. Home-use and industrial chemicals were found in the highest concentrations, prescription and nonprescription pharmaceuticals were the next highest, while steroid hormone concentrations were the lowest.
The most concentrated chemical found was para-cresol, used as a plasticizer and flame-retardant, antioxidant in oils, rubber, polymers, and as a wood preservative.
"As expected, we found more chemicals and generally higher concentrations in landfills from wetter regions compared to those from drier regions," said USGS scientist Jason Masoner, the study's primary author. "Overall, this study provides a better understanding of sources of contaminants of emerging concern in landfills."
The paper, "Contaminants of Emerging Concern in Fresh Leachate from Landfills in the Conterminous United States," has been published in the journal, "Environmental Science: Processes & Impacts."
Copyright Environment News Service (ENS) 2014. All rights reserved.
Nine Cities to Reduce Sewage Discharge to San Francisco Bay
OAKLAND, California, August 15, 2014 (ENS) – Sewer agencies serving nine East Bay cities have agreed to major upgrades to keep hundreds of millions of gallons of raw and undertreated sewage from polluting San Francisco Bay.
The improvements will ultimately end the current practice of releasing massive amounts of undertreated sewage from the cities into the Bay during rainy weather.
The agreement is a result of joint legal action by San Francisco Baykeeper, the US Environmental Protection Agency, the California Water Board, and Our Children's Earth Foundation.
"This agreement requires upgrades of a huge scope, and will lead to an enormous improvement in the long-term health of the Bay, as well as the safety of those who spend time in and on the Bay," said Deb Self, executive director of San Francisco Baykeeper.
The cities of Alameda, Albany, Berkeley, Emeryville, Oakland, Piedmont, and the Stege Sanitary District, which serves El Cerrito, Kensington, and part of Richmond, have crumbling sewer pipes.
During heavy rain, these old sewer pipes allow water to seep in. The volume of raw sewage mixed with rainwater is too large for the East Bay's main wastewater treatment plant, operated by the East Bay Municipal Utility District, or EBMUD.
EBMUD diverts the mixture to three wet weather treatment plants, where the diluted sewage is partly treated and quickly released into San Francisco Bay.
During the rainy season, EBMUD wet weather plants discharge millions of gallons of undertreated sewage mixed with polluted stormwater into the Bay. In very rainy years, the plants can discharge hundreds of millions of gallons of contaminated water.
When the pipes back up, hundreds of thousands of gallons of raw sewage spills into streets. The raw sewage gets washed into storm drains that empty directly into the Bay, without filtering or treatment. The sewage agencies' replacement of old pipes will minimize spills of raw sewage into city streets and storm drains.
Baykeeper and partners first brought suit to require cleanup in 2009, and reached an interim settlement agreement in 2011. Since then, the East Bay sewer agencies have begun making initial repairs, while planning longer-term infrastructure improvements.
Now, the sewer agencies serving the nine East Bay cities will make major investments to replace outdated pipes and infrastructure over the next 21 years. The required upgrades will gradually reduce, then eliminate, releases of undertreated sewage into the Bay from the wet weather treatment plants.
This legally-binding agreement for cleanup of sewage pollution in the Bay is the latest progress in Baykeeper's Sick of Sewage Campaign. Baykeeper legal actions in this campaign have previously resulted in sewer agencies serving 20 Bay Area cities, including these in the East Bay, being required to upgrade their infrastructure in order to reduce their pollution of the Bay. Repairs are ongoing, or in some cases complete, at sewer agencies serving 11 Peninsula cities.
Copyright Environment News Service (ENS) 2014. All rights reserved.
Michigan's Largest Solar Array Going Up at Ford Headquarters
DEARBORN, Michigan, August 15, 2014 (ENS) – Ford is teaming with DTE Energy to build Michigan's largest solar array at Ford World Headquarters in the Detroit suburb of Dearborn. The project, funded by DTE Energy, will provide employees with 360 covered parking spaces and 30 charging stations for plug-in electric vehicles such as the company's Ford Fusion Energi and C-MAX Hybrid Energi.
A kiosk will also be on site offering general information to visitors about solar power and specific details about the Ford carport.
"Ford has a long history of innovation and a deep commitment to sustainability," said Bill Ford, executive chairman of Ford Motor Company. "Our fundamental purpose as a company is to make people's lives better. We do that by creating outstanding products, by investing in communities where our employees live and work, and by using technology to tackle global sustainability challenges. Those beliefs are embodied in this project."
The solar canopy will have capacity to generate 1.038 megawatts of electricity – enough to power 158 average-sized homes. It will be the second-largest solar carport in the Midwest, after a 1.1-megawatt facility at the Cincinnati Zoo in Ohio, and it will reduce the amount of electricity Ford pulls from the grid to run its offices.
"We are thrilled to be collaborating with DTE Energy to bring a more efficient, renewable energy source to our offices," said Donna Inch, chairman and CEO, Ford Motor Land Development Corporation. "This is an innovative project that will benefit both DTE Energy and Ford, and is yet another example of our work toward building a more sustainable future."
Under a recently finalized agreement, DTE Energy will construct, operate and maintain the carport for 20 years. Construction is slated to begin in September and be completed in early 2015.
The solar installation is part of an initiative DTE Energy launched in 2009 called SolarCurrents. The program works to fulfill DTE Energy's commitment to generate 10 percent of its energy from renewable sources by 2015.
"The SolarCurrents canopy project is another example of how DTE Energy and Ford are working to build a more energy-efficient and sustainable future," said Irene Dimitry, DTE Energy vice president, marketing and renewables. "At the same time, this project will help us come closer to meeting Michigan's renewable energy goals and diversify our energy portfolio."
This is the second collaboration between Ford and DTE Energy in recent years.
In 2010, the companies teamed up to install a 500-kilowatt solar photovoltaic panel system at Ford's Michigan Assembly Plant in Wayne, Michigan. Energy generated by the system helps power vehicle production at the plant, where Ford Focus, Focus Electric, C-MAX Hybrid and C-MAX Energi are built.
Copyright Environment News Service (ENS) 2014. All rights reserved.
Court Rules California Gas Power Plant Permit Illegal
SAN FRANCISCO, California, August 15, 2014 (ENS) – The Ninth Circuit Court of Appeals has struck down as illegal a permit that would have allowed Avenal Power to build a new gas-fired power plant in Avenal, California, one of the most polluted and economically disadvantaged areas of the San Joaquin Valley.
In 2011, the U.S. Environmental Protection Agency issued a permit for the project that waived its need to comply with air quality safeguards.
The legal action against the EPA was brought by Greenaction for Health and Environmental Justice, Sierra Club and Center for Biological Diversity, all represented by the public interest law firm Earthjustice, and by El Pueblo Para el Aire y Agua Limpia/People for Clean Air and Water of Kettleman City who are represented by Center on Race, Poverty and the Environment.
In the August 12 ruling, the court said the Clean Air Act "does not permit EPA to waive … requirements whenever it finds it convenient to do so."
"Low-income people of color living near the proposed power plant are already burdened by birth defects and infant mortality, diesel traffic fumes, pesticides, and the largest toxic dump in the west," said Bradley Angel, executive director of Greenaction for Health and Environmental Justice. "We applaud the court's decision that stopped EPA's violation of the law."
"We're delighted with this victory for the environment, public health and the Clean Air Act," said Vera Pardee, senior attorney at the Center for Biological Diversity. "This decision once again makes clear that the EPA cannot exempt polluters at whim."
While Avenal Power's application for the "prevention of significant deterioration" permit was pending, new air-quality standards came into effect to protect against nitrogen dioxide emissions and greenhouse gases.
When regional EPA officials told Avenal Power to comply with the new standards, the company sued the EPA for not having issued the permit within a year.
The EPA's national office then took over permitting and issued the permit based on the old standards, arguing that it could "grandfather" the project and ignore the new air-quality standards.
Because the court vacated the permit, Avenal must now comply with all of the new standards, construct a smaller plant that does not need a federal prevention of significant deterioration permit, or abandon the project.
"EPA was willing to ignore the law to allow this project to go forward in one of the hardest hit communities in one of the most polluted regions in the country, and it was a shameful decision," said Paul Cort, Earthjustice attorney. He called the decision, "a great victory for this community and for the rule of law generally."
Copyright Environment News Service (ENS) 2014. All rights reserved.
Environment News Service (ENS) © 2014 All Rights Reserved.