America's EV Charging Station Makers Race for Market Share
SAN FRANCISCO, California, March 7, 2011 (ENS) – As electric vehicles begin to roll out of dealers' showrooms and out onto America's roads, the race is on among EV charging station manufacturers to attract business, public sector and residential customers.
At least five companies are busily installing charging stations on public streets, in municipal parking lots, at government and business offices, hotels, airports, shopping centers, restaurants and libraries as well as in driveways and garages at home.
To build its market share, General Electric will host an electric vehicle experience tour in seven U.S. cities starting next Thursday in San Francisco to prepare these markets for the coming wave of battery electric and plug-in hybrid electric vehicles.
GE manufactures fast-charging Level II WattStation charging stations, circuit protection equipment and transformers for EV infrastructure and is taking its industrial product experts on the road to ensure that when cities prepare for EVs, GE products are considered.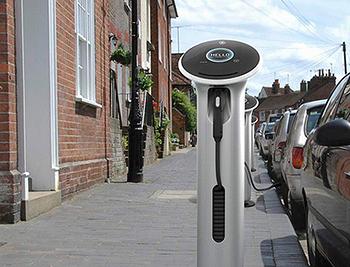 GE WattStation EV chargers (Photo courtesy GE)
In December, GE committed to purchase 25,000 EVs by 2015 for its own fleet and for customers of its global fleet management business, the largest such purchase to date.
"GE is playing a leadership role in the transformation to smarter transportation solutions and a smarter electrical grid," said Luis Ramirez, CEO, GE Energy Industrial Solutions. "Our EV Experience Tour is an important way for us to engage communities across the United States in the discussion about the economic and environmental advantages of EV deployment."
GE is working with General Motors, Ford, Toyota, Navistar, Smith Electric Vehicles, Mitsubishi, Coda, Smart, THINK and other organizations on the tour.
Each day-long stop on tour will include presentations by GE and community leaders, workshops to help stakeholders with EV planning, deployment, and integration strategies, and test drives.
Scheduled tour dates are: San Francisco, March 10; Seattle, March 15; Los Angeles, March 17; and San Diego, March 22. Additional EV Experience Tour dates will be announced in Austin, New York City, and Washington, DC for spring 2011.
GE is competing for a share of the EV charging station market against California-based Coulomb Technologies, which already has a network of charging systems, the ChargePoint Network, operating in 14 countries, and Network Operations Centers in the United States, London, and Hong Kong.
Coulomb is installing nearly 5,000 public and home charging stations across the country as part of the $37 million ChargePoint America program. All the stations are free for public and private owners funded by Coulomb's $15 million in economic stimulus from the U.S. Department of Energy. Coulomb has partnered with Ford, General Motors, and Smart USA to offer free in-home stations along with the purchase of qualifying EVs.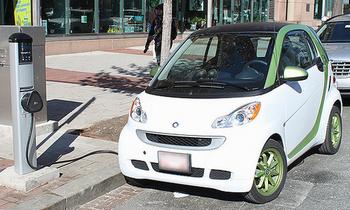 An electric smart car charges up at a Coulomb ChargePoint station at Reeves Center, a government building in Washington, DC. (Photo courtesy District Dept. Transportation)
Coulomb's charging stations are managed by the ChargePoint Network and allow EV drivers to locate and navigate to charging stations from any smart phone and using Google Maps. ChargePoint facilitates EV trip mapping, driver billing, 24/7 driver assistance, and greenhouse gas and energy savings measurements.
In January, Coulomb announced that Chevrolet will offer ChargePoint EV charging stations at its U.S. Chevrolet dealerships in support of the Chevy Volt and Chevrolet has installed ChargePoint stations at its corporate headquarters in Detroit for employees and guests. SPX Corporation, Chevrolet's home charging installation partner, will deliver and install hundreds of Level II 240V ChargePoint charging stations to the Chevrolet dealers.
"This partnership means that Chevrolet dealers can showcase the Volt and demonstrate the innovativeness and convenience Coulomb's ChargePoint stations provide," said Richard Lowenthal, CEO of Coulomb Technologies. "We are proud to be working with SPX to ensure that the Volt introduction is a great experience for the EV car buyer."
Another competitor in this field is EV-Charge America, based in Las Vegas, which offers charging stations and smart grid infrastructure. In January, EV-Charge America announced the award of multi-year contracts with the state of Minnesota to manufacture, install and maintain some of the first EV charging equipment in the state. The contracts include state agencies as well as municipalities.
Bob Rosinski, EV-Charge America's CEO said, "The EV-Charge America Team has ramped up the production of its multi-vehicle Level II ground mounted charging Stations and dual vehicle wall mounted charging stations in anticipation of the first deliveries to the state of Minnesota in the very near future."
EV-Charge America charging stations offer functions include user authentication, access control, energy flow control, location management, utility company policy administration, user web portal, host property portal, utility portal and GPS system interfaces.
SolarCity, headquartered in San Mateo, California, builds charging stations for electric vehicles along with its other business of solar energy system design, installation, financing and leasing.
In 2009, Rabobank and SolarCity collaborated on EV charging stations co-located at Rabobank branches along highway 101 to connect San Francisco and Los Angeles. Charging is free to owners of Tesla Motors vehicles.
Shorepower Technologies, based in Utica, New York, is deploying electrified parking spaces for truck stop electrification as well as for electric vehicles and plug-in hybrid electric vehicles. Taller than other systems, Shorepower charging stations are designed to be highly visible and easily recognizable in parking areas. They offer web-based monitoring and reporting with detailed information about usage, access times, energy consumed and billing.
Copyright Environment News Service (ENS) 2011. All rights reserved.