Aid Reaches Thirsty, Starving East African Refugees, More Needed
WASHINGTON, DC, August 12, 2011 (ENS) – Some 12.4 million people in the drought-hit Horn of Africa – Djibouti, Ethiopia, Kenya and Somalia – are facing severe food and water shortages and need international emergency assistance to survive. The region is facing the worst drought in 60 years.
The United Nations refugee agency said today it urgently needs 45,000 more tents as more Somalis continue to arrive in Kenya after fleeing drought, famine and conflict in their homeland.
More than 70,000 Somali refugees have arrived at the three camps that make up Kenya's Dadaab refugee complex during June and July, bringing the overall population there to 440,000, according to the UN High Commissioner for Refugees, UNHCR.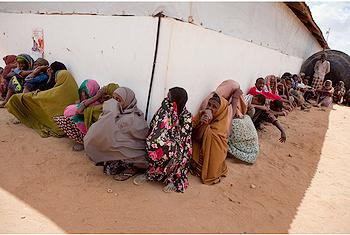 Refugees wait in the blazing heat to register and receive their initial bundle of supplies at the Dagahaley refugee camp, in Dadaab, Kenya, August 8, 2011. (Photo by David Lienemann courtesy The White House)
"As well as needing food and water, these new arrivals urgently need proper shelter, medical help and other basic services," UNHCR spokesperson Adrian Edwards told a news conference in Geneva.
The agency has moved thousands of tents to Dadaab since the current crisis began but the growing refugee population needs even more.
At least 3.7 million people, nearly half the Somali population, are now directly at risk of famine and tens of thousands have already perished.
"What is happening in the Horn of Africa is the most severe humanitarian emergency in the world today, and the worst that East Africa has seen in several decades," Secretary of State Hillary Rodham Clinton told an audience at the International Food Policy Research Institute in Washington Thursday.
The United States is the largest single-country contributor of food and humanitarian assistance to the Horn of Africa, said Clinton. "The United States and our partners in the region, including the World Food Programme, the UN High Commissioner for Refugees, UNICEF, NGOs, and donor governments, are racing to save as many lives as possible."
On Monday, President Barack Obama announced that in view of the current crisis, the United States is providing an additional $105 million in emergency funding.
"Today," said Clinton, "I'm announcing another $17 million on top of that with $12 million designed specifically for helping the people of Somalia. That brings the total U.S. humanitarian assistance to the region to more than $580 million this year."
"We are reaching more than 4.6 million people with this aid. It helps to pay for food distribution; for therapeutic feeding for those who are severely malnourished; for clean water, healthcare, sanitation, protection, and other services for those in need," Clinton said. "And let me say how grateful I am to the aid workers who are delivering this assistance, swiftly and effectively, in extremely difficult and often dangerous circumstances."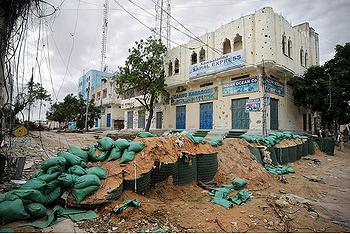 Battle-damaged buildings and businesses along the deserted streets of Bakara Market in central Mogadishu, a former al-Shabaab stronghold, August 9, 2011 (Photo by Stuart Price courtesy UN)
The terrorist group al-Shabaab has prevented humanitarian assistance from coming in, Clinton said. "It has killed and threatened aid workers. There are also credible reports that al-Shabaab is preventing desperate Somalis from leaving the areas under its control."
Still, hundreds of thousands of Somalis, largely women and children, are fleeing to the north – crossing the borders into Ethiopia, Kenya, and Djibouti – straining the capacity of those countries.
Al-Shabaab, which has fought for four-years to remove the Western-backed government of Somali President Sheikh Sharif Sheikh Ahmed, withdrew its forces from the capital, Mogadishu, on August 6.
Thousands of Burundian and Ugandan African Union troops, which support the Somali Transitional Federal Government, now control over 90 percent of the city since al-Shabaab's retreat.
The government said in an August 9 statement that the move was a "tremendous step forward for the nation."
This week, Dr. Jill Biden, wife of Vice President Joe Biden, visited Kenya to draw attention to the humanitarian crisis. She led a delegation that included physician and former U.S. Senator Bill Frist, a Tennessee Republican; U.S. Agency for International Development Administrator Raj Shah; Assistant Secretary of State Eric Schwartz; and Special Assistant to the President Gayle Smith.
"We met women and children who walked for weeks, often barefoot and with nothing but the clothes on their backs, desperate to find food and medical care. We heard the story of one mother who was too weak to carry both of her children, and made the wrenching choice to leave one behind on the road in hopes of saving the other," Biden and Frist wrote August 12 in "USA Today."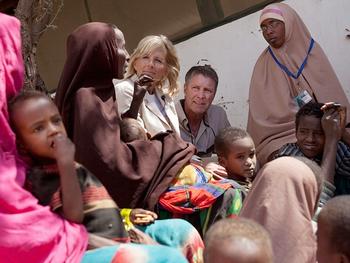 Dr. Jill Biden and former Senator Bill Frist meet recently arrived refugee families at the Dagahaley camp, in Dadaab, Kenya, August 8, 2011. (Photo by David Lienemann courtesy The White House)
"We learned of families who had arrived too late whose children became part of a devastating statistic: in the past three months alone, 29,000 children younger than 5 have died of starvation," they wrote.
"We can do two things," said Frist on a teleconference Wednesday, "Make sure the world knows this is unfolding and know that people's help and investment, as they have responded in the past here in America, can make a huge, huge difference … literally saving lives."
Frist advises people who wish to donate to go online to www.usaid.gov where there is a listing of all the nongovernment organizations, "many of whom we saw on the ground working side-by-side in partnership with governments."
USAID Administrator Dr. Rajiv Shah said, "I visited the Wajir and Dadaab refugee camps in Kenya. I saw child after child weary from their long journey to the camps, eager for their first meal in days if not weeks. Seeing a child in such a fragile state – witnessing just one child face such difficult circumstances – is heartbreaking. Knowing that millions of children face a similar fate in the coming months unleashes a sense of profound sorrow."
"Dadaab is now the fourth largest city in Kenya, home to more than 370,000 people who were in such a state of need that they fled their homes, many on foot, many from hundreds of miles away, just to find food, water, and health care for themselves and their children," said Shah.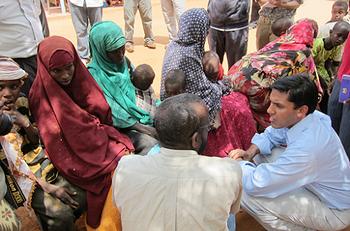 USAID Administrator Dr. Rajiv Shah, right, meets with refugee families at Dadaab, July 21, 2011 (Photo by L. Meserve courtesy USAID)
"Since October 2010, the U.S. Government has provided $459 million in life-saving aid to over 4.4 million people in the eastern Horn. But that is no comfort today to those who have no food or water for their children, or for themselves," Shah said. "We must implement long-term strategies that can help prevent this kind of suffering once and for all."
For years, said Shah, the United States has been working with the Ethiopian government on a safety net program that has improved food security for many living in areas vulnerable to drought.
"Even in this record drought, due to that long-term effort, 8.3 million people that have benefited from this program today do not need emergency assistance," he said.
President Obama's Feed the Future initiative partners with countries like Ethiopia and Kenya to develop their own agricultural industries, helping them break free of the need for humanitarian food aid.
During her visit, Dr. Biden toured the Kenya Agriculture Research Institute in Nairobi, which receives USAID funding to help develop drought-resistant crops and improve farming methods to increase yields.
UN Under-Secretary-General for Humanitarian Affairs Valerie Amos arrives in Kenya today to meet with humanitarian agencies that are responding to the crisis and to visit refugees at Dadaab.
The second of three planned humanitarian flights landed at Mogadishu airport on Thursday, bringing a 32-ton consignment of shelter and other aid items, said the UN High Commission for Refugees, UNHCR.
The agency has been shipping relief supplies to Mogadishu by sea and land, but due to the large number of people seeking help in the city after fleeing their famine-hit villages in the south, it decided to airlift supplies to save time.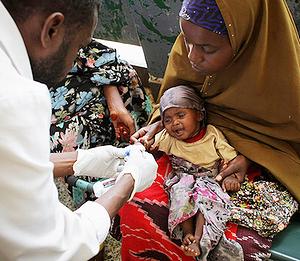 A malnourished, dehydrated baby cries as a doctor applies an intravenous drip to increase fluid intake at Banadir Hospital in Mogadishu. August 10, 2011 (Photo by Stuart Price courtesy UN)
In July, the United Nations declared a famine in five southern regions of Somalia, including Mogadishu.
UN agencies are stepping up efforts to respond to a cholera epidemic among the displaced Somalis who have arrived in the capital, Mogadishu. The UN World Health Organization said 181 people have died from suspected cholera cases in a single hospital in Mogadishu this year and there have been several other confirmed cholera outbreaks across the country.
"Most [outbreaks] have been declared under control, but alarming rates of confirmed cholera cases among internally displaced people have been reported in Mogadishu," WHO spokesperson Tarek Jasarevic told reporters in Geneva today.
An estimated 100,000 Somalis have fled to Mogadishu over the past two months in search of food, water, shelter and protection in addition to the more than 370,000 internally displaced persons in Mogadishu who were forced to leave their homes before the current wave of displacement.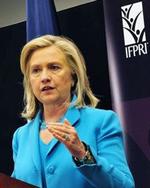 Secretary of State Hillary Clinton addresses the Horn of Africa crisis, August 10, 2011 (Photo courtesy U.S. State Dept.)
UN Secretary-General Ban Ki-moon Thursay discussed the need to mobilize international resources to counter famine in the Horn of Africa with Irish rock star Bono, a leader of the multi-partner Campaign ONE, which fights extreme poverty and preventable diseases in the world's poorest places.
In a phone conversation, they discussed the need to galvanize fund-raising efforts and to improve access for humanitarian workers to deliver aid, and agreed on the importance of supporting political dialogue in Somalia.
Secretary Clinton told the International Food Policy Research Institute in her address Thursday that the cycle of drought, crop failure, livestock deaths, soaring food prices and people relocating and dying of starvation "is not solely an act of God."
"It is a complex problem of infrastructure, governance, markets, education," said Clinton. "These are things we can shape and strengthen."
"We're also paying attention to the environmental impact of our programs to protect the water and the land for future generations and to help farmers adapt to the effects of climate change," she said.
"We do have the know-how. We have the tools. We have the resources," Clinton said. "And increasingly, we have the will to make chronic food shortages and under-nutrition a memory for the millions worldwide who are now vulnerable."
Copyright Environment News Service (ENS) 2011. All rights reserved.