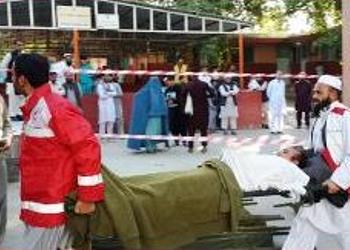 KABUL, Afghanistan, October 28, 2015 (ENS) – Frantic and freezing, survivors are begging for food and blankets Tuesday after a severe earthquake struck Pakistan and Afghanistan, killing more than 360 people in the two neighboring countries.
The magnitude 7.5 quake earthquake hit Badakshan Province in northeastern Afghanistan Monday, also rocking a large area of Pakistan.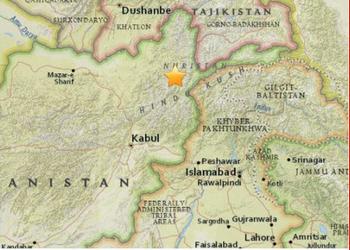 The U.S. Geological Service reports the quake struck at 09:09 UTC at depth of 196 kilometers (121 miles). The epicenter was 82 kilometers (50 miles) southeast of Fayzabad, Afghanistan, in a remote area of the Hindu Kush mountain range.
The quake's impact was felt across most of Afghanistan; even the capital, Kabul, did not escape the shaking. More than 7,600 Afghan homes were damaged or destroyed.
Landslides have blocked roads from Jalabad to Kabul and Taloqan to Kunduz. The Ministry of Public Works and the Ministry of Defence have each sent crews and equipment to clear the landslides and restore road access.
The National Disaster Management Committee, chaired by Chief Executive Officer Abdullah Abdullah, has received damage reports and has begun further assessments.
The earthquake knocked out communication lines and disrupted the mobile network, hindering the early flow of information about the earthquake and the needs of survivors. Mobile networks now are largely restored, government sources report.
"We activated the mass casualty management plan by providing health care services, including trauma management through effective coordination with partners on the ground. We are able to manage excessive caseloads at our level with medical supplies from WHO," said Dr. Shinwari, director of Jalalabad Provincial Hospital.
In Pakistan, 267 people were reported killed, with 220 of those fatalities in Khyber Pakhtunkhwa (KP) province.
In addition, 1,836 are injured with 1,656 of those injuries in KP. Damages and aftershocks are verified in other provinces, but KP remains the most severely affected.
Government response efforts are taking advantage of humanitarian response facilities previously established by the UN's World Food Program.
Emergency measures are in effect in all areas of KP and the Federally Administered Tribal Areas.
No major structural damages to health facilities have been reported, and all health facilities are providing emergency assistance to quake survivors.
Government sources report that 147 schools were damaged in KP. Surveys of bridges and other critical infrastructure are underway.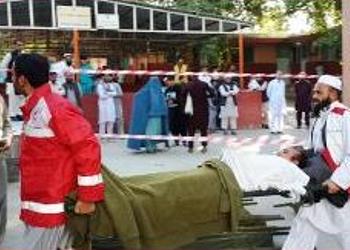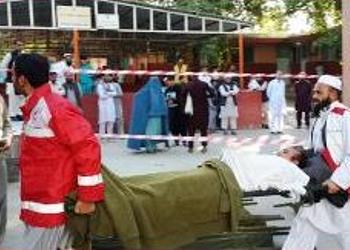 Information regarding damage and casualties continues to be compiled as reports from remote areas are received.
Mass burial ceremonies took place in both countries, even as officials warned that the death toll is likely to rise across the inaccessible region.
Pakistan's Prime Minister Nawaz Sharif flew to Shangla in Khyber Pakhtunkhwa. There he promised compensation for damaged homes, state media reported.
Some districts, such as Kohistan in Khyber Pakhtunkhwa, with its 500,000 people are completely cut off.
The United Nations and its humanitarian partners in Afghanistan expressed their readiness to support government efforts to assess and respond to the quake-affected people.
Herbie Smith, U.S. Agency for International Development mission director for Afghanistan, says the rescue effort in Afghanistan is being led by Wais Barmak, the minister of mtate for Disaster Management and director general of Afghanistan's National Disaster Management Authority, which USAID is supporting, as needed.
"USAID-funded humanitarian assistance partners are participating in assessments and relief assistance alongside the Afghan government, the UN and non-governmental organizations
"The response is being led by the Afghan government. Existing national and provincial response teams are making sure assistance is properly targeted and reaches Afghans affected by this tragedy," said Smith.
The Afghan government has developed, with USAID's assistance, a strong national plan. The Afghan government has not made requests for international assistance to date.
USAID's assistance to Afghanistan includes stockpiling relief supplies under Disaster Risks Reduction and having contingency plans already in place for emergencies such as this.
USAID has 500,000 emergency shelter/non-food item kits placed strategically through the county. Kits include a kitchen set, blankets, clothing, emergency shelter, solar lantern, mattress, winterized tent, tarpaulin, carpet, and small amounts of cash.
USAID provides funding to the International Office of Migration for over 46,000 emergency shelters and tents in 26 warehouses located across the country and covering all affected areas.
But  large areas of Badakhshan province, where the epicentre is located, are controlled by the Taliban, potentially hampering official aid efforts.
Still, the militants Tuesday urged humanitarian organizations to proceed with emergency relief. They promised their fighters would provide "complete help" in the affected areas, according to Agence France Presse.
USAID/Afghanistan is working with 15 partners countrywide to provide relief and humanitarian assistance to vulnerable communities affected by the quake.
The Pakistani Red Crescent, PRC, has deployed emergency response teams to the quake-hit areas and moved dozens of injured people to hospitals.
PRC Chairman Dr. Saeed Elahi said he was contacted by the Turkish and Iranian Red Crescent organizations, "who showed their sympathies over the loss and offered help in this hour of need."
The PRC has reached out to the Afghanistan Red Crescent to offer assistance.
Oxfam humanitarian director Jane Cocking said, "We have teams working with local authorities and organizations assessing the scale of the damage and what is needed, and we have teams ready to respond where needed."
"We expect people to be fearful of aftershocks and likely to be sleeping in the open," said Cocking. They will need protection from the elements, and food, clean water, and hygiene essentials such as soap. It will soon be winter, and people will need shelters that will keep them warm from sub-zero temperatures."
The U.S. Geological Survey reports that seven other M 7 or greater earthquakes have occurred within 250 km of this quake over the past century, the most recent being a M 7.4 earthquake in March 2002 just 20 km to the west of the October 26 event.
Copyright Environment News Service (ENS) 2015. All rights reserved.