COPENHAGEN, Denmark, December 19, 2009 (ENS) – After a marathon all night session at the UN climate summit in Copenhagen, talks aimed at reaching a deal to limit greenhouse gases warming the planet ended with what UN Secretary-General Ban Ki-moon called an "essential beginning" that contains progress on all key fronts.
Early this morning, delegates representing 194 countries agreed to "take note" of the Copenhagen Accord – the result of two weeks of talks and two years of negotiations. The document, drawn up Friday by leaders from the United States, China, India, Brazil and South Africa, is not legally binding and it was not voted upon or signed, but simply noted.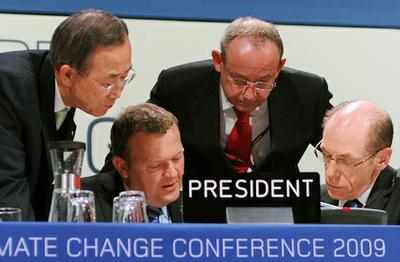 UN Secretary-General Ban Ki-moon consults with UNFCCC Executive Secretary Yvo de Boer, Danish Prime Minister Lars Løkke Rasmussen and UNFCCC Deputy Executive Secretary Richard Kinley (Photo courtesy Earth Negotiations Bulletin)
Ban's assistant later explained that the words "take note of" and "accept" are nearly equal in legal terms.
"Finally we sealed the deal. And it is a real deal," Secretary-General Ban told journalists at the summit today. "Bringing world leaders to the table paid off. We have the foundation for the first truly global agreement that will limit and reduce greenhouse gas emissions, support adaptation for the most vulnerable and launch a new era of green growth."
The Copenhagen climate change conference was scheduled to end on Friday, but talks continued until today because of the disagreement of several developing countries, including Bolivia, Cuba, Sudan, Tuvalu and Venezuela. These countries said they could not accept the Copenhagen Accord draft because it lacked ambitious targets for reducing carbon emissions.
After persuading the parties to "take note of the Copenhagen Accord," Ban urged them to translate it into a legally binding treaty as soon as possible in 2010.
Danish Prime Minister Lars Løkke Rasmussen, who hosted the climate summit, said, "I am satisfied. We have achieved a result. Now nations will need to sign on, and if they do so, they will support what has been agreed. This will have effect immediately."
Under the Copenhagen Accord, developed countries, including the United States, will outline a range of emission reductions targets up to 2020 by February 1, 2010. This will be the first time the United States has committed itself to a formal emissions reduction target.
Both commitments and intentions in terms of greenhouse gas reductions will be subject to international monitoring and verification.
Countries accepted to work towards limiting the rise in global temperatures to below two degree Celsius above pre-industrial levels.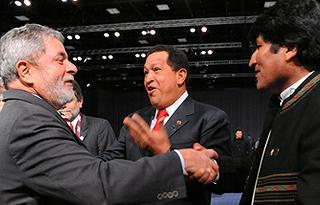 In Copenhagen, from left, President Lula da Silva of Brazil, President Hugo Chavez of Venezuela, President Evo Morales of Bolivia (Photo courtesy ENB)
But there was no agreement on a long-term target of a 50 percent cut in global greenhouse gas emissions by 2050 to avert dangerous climate change, and no agreement that global emissions should peak by 2015-2020.
Both of these conditions are, according to the Intergovernmental Panel on Climate Change, necessary to achieve stabilization of greenhouse gas concentrations at 450 parts per million and to avoid global temperature rises of more than two degrees Celsius above pre-industrial levels.
The Copenhagen Accord does outline support for technology transfer and capacity building for developing economies while putting forward a financial package aimed at assisting developing ones adapt to climate change and to begin de-carbonizing their economies.
A Copenhagen Green Climate Fund of $30 billion, covering the period 2010-2012, will be available immediately, and developed nations also supported a "goal of mobilizing jointly $100 billion a year by 2020 to address the needs of developing countries."
The Copenhagen Accord recognized the crucial role of forests in addressing climate change saying their was a need to recognize reduced emissions from deforestation and forest degradation plus conservation (REDD+) through the immediate establishment of a mechanism to enable the mobilization of financial resources from developed countries.
Ban said results were achieved on all four of the benchmarks for success that he set forth during the special leaders' summit on climate change held at UN Headquarters in New York in September.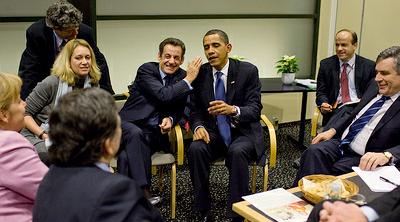 In Copenhagen, French President Nicolas Sarkozy pats President Barack Obama on the shoulder during a briefing with European leaders.
(Photo by Pete Souza courtesy The White House)
"All countries have agreed to work towards a common long-term goal to limit the global temperature rise to below two degrees Celsius; many governments have made important commitments to reduce or limit emissions; countries have achieved significant progress on preserving forests; and countries have agreed to provide comprehensive support to the most vulnerable to cope with climate change," Ban said, enumerating the four benchmarks.
"This was perhaps not the big breakthrough some had hoped for, but neither was it a breakdown which at times seemed a possibility," said Achim Steiner, UN under-secretary general and executive director of the UN Environment Programme.
"I would have liked more. This will not solve the threat of climate change. But it is a first step, an important step," said Swedish Prime Minister Fredrik Reinfeldt in Copenhagen.
British Prime Minister Gordon Brown pledged to lead an international campaign to turn the agreements established at the Copenhagen into a legally binding treaty. "This is the first step we are taking towards a green and low carbon future for the world, steps we are taking together. First steps are difficult, but they are also necessary. Having taken that first step, I hope that we can move quickly to the next step which is to get a legally binding treaty."
French President Nicolas Sarkozy said that all nations had signed up to a plan to provide developing nations with up to $100 billion per year in climate change-related aid by 2020 and that follow up meetings to Copenhagen would be held in the German city of Bonn in six months.
Back in Washington after a 24 hour trip to Copenhagen, President Barack Obama said, "For the first time in history, all of the world's major economies have come together to accept their responsibility to take action to confront the threat of climate change. After extremely difficult and complex negotiations this important breakthrough lays the foundation for international action in the years to come."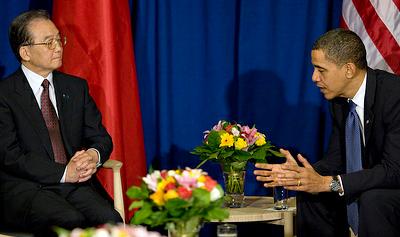 In Copenhagen, Chinese Premier Wen Jiabao and U.S. President Barack Obama in a bilateral meeting December 18, 2009.
(Photo by Pete Souza courtesy The White House)
"At home, that means continuing our efforts to build a clean energy economy that has the potential to create millions of new jobs and new industries," Obama said. "It means passing legislation that will create the incentives necessary to spark this clean energy revolution."
"This progress did not come easily and we know that progress on this particular aspect of climate change negotiations is not enough," the President said, emphasizing it is "necessary ultimately to get" a legally binding agreement.
In Copenhagen on Friday, Obama said, the most important result of the summit is that large emerging economies began "for the first time" to open up to taking on responsibility for limiting growth of greenhouse gas emissions.
"If you look at a country like India, they still have hundreds of millions of people that don't even have electricity, hundreds of millions that live in dire poverty. For them to, even voluntarily, say that they will be willing to reduce their carbon intensity by a given percentage is a huge step. We applaud them for that," Obama told journalists.
Indian Prime Minister Manmohan Singh said in Copenhagen late Friday, "We have all worked hard to reconcile our different points of view. The outcome may well fall short of expectations. Nevertheless, it can become a significant milestone. I therefore support calls for subsequent negotiations towards building a truly global and genuinely collaborative response to climate change being concluded during 2010."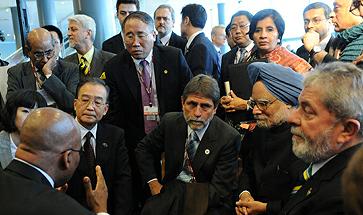 In Copenhagen, from left South African President Jacob Zuma, Chinese Premier Wen Jiabao, Indian Prime Minister Manmohan Singh, Brazilian President Lula da Silva hold an informal consultation. (Photo courtesy ENB)
"Our targets include installation of 20,000 MW of solar energy capacity by 2022, improving energy efficiency by 20 percent by 2020 and adding an additional six million hectares of forests over the next several years."
"As responsible citizens of the globe, we have agreed to take on a voluntary target of reducing the emission intensity of our GDP growth by around 20 percent by 2020 in comparison to 2005," said Singh.
It is this type of commitment that will be inscribed in the Annex to the Copenhagen Accord by February 1, 2010.
Citizens groups reacted to the Copenhagen Accord from a wide variety of viewpoints.
From a scientific perspective, Martin Rees, president of Britain's Royal Society, said, "Anyone who understands risk will know that the potential effects of a significant increase of global temperatures are not something that we can afford to gamble with."
"As a global community, we now move one step closer to a humanitarian crisis, where those least able to adapt will be worst affected," said Rees. "It is essential that world leaders put aside their differences and come together once again, make the difficult choices and commit to taking effective action with firm and binding targets."
The International Union for the Conservation of Nature, the world's oldest and largest global environmental organization, called the Accord "a first and useful step to slow the course of climate change – a threat that is already affecting people, ecosystems and biodiversity in many parts of the world."
"IUCN urges all countries to build on the Copenhagen Agreement and to find the common ground necessary to deliver an equitable, comprehensive and legally binding agreement by the end of 2010," said IUCN Director General Julia Marton-Lefevre.
Dr. Fred Boltz, head of Conservation International's Copenhagen delegation, said, "The UN process has not delivered the goods. The Copenhagen Accord, while better than nothing, is not enough."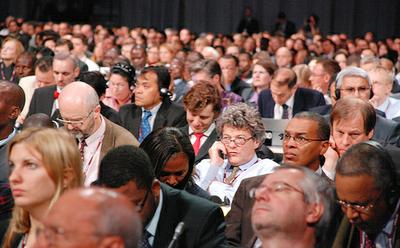 Delegates at the UN climate summit Copenhagen
(Photo courtesy UNFCCC)
"We face the challenge of preserving a planet suitable for humankind. We must regroup and act decisively in 2010 to forge a proper global agreement with adequate emissions cuts and financing to tackle climate change," said Boltz. "The clock is no longer just ticking – it's ringing an alarm, and if we don't listen the consequences for people and biodiversity will be catastrophic."
From Delhi, the Centre for Science and Environment called the Copenhagen climate summit "a failure."
The Accord will not only be disastrous for the climate, it will freeze the inequity in the world for perpetuity," said CSE Director Sunita Narain.
She said the Copenhagen Accord "will instantly forgive industrialised countries' historical responsibility for climate change, eliminate the distinction between developed and developing countries, prevent effective action to curb global warming, and fatally undermine efforts to renew the Kyoto Protocol."
"This will be disastrous for the climate, and for India's most vulnerable communities," said Narain.
The largest Australian environmental group called the Copenhagen deal "disappointingly weak."
"This is a wing and a prayer deal. While it does commit to keep warming below 2 degrees, it leaves all the hard decisions on how to get there to the fate of ongoing negotiations next year," said Don Henry, executive director of the Australian Conservation Foundation.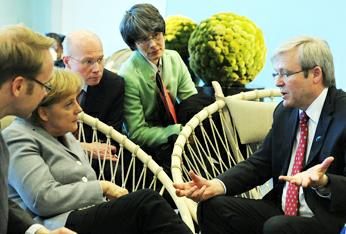 In Copenhagen, German Chancellor Angela Merkel and Australian Prime Minister Kevin Rudd hold a bilateral meeting.
(Photo courtesy ENB)
The Australian Parliament earlier this year turned down a bill to limit greenhouse gas emissions. Henry said Australian lawmakers must take action now. "It's clear many world leaders here are moving forward to cut emissions and transition to low carbon economies – regardless of the outcome at Copenhagen. Australia is at risk of being left behind," he said. "We urgently need a comprehensive set of national climate laws."
"This is a important moment. Much more is needed, but today marks a foundation for a global effort to fight climate change," said Jonathan Lash, President of the World Resources Institute, a Washington, DC-based think-tank.
"Victory was snatched from the jaws of defeat. As a small group of countries threatened to block the deal, the vast majority of countries elected to go ahead without them," said Lash.
"In the end, countries recognized that this is an issue of survival," Lash said. "Rather than let their survival be held hostage by a handful of obstructionists, they concluded an agreement with significant emission cuts and financial pledges."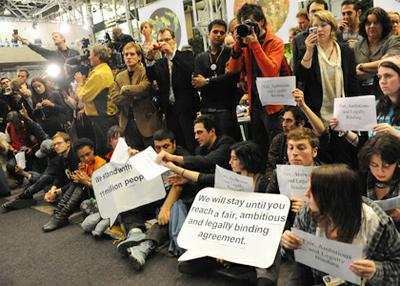 Civil society demonstrators inside the Bella Center Wednesday. They were excluded from Thursday on.
(Photo courtesy ENB)
Taking the opposite view, Kate Horner for Friends of the Earth United States said, "This is the United Nations and the nations here are not united on this secret backroom declaration. The U.S. has lied to the world when they called it a deal and they lied to over a hundred countries when they said would listen to their needs. This toothless declaration, being spun by the U.S. as an historic success, reflects contempt for the multilateral process and we expect more from our Nobel prize winning President."
The TckTckTck campaign, which brought together millions of people and more than 250 partner organizations from the environment, development, human rights, religious, youth, trade union and media organizations, called the outcome a "climate shame."
"The Copenhagen climate summit has ended and no, we do not have the fair, ambitious and legally binding agreement that millions around the world hoped that the more than 120 world leaders gathered here would deliver," the organization said in a statement on its website and posted on Greenpeace, WWF, Oxfam, Amnesty, Avaaz, and 350.org sites.
"Despite overwhelming scientific evidence and massive popular support from citizens in countries North and South, world leaders chose national political self-interest over the fate of future generations and failed to resolve the issues blocking the road towards a just outcome. While this deal cannot be judged as a success, it is impossible to be without hope," the coalition statement says.
"The world's leaders still have a chance to get it right. They must realize that we expect, and will not accept, anything less. They're not done yet. Neither are we."
The next annual United Nations climate conference will be held in December 2010 in Mexico City. South Africa has offered to host the following UN climate conference in December 2011.
Copyright Environment News Service (ENS) 2009. All rights reserved.
© 2009 – 2013, Jim Crabtree. All rights reserved.