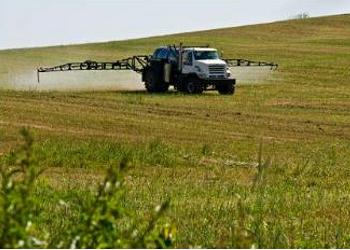 MONTREAL, Quebec, Canada, September 18, 2017 (ENS) – An international team of scientists has found an effective way of removing low concentrations of the toxic weed killer Atrazine and its by-products from surface water in agricultural areas.
Widely used in North America, the herbicide is banned in the European Union because it is known to have harmful effects on aquatic wildlife and poses a risk to human health by altering the action of reproductive hormones.
Now, a team of researchers led by Professor Patrick Drogui of the Center for the Environment at Quebec's Institut National de Recherche Scientifique, INRS, has found an effective way of removing low concentrations of atrazine and its by-products from surface water.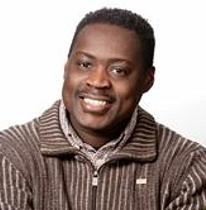 In a study published last month in the journal "Water Research," Professor Drogui and his team demonstrate that photo-electro-Fenton, or PEF, a hybrid process, is particularly effective for removing low concentrations of atrazine and its by-products in surface water.
The study marks the first use of PEF in these conditions.
The researchers used a combination of electrochemical, photochemical, and photoelectrochemical processes together in a single reactor.
The results were conclusive – over 99 percent of the atrazine was eliminated after 15 minutes of treatment.
After 45 minutes of treatment, the by-products were all in concentrations lower than the detection limit in synthetic samples. In surface water, anywhere from 96 percent to 100 percent of the by-products were eliminated.
The team was even able to observe each phase of degradation for the atrazine by-products.
Coauthor Professor Drogui explains, "These days, the challenge is to develop low cost industrial technologies that can be used to treat large volumes of water and simultaneously remove micropollutants like pesticides and their metabolites, which can be more toxic than the original compounds."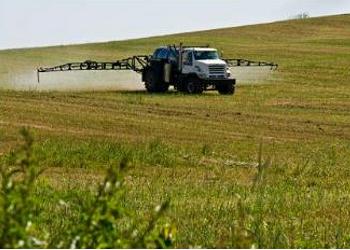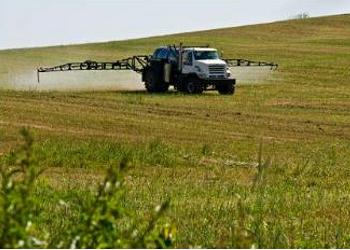 Atrazine is used on crops such as sugarcane, corn, pineapples, sorghum, and macadamia nuts, and on evergreen tree farms and for evergreen forest regrowth. It has also been used to keep weeds from growing on both highway and railroad rights-of-way. Atrazine can be sprayed on croplands before crops start growing and after they have emerged from the soil.
Any atrazine that is washed from the soil into streams and other bodies of water will stay there for a long time, because breakdown of the chemical is slow in rivers and lakes. It will also persist for a long time in groundwater, according to the U.S. Agency for Toxic Substances and Disease Registry, ATSDR. This is one reason why atrazine is commonly found in the water collected from drinking water wells in some agricultural regions.
One of the primary ways atrazine can affect human health is by altering the way that the reproductive system works. Studies of couples living on farms that use atrazine for weed control found an increase in the risk of pre-term delivery, warns the ATSDR.
These studies are difficult to interpret because most of the farmers were men who may have been exposed to several types of pesticides, the agency says.
Atrazine has been shown to cause changes in blood hormone levels in animals that affected the ability to reproduce. Some of the specific effects observed in animals are not likely to occur in occur in humans because of biological differences between humans and these types of animals. But the ATSDR cautions that atrazine may affect the reproductive system in humans by a different mechanism.
Maternal exposure to atrazine in drinking water has been associated with low fetal weight and heart, urinary, and limb defects in humans, warns the ATSDR.
Atrazine has been shown to slow down the development of fetuses in animals, and exposure to high levels of atrazine during pregnancy caused reduced survival of fetuses. It is unclear whether or at what level of exposure this might occur in humans.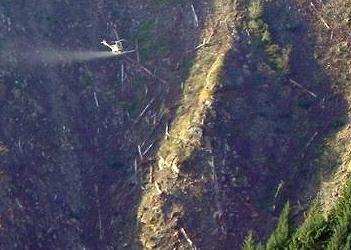 Atrazine also caused liver, kidney, and heart damage in animals, says the ATSDR, and it is possible that atrazine could cause these effects in humans, although this has not been examined.
Not enough information is available to definitely state whether or not atrazine causes cancer in humans, says the ATSDR, but the nonprofit Pesticide Action Network says evidence for the carcinogenic potential of atrazine is growing. Exposure has been linked to elevated risk of breast and prostate cancer.
The Pesticide Action Network warns that atrazine is "a potent endocrine disrupter" that interferes with hormonal activity of animals and humans at extremely low doses. 
Because atrazine disrupts hormones, PAN says it's not surprising that epidemiological studies find associations between exposure to the herbicide and reproductive effects including increased risk of miscarriage, reduced male fertility, low birth weight, increased chance of any birth defect, and higher incidence of abdominal defects.
Although the U.S. Environmental Protection Agency approved the continued use of atrazine in October 2003, that same month the European Union announced a ban of atrazine because of ubiquitous and unpreventable water contamination.
In 2012, Syngenta, the manufacturer of atrazine, was the defendant in a class-action lawsuit concerning the levels of atrazine in human water supplies. Syngenta agreed to pay US$105 million to reimburse more than 1,000 water systems for "the cost of filtering atrazine from drinking water."
Still, Syngenta denies that atrazine causes and human health problems.
"Syngenta stands firmly behind the safety of atrazine," the company says. "There are no known human health effects from the recommended use of this herbicide – a tool farmers have used safely for 50 years."
Professor Drogui explains that although his PEF process to remove atrazine from water is "a clean, effective technology," it will take more work to combine it with a biological treatment process in a water treatment plant and make it more energy efficient.
He says that further research is needed to get a better understanding of how the atrazine degradation mechanisms identified in the study function in the presence of organic matter.
The research results are presented in an article published in "Water Research" under the title "Removal of atrazine and its by-products from water using electrochemical advanced oxidation processes."
The research was conducted by Simon Komtchou, Ahmad Dirany, Patrick Drogui, and Pierre Lafrance from INRS's Eau Terre Environnement Research Centre, and Didier Robert from Institute of Chemistry and Processes for Energy, Environment, and Health of the French National Research Council. Financial support came from the Natural Sciences and Engineering Research Council of Canada.
Copyright Environment News Service (ENS) 2017. All rights reserved.
Environment News Service (ENS) © 2017 All Rights Reserved.