60 Vote Rule Keeps Climate Change Bill Off Senate Floor
WASHINGTON, DC, July 22, 2010 (ENS) – The Senate will not take up legislation to address climate change before the August recess, though legislators "may" consider it in September, Senate Majority Leader Harry Reid announced today.
Instead, Reid will introduce a more limited bill next week that will hold BP accountable for the Gulf oil spill, create clean energy jobs, lessen dependence on oil and invest in the Land and Water Conservation Fund. But this bill will not address the contentious issue of reducing the greenhouse gas emissions that drive climate change.
"We have a responsibility – both to our constituents and our children – to take on America's energy challenge," Reid said today. "Many of us want to do that through a comprehensive bill that creates jobs, breaks our addiction to oil and curbs pollution. Unfortunately, at this time not one Republican wants to join us in achieving this goal. That isn't just disappointing. It's dangerous."
The Democrats ran out of time to find Republicans willing to join them in creating the 60 vote majority required to break a filibuster in the 100 member Senate. The Democrats hold 57 of the seats, the Republicans hold 41 seats, and there are two Independents.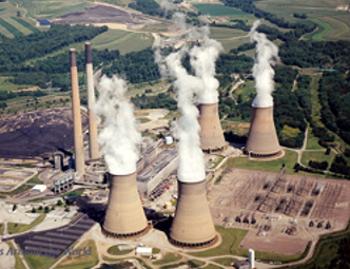 Pennsylvania's coal-fired Keystone power plant sends greenhouse gases into the atmosphere. (Photo by Doug Jackson)
But Democrats are not giving up said Senator John Kerry, who introduced the American Power Act, the carbon dioxide cap and trade bill that will be sidelined by Reid's decision.
"We've always known from day one, that in order to pass comprehensive energy/climate legislation, you've got to reach 60 votes, and to reach those 60 votes, you've got have some Republicans," said Kerry. "And as we stand here today, we do not have one Republican."
"I think that it's possible to get there," Kerry said. "Even this morning, Senator [Joseph] Lieberman and I had a meeting with one Republican who has indicated a willingness to begin working towards something." Lieberman, an Independent, is co-author with Kerry of the American Power Act.
"This is what we can do now," Reid said. "We're going to continue to work on energy legislation."
Reid said President Barack Obama is committed to passing legislation that addresses climate change.
"So, the President, Senator Kerry and I will continue to reach out to Republicans and work with the environmental and energy community to garner the support needed to move forward on a larger bill," Reid said.
"But Republican political calculations don't change our obligation to lay the foundations of a safer and stronger future. So in the coming days we're going to introduce a solid four-part bill," said Reid.
"One, we will hold BP accountable. We will ensure it pays to clean up its mess, and we will put forth measures to prevent a disaster like this from ever happening again," Reid explained. "Two, we will create clean-energy jobs across America. Home Star is a bipartisan energy-efficiency program that will not only lower consumers' energy costs, but create American jobs that can never be outsourced. Three, we will lessen our dependence on oil."
"And fourth," Reid said, "our country is blessed with abundant resources and we must tap into those. That is why we will invest in the manufacturing of natural gas vehicles. We will protect our environment by investing in the Land and Water Conservation Fund. Doing so now will help ensure our land and water is protected long into the future – even from the effects of climate change."
Fred Krupp, president of the Environmental Defense Fund said, "With a crowded Congressional calendar, and time running out, this announcement is discouraging. Will the Senate decide to take any meaningful steps? Right now it's a long shot, but we'll continue to work doggedly for a good Congressional outcome."
Krupp pointed to warming temperatures as an urgent driver of climate legislative efforts.
"2010 is on pace to become the warmest year on record, following the warmest decade on record: 2000-2009. Glacial and polar ice continues to melt at astonishing rates, worsening the threat of sea level rise, coastal flooding, and threatening the supply of drinking water for hundreds of millions of people around the world," Krupp said. "Year by year and decade by decade, these and other very serious trends will get worse and worse with no end in sight.
Conservationists said they will continue to work for a bill that effectively cuts greenhouse gas emissions and will also intensify their efforts to encourage more regulation of greenhouse gases by the U.S. Environmental Protection Agency.
League of Conservation Voters President Gene Karpinski said, "It's deeply disappointing that Big Oil, Dirty Coal and their allies in Congress continue to stand in the way of creating a clean energy economy that creates jobs, makes America more energy independent and protects the planet. The twin challenges of building a clean energy economy and addressing global warming are too important to fail. The fight to create new clean energy jobs and solve the climate crisis will continue – in this Congress, in the states and at the EPA."
Conservation-minded Republicans blamed Reid and Obama for the failure to move climate legislation forward.
"We are very disappointed that the president and Senate majority leader have squandered opportunity after opportunity to address the nation's energy problems and safeguard our climate," said Rob Sisson, president of Republicans for Environmental Protection. "Neither one of them has been willing to support a specific proposal and expend the political capital needed to build consensus and drive it towards passage."
In June 2009, the House of Representatives passed a bill capping greenhouse gas emissions and establishing a market system to trade emissions allowances.
Copyright Environment News Service (ENS) 2010. All rights reserved.