47 Groups Oppose Fracking Plans of New York's Cuomo Administration
ALBANY, New York, July 7, 2011 (ENS) – New York Governor Andrew Cuomo is leaning toward removing a de facto statewide ban on natural gas development using hydraulic fracturing, or fracking, arousing the opposition of many New Yorkers and environmental groups.
In response to new fracking proposals by the Cuomo government, a coalition of 47 consumer, faith, food, environmental and multi-issue advocacy organizations today called for a statewide ban on fracking in a letter they presented to the Governor's Office.
The coalition includes national and state organizations such as Food & Water Watch, Frack Action, Democracy for America, Friends of the Earth, Credo Action, Center for Heath Environment and Justice, Catskill Mountainkeeper and Citizen Action New York.
Fracking involves injecting a fluid into shale rock to increase the extraction rate and recovery of oil and natural gas. An estimated 90 percent of the natural gas wells in the United States use fracking to produce gas.
Environmental and human health concerns associated with fracking include the contamination of ground water, risks to air quality, the migration of gases and hydraulic fracturing chemicals to the surface, and the potential mishandling of waste.
The governor's position follows the release July 1 of the New York Department of Environmental Conservation's recommendations on fracking, which allow the practice in most areas of the state outside of the New York City and Syracuse watersheds.
The Department of Environmental Conservation recommends that:
High-volume fracturing would be prohibited in the New York City and Syracuse watersheds, including a buffer zone
Drilling would be prohibited within primary aquifers and within 500 feet of their boundaries
No permits would be issued for sites within 500 feet of a private water well or domestic use spring
No permits may be issued for a proposed site within 2,000 feet of a public drinking water supply well or reservoir at least until three years of experience elsewhere have been evaluated
No permits will be issued for well pads sited within a 100-year floodplain
Surface drilling would be prohibited on state-owned land including parks, forest areas and wildlife management areas
High-volume fracturing will be permitted on privately held lands under rigorous and effective controls
DEC will issue regulations to codify these recommendations into state law
Approximately 85 percent of the Marcellus Shale in New York would be accessible to natural gas extraction under these recommendations, said the DEC.
DEC Commissioner Joseph Martens said, "This report strikes the right balance between protecting our environment, watersheds, and drinking water and promoting economic development."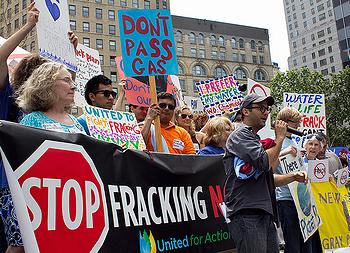 Anti-fracking rally in New York City, June 25, 2011 (Photo by Lorelei Mann)
Under the DEC's plan, the coalition warns, thousands of new wells will be drilled across New York, using billions of gallons of fresh water, and industrializing rural communities across the state.
"The DEC's recommendations on fracking will turn many areas of New York into sacrifice zones, allowing this toxic, polluting practice at the detriment of public health, the environment and rural economies," said Food & Water Watch Executive Director Wenonah Hauter. "We urge Governor Cuomo to protect New York and its residents over the special interests of the oil and gas industry by banning hydraulic fracturing in New York State."
"Has Governor Cuomo been hoodwinked by industry into thinking this is safe? The fact remains that New York needs to have some serious fundamental questions answered about the dangers of hydro-fracturing, not just carve out some special places to placate New York City," said Wes Gillingham, program director, Catskill Mountainkeeper.
"Governor Cuomo got it wrong when he said fracking can be done safely," said Claire Sandberg, executive director of Frack Action. "Not only does this practice carry an unacceptable level of risk, but there is no rationale for drilling when we know that the promises of limitless energy and continuous economic growth are not borne out by the facts."
The opposition to fracking heats up in New York as other states have passed legislation banning the practice.
Last week, the New Jersey State legislature sent Governor Chris Christie a bill that would ban fracking in the state, and North Carolina Governor Bev Perdue recently vetoed a bill that would have allowed fracking.
To date, more than 60 municipalities in the United States have passed measures against fracking.
"It's clear that New Yorkers strongly oppose fracking, and want all of their water protected from it. Nearly 20,000 New Yorkers signed our petition to Governor Cuomo in just the first 24 hours," said Elijah Zarlin, campaign manager, CREDO Action. "It would be outrageous for Governor Cuomo to allow fracking in New York."
The groups cite a recent investigative series by the "New York Times" that found the natural gas industry has exaggerated the economic benefits of fracking, while downplaying its risks to public health and the environment.
Lois Gibbs, executive director of the Center for Health, Environment & Justice, said, "It's wrong and unfair for the Cuomo administration to lift the ban on fracking, as it is a technology that has proven to destroy land, water, public health and economic growth."
"It is especially despicable to provide an exception for the Syracuse and New York City watersheds, while opening up the rest of the state to hazardous drilling," said Gibbs. "If it's too dangerous for these urban areas, then it is too dangerous for all of New York. People across the state deserve equal protection. Governor Cuomo, don't frack New York!"
Copyright Environment News Service (ENS) 2011. All rights reserved.