25 Miners Dead in West Virginia Explosion, Four Missing
WHITESVILLE, West Virginia, April 6, 2010 (ENS) – Twenty-five people are dead following an explosion Monday at Massey Energy's Performance Coal Company's Upper Big Branch mine in Montcoal, West Virginia, company and government officials have confirmed.
Two other miners have been transported to hospitals and four miners are still missing at this time, but rescue operations are on hold until at least Wednesday morning as deep holes are drilled to vent explosive methane gas from the mine.
"Mine rescue experts are working to drill four bore holes to sample the mine air and release methane where those miners are believed to be located," said West Virginia Governor Joe Manchin. "We have been told by the rescue professionals that the drilling process may not be complete until as late as Wednesday evening, as they are drilling to a depth of about 1,200 feet."
The Upper Big Branch mine is located in the Coal River Valley of southern West Virginia in Raleigh County. Nine rescue teams are on-site, including teams from the company and the state of West Virginia. Mine emergency operations personnel from the federal Mine Safety and Health Administration have been accompanying the rescue teams underground.
Investigations into how the explosion occurred are planned by Congress and also by the federal agency responsible for miners' safety, the Department of Labor's Mine Safety and Health Administration.
"This apparently was a massive explosion and we will be gathering more facts in the days and weeks to come. Obviously, this is an incredibly difficult situation for all these miners and their families, but they are strong and represent the best of West Virginia," said Governor Manchin. "In times such as this, West Virginians come together like a family, and I'm am so encouraged by their bravery as we await more information."
At the Upper Big Branch mine, Massey Chairman and CEO Don Blankenship said, "We mourn the deaths of our members at Massey Energy. "I want to offer my condolences to the miners' families who lost loved ones at Upper Big Branch," Blankenship said. "And I want to thank the rescue teams and the Massey members who continue to work hard on behalf of our miners and their families."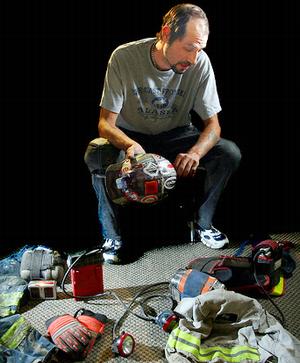 Former Massey Mining employee Roy Thrasher poses with his gear in the Temple Daily Telgram conference room, in Temple, West Virginia. He recently worked in the Upper Big Branch mine. April 6, 2010. (Photo by Clint Bittenbinder)
Several generations of families often work in the mines and three of the dead at the Upper Big Branch Mine came from one family, officials said. Blankenship said that Massey Energy will establish a fund for the families of the dead miners and provide assistance for their children.
Governor Manchin has spoken with President Barack Obama and Vice President Joe Biden and they have offered their full assistance. A representative from the office of U.S. Secretary of Labor Hilda Solis also is at the scene.
"As we hear of more heartbreak from Whitesville, our thoughts and prayers are with the families, friends, loved ones, neighbors and coworkers," said Secretary Solis today. "Twenty-five hardworking men died needlessly in a mine yesterday. I pledge that their deaths will not be in vain."
"The federal Mine Safety and Health Administration will investigate this tragedy, and take action," said Solis. "Miners should never have to sacrifice their lives for their livelihood."
West Virginia Congressman Nick Rahall and Senator Jay Rockefeller each travelled to the mine site and each vowed that there would be a Congressional investigation into the disaster.
"I will demand answers. We will leave no stone unturned in determining how this happened and in taking action for the future," Senator Rockefeller said.
In a letter today, Congressman Rahall called on House Education and Labor Committee Chairman George Miller of California to hold hearings on the explosion. Chairman Miller has agreed to hold a hearing to examine the matter.
"I want to know why this tragedy happened; there will be a thorough investigation." Rahall said. "We will seek answers about the cause of this disaster. We will look for inadequacies in the law and enforcement practices, and I will work to fix any we find. We will scrutinize the health and safety violations at this mine to see whether the law was circumvented and miners precious lives were willfully put at risk, and there will be accountability."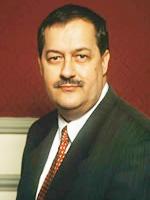 Massey Energy head Don Blankenship (Photo courtesy Massey Energy)
West Virginia Senator Robert Byrd said, "At least 25 coal miners have died inside a mine that has over time amassed scores of safety violations, including 57 citations just last month. West Virginia's coal miners are the backbone of a great nation that depends on their work. They deserve nothing less than a safe working environment, and an employer who respects and values their safety."
In an interview with West Virginia MetroNews, Blankenship said in part, "I mean violations are unfortunately a normal part of the mining process. You have inspections every day and it's hard to differentiate sometimes between head count or number counts of violations and the seriousness or type of it."
Upper Big Branch "was a mine that had violations," Blankenship said. "I think the fact that MSHA [Mine Safety and Health Administration] and the state and our firebosses and the best engineers you can find were all in and order this mine and all belive it was safe … speaks for itself."
"Any suspicion that the mine was improperly operated or illegally operated or anything like that would be unfounded," said Blankenship. "None of these groups would have allowed this mine to operate had it been unsafe."
Massey Energy Company, headquartered in Richmond, Virginia, with operations in West Virginia, Kentucky and Virginia, is the largest coal producer in Central Appalachia
Approximately 50,000 miners work in U.S. underground coal mines, roughly a third of them in West Virginia, according to 2008 data provided by the National Mining Association.
The Upper Big Branch Mine is located in a area of West Virginia where mountaintop removal surface mining operations have sparked many protests by citizens' groups over the past decade.
Copyright Environment News Service (ENS) 2010. All rights reserved.