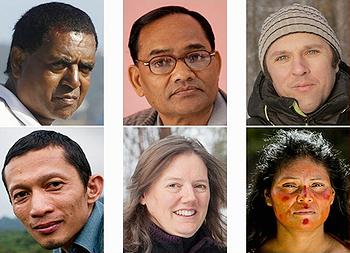 SAN FRANCISCO, California, April 28, 2014 (ENS) – The Goldman Environmental Prize, the world's first and largest award honoring grassroots environmentalists, has been awarded this year to brave activists from South Africa, India, Russia, Indonesia, the United States and Peru.
The awards, each worth $175,000, will be presented tonight at a ceremony in San Francisco, where the Goldman Environmental Prize was created 25 years ago by philanthropists Richard and Rhoda Goldman.
Broadcast journalist, executive producer, and philanthropist Soledad O'Brien will serve as master of ceremonies for the 25th anniversary ceremony. Environmentalist and attorney Robert Kennedy, Jr. will be the guest speaker.
The Goldman 25th Annual Awards Ceremony will be held this evening at 5:30 pm California time and live streamed on the Goldman Prize YouTube channel.
Traditionally, each of the six Goldman Prize winners represents one of the Earth's five inhabited continents plus one award to a resident of island nations.
From Africa, Desmond D'Sa of South Africa rallied south Durban's diverse, disenfranchised communities to shut down a toxic waste dump that was exposing nearby residents to dangerous chemicals and robbing them of their constitutionally protected right to a safe and clean environment.
More than 300,000 low-income and working-class people live near over 300 industrial facilities, refineries, paper mills, and agrochemical plants in south Durban, known as "cancer valley."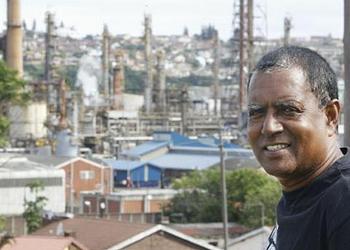 In 1990, Wasteman, a large waste management company, opened a landfill, without consulting local communities. Trucks illegally hauled toxic waste from shipyards, factory farms, oil and chemical factories and medical facilities through residential neighborhoods, contaminating both soil and groundwater. Fumes from paint thinner, solvents and pesticides poisoned the air.
By 2009, the landfill was approaching capacity and Wasteman applied to expand its lease to 2021.
Born and raised in the outskirts of Durban, D'Sa was 15 when the government forcibly moved him and his family to live ext to the industries of south Durban. Working at chemical factories, he saw the environmental harm they did.
In 1996, he co-founded the South Durban Community Environmental Alliance, SDCEA, where he started as an unpaid volunteer.
When Wasteman's lease came up for renewal, D'Sa and SDCEA organized the disenfranchised, diverse communities in south Durban to unite in opposition.
D'Sa empowered residents, connected them with legal resources, kept the issue alive in the media and organized high-profile demonstrations on major highways to draw attention to the illegal trucking of waste.
As a result, Wasteman withdrew its landfill expansion application in August 2010. In November 2011, the landfill closed.
But D'Sa's advocacy brought reprisals. His home was firebombed by unknown assailants, destroying his personal property and leaving him with burns and his family in fear. Due to constant threats of violence, D'Sa now lives apart from his family.
Undeterred, D'Sa's next target is the expansion of Durban's port, a $10-billion project that could displace thousands of people without compensation and worsen problems such as waste management, pollution, and traffic.
From Asia, Ramesh Agrawal of India organized villagers to demand their right to information about industrial development projects and succeeded in shutting down one of the largest proposed coal mines in the state of Chhattisgarh.
A former social worker in the region, Agrawal witnessed local farms and forests turned into industrial plants, accompanied by the erosion of social justice, public health and the environment.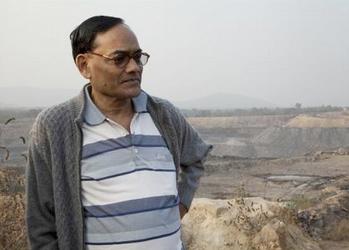 As the owner of a small Internet cafe in Raigarh, Agrawal understood the power of information and the Internet. He founded Jan Chetana, a grassroots movement to protect people and the environment from industrialization.
Acting as a watchdog for rural communities without computer access, Agrawal combed through the Department of Environment's website looking for new applications for development projects in Chhattisgarh. He informed local villagers about environmental violations and filed Right to Information applications on their behalf.
Among these projects was a major coal mine proposed by Jindal Steel and Power Ltd, JSPL. Burning more than four million tons of coal a year, the mine would be among the biggest of its kind in Chhattisgarh.
In 2008, Agrawal began organizing residents in opposition and filed numerous petitions highlighting JSPL's failure to hold mandatory public meetings and obtain environmental clearance for the project.
In April 2012, the National Green Tribunal revoked the permits required for the JSPL mine to break ground, citing the violations reported in Agrawal's petitions.
Agrawal's work made him a target for industry supporters. Shortly after the coal mine was defeated, gunmen allegedly hired by JSPL broke into Agrawal's shop and shot him in the leg, shattering his bones. Agrawal survived, but he faces a long road to recovery. His attackers have yet to be brought to justice.
Despite his limited mobility, Agrawal is helping villagers assert their rights as landowners and apply for mineral rights to the coal buried under their properties.
Agrawal is credited with bringing national and international awareness to the problems of disenfranchised communities in India whose rights are ignored by industrial developers and often by government officials.
From Europe, Suren Gazaryan of Russia, an internationally recognized bat expert and zoologist, led multiple campaigns exposing government corruption and illegal use of federally protected forestland in the province of Krasnodar along Russia's Black Sea coast.
Gazaryan stopped construction of a palace intended for then-president Dmitry Medvedev on federally protected land in what is now the Utrish Wildlife Refuge.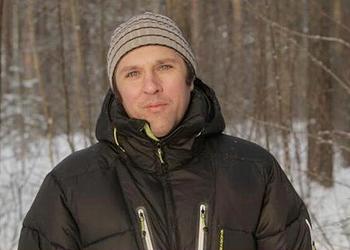 As an activist with the nonprofit Environmental Watch on the North Caucasus, EWNC, Gazaryan organized blockades of bulldozers building illegal roads and collected tens of thousands of signatures petitioning Medvedev to stop construction of the palace.
He joined environmental activists from Khimki Forest and Lake Baikal in demonstrations across the country to defend the people's right to a healthy environment and free access to public lands. He bravely authored hundreds of blog posts under his real name.
In 2010, after two years of intense campaigning by Gazaryan and EWNC, Russia created the Utrish Nature Preserve on the northwest coast of the Black Sea to shelter dozens of endangered plant and animal species. Later that year, the Department of Presidential Affairs dropped construction plans for the palace inside the Utrish Nature Preserve.
In February 2012, Gazaryan sounded the alarm over then Prime Minister Vladimir Putin's plan to build ski resorts directly impacting nature reserves, and even one of Russia's World Heritage sites in the Western Caucasus, 25 kilometers (15 miles) from Sochi, the Black Sea coastal city that hosted the 2014 Winter Olympics.
Gazaryan receives his award in exile from Russia. He lives now in Estonia as a political refugee. In June 2012, he was sentenced to three years probation for a public rally against the illegal seizure of protected forestland around a mansion being built for Krasnodar region Governor Alexander Tkachev.
In August 2012, the Russian authorities charged him with a second criminal case for allegedly threatening to kill security guards at the construction site of Russian President Vladimir Putin's mansion, allegedly built illegally on kick-backs and taxes in protected forests along the Black Sea coast. Facing a harsh prison sentence, Gazaryan fled to Estonia.
Representing islands and island nations, Rudi Putra of Indonesia, a biologist, is dismantling illegal palm oil plantations that are causing the deforestation of northern Sumatra's Leuser Ecosystem, protecting the habitat of the critically endangered Sumatran rhino.
Indonesia's rainforests are among the most biodiverse on the planet, housing 12 percent of the world's known mammal species. Only half of the original forests remain standing today, due to an astonishingly high rate of deforestation; an estimated two million acres are lost every year, much of it to the growing worldwide demand for palm oil.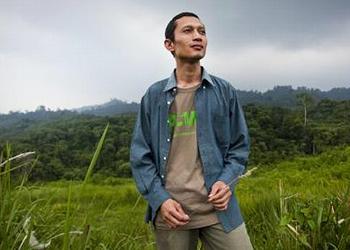 Palm oil is used in cookies, cereal, potato chips, chocolate, margarine, baby formula and canned soups, soaps and cosmetic products.
Some 90 percent of the world's palm oil is grown in Indonesia and Malaysia, and despite a current moratorium on forest clearing in Indonesia signed by the president in 2011, much of the forest loss comes from illegal plantations that have forced their way into protected areas through bribes and government corruption.
As a high school student growing up in the Aceh region on the Indonesian island of Sumatra, Putra studied conservation biology and the Sumatran rhino, the smallest and the most critically endangered rhino species.
He became an expert researcher and tracker, leading rhino protection teams to track down poachers in the Leuser Ecosystem. This 6.4 million acre, federally protected forest spans the Aceh and North Sumatra provinces. It is one of the few remaining habitats for the Sumatran rhino.
Four million people live near the protected Leuser Ecosystem, reliant on the forest for sustenance, water and flood protection.
With support from local communities, Putra approached local police directly to enforce land protection laws and shut down illegal palm oil plantations. He spoke of the hundreds of thousands of families who lost their homes and loved ones during the 2006 Aceh floods and their struggles to access clean drinking water.
He approached palm oil plantation owners and reminded them that their actions were against the law. After Putra showed them the boundaries marking conservation areas, some owners voluntarily shut down the plantations and gave the land back to the government so Putra and his colleagues could conduct restoration work.
Putra's outreach and negotiations, deploying carrots when possible and sticks when necessary, resulted in the dismantling of more than 1,200 acres of illegal plantations in the Leuser Ecosystem.
The rehabilitation of these forests after the oil palms were removed has recreated a critical wildlife corridor now used by elephants, tigers and orangutans for the first time in 12 years. The Sumatran rhino population in the Leuser Ecosystem has increased in the past decade.
Putra is now fighting a proposal from the Aceh provincial government that would legally open large tracts of forest in the Leuser Ecosystem to palm oil development.
In 2013, Putra gathered 1.4 million signatures on an online petition to the Indonesian government to enforce its own conservation laws and reject the Aceh government proposal. The petition has been credited with catalyzing international conversations among officials from Norway, the European Union, Indonesia and Aceh province.
From North America, Helen Holden Slottje of the United States used a clause in the New York State constitution that gives municipalities the right to make local land use decisions, to help towns across New York defend themselves from oil and gas companies by passing local bans on fracking.
Upstate New York is a region of small towns, dairy farms, vineyards and bed-and-breakfasts. The Finger Lakes provide drinking water, but under the Finger Lakes region lies the largest known deposit of underground shale gas in the United States – the Marcellus Shale.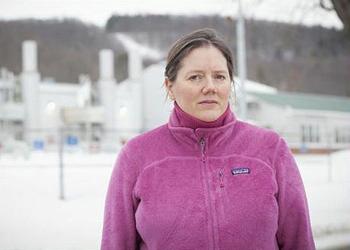 In 2008, the State of New York began an environmental review of hydraulic fracturing, or fracking, a controversial practice that involves drilling through shale rock and pumping down a pressurized mix of water and chemicals to release natural gas. Th ongoing review has spared the state the environmental damage from fracking experienced in Pennsylvania and Ohio.
Helen Slottje was a commercial attorney in a Boston law firm when she met and married David, a colleague at the firm. The couple moved to Ithaca, New York and were living there in 2009, when Slottje attended a meeting about gas drilling organized by a community group in the small town of Tompkins.
She was horrified to learn of once pristine landscapes scarred by fracking and waste pits, and families dealing with dirty water and air and health problems.
Slottje volunteered to build a case against an industrial complex being built by a fracking company at a vacant former military storage facility in the town of Horseheads.
While the company won this case, Slottje learned that individual townships could use their zoning laws to ban fracking.
Slottje helped a gas drilling task force in the town of Ulysses develop a local law to ban fracking. Word spread to towns around the state. Slottje drove hundreds of miles around the area, providing hundreds of hours of pro bono legal help at community meetings.
The gas industry ridiculed and threatened Slottje. Pro-industry individuals verbally assaulted and attempted to intimidate her.
When the town board in Dryden, New York unanimously passed a law banning fracking in 2011, the gas industry sued the town. The industry lost in the lower court and in appeals court, and the case is now before New York State Supreme Court.
More than 170 New York towns and cities have passed local laws prohibiting fracking based on Slottje's innovative legal framework.
Many more communities are working on bans and informing grassroots organizations in states like California, Texas and Colorado where communities are also grappling with ways to regulate fracking.
From South America, Ruth Buendía Mestoquiari of Peru overcame a history of traumatic violence to unite the Asháninka people in a successful campaign against big dams that would have uprooted indigenous communities still recovering from Peru's civil war.
In 2010, the governments of Brazil and Peru signed a bilateral energy agreement that called for a series of large hydroelectric dams in the Amazon.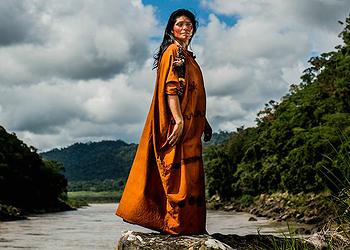 Under this agreement, most of the energy would be exported to Brazil. Few economic benefits would come back to local communities in Peru, whose ancestral territories would be flooded during construction.
Among the indigenous people living in the proposed construction site of the Pakitzapango dam along the Ene River are the Asháninka, who have made a home in the thickly forested area, practicing subsistence farming, hunting and fishing.
The energy agreement was pushed through without input from the Asháninka, in violation of the International Labor Organization treaty, which Peru ratified in 2006. The treaty requires governments to consult with indigenous communities on development projects in their territory.
Buendía was 12 years old when the Shining Path guerillas invaded Asháninka territory and set up political and military operations. Her father was killed during the resulting violence, and her mother sent Buendía away to safety in Lima.
Thousands of Asháninka were killed in the conflict; thousands more fled their ancestral lands.
When she returned home, Buendía worked at a juice shop in Satipo where a customer encouraged her to join the Asháninka Center of the Ene River, CARE. She volunteered with the organization, helping indigenous people obtain documents needed to attend school and access public services.
Traveling across the Ene River Valley, Buendía met tribal chiefs who had respected her father. In 2005, Buendía, at 27, was elected the first woman president of CARE.
Soon after, Buendía learned of the bilateral energy agreement and the proposed Pakitzapango Dam. CARE's requests to the Peruvian government for information went unanswered, but it became clear that the massive dams would displace thousands of Asháninka, reopening old wounds from Peru's civil war.
Buendía and her team at CARE began reaching out to Asháninka communities, raising awareness about the dam and its threats using digital simulations of how the valley would be flooded during construction. They organized a region-wide assembly and united the Asháninka in opposition to the dam.
Buendía traveled to Washington, DC and presented a report to the Inter-American Commission on Human Rights about the impact of Peruvian energy development on her people.
In December 2010, as a direct result of Buendía's advocacy, the Peruvian Ministry of Energy rejected a request from Pakitzapango Energy that would have allowed the dam to move forward. The following year, Odebrecht, the main shareholder in another dam, the Tambo 40, announced its withdrawal from that project, citing the need to respect the views of local communities.
With the Pakitzapango dam project tied up in court, Buendía is now working to firmly establish land rights for the Asháninka. She is developing a management plan for the Asháninka Communal Reserve that would protect their lands from future development while allowing local communities to pursue sustainable economic opportunities such as coffee and cacao farming.
Copyright Environment News Service (ENS) 2014. All rights reserved.
Environment News Service (ENS) © 2014 All Rights Reserved.