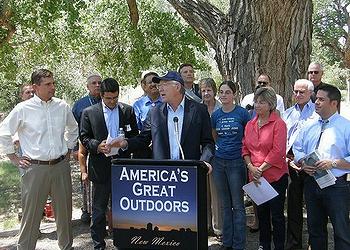 WASHINGTON, DC, November 7, 2012 (ENS) – Environmental groups today praised "champions" who won seats in Congress in Tuesday's elections because they support clean energy investments, environmental protection and public health safeguards.
League of Conservation Voters President Gene Karpinski congratulated Democratic Congressman Martin Heinrich on his victory in the New Mexico Senate race. Henrich said in January, "I'm committed to an energy future for our nation that is both clean and domestic. The tar sands pipeline is neither."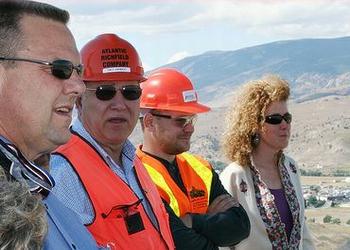 Karpinski also congratulated Democrat Jon Tester on his re-election victory in the Montana Senate race. Tester secured federal funding for an advanced biofuels center at Montana State University-Northern that opened in October.
Karpinski praised Democrat Tammy Baldwin on her victory in the Wisconsin Senate race. LCV spent $1 million in this race, running two TV ads and highlighting how Baldwin will work in the U.S. Senate to address climate change and create clean energy jobs.
The LCV also supported Independent candidate Angus King, a former two-term governor, who won the Maine Senate seat being vacated by retiring Republican Olympia Snowe in a hard-fought contest. King is expected to caucus as a Democrat but says he will remain independent and able to broker compromise.
"LCV entered this cycle with one major goal – to build support in Congress for addressing climate change, said Karpinski. He points to the election victories of Heinrich, Tester and Baldwin as evidence that "the politics of climate change are shifting all across the country."
LCV partnered with five other environmental groups – Defenders of Wildlife Action, Environment America, National Wildlife Action, NRDC Action Fund, Sierra Club – on an unprecedented collaborative campaign in which the groups collectively spent nearly $2 million during the summer.
"This election was supposed to be about wealthy Big Oil-backed special interests spending unprecedented resources to wipe pro-environment candidates off the map," said Karpinski during a news conference at the National Press Club today. "But voters chose a different course – re-electing President Obama and sending environmental champions to Congress to confront the climate crisis and keep our nation moving forward towards a clean energy future."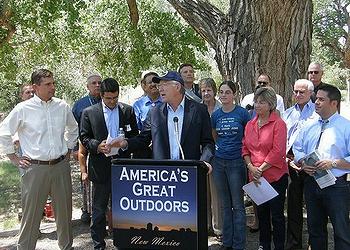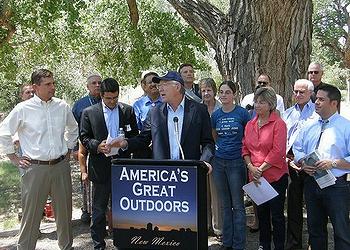 LCV and affiliated political committees have spent nearly $14 million this election cycle – more than the last three cycles combined – to defend clean energy and climate champions. Among the climate champions they mention President Barack Obama, who won re-election over Republican challenger Mitt Romney by a margin of more than 2.5 million votes and two-thirds of the Electoral College.
But the campaign contributions of green groups were dwarfed by those of fossil-fuel backed groups who spent over $270 million on television ads in the last two months of the 2012 election cycle alone, including over $31 million spent on energy-related ads, the environmental groups said, using figures from the Center for American Progress Action Fund.
"The environment won and polluting industries lost; there is no clearer way to state it," said Jamie Rappaport Clark, president of the Defenders of Wildlife Action Fund and a former director of the U.S. Fish and Wildlife Service. "When faced with a choice between a clean energy future where our air, water, lands and wildlife are protected and more of the same dirty energy policies, not even the millions spent by polluting industries could sway Americans to their side. But the biggest winners last night are the generations yet to come as Americans overwhelmingly chose to leave them a cleaner, better world in which to live."
Today, the green groups released election polling results that show voters did not buy messages paid for with millions of dollars worth of ads from the fossil fuel industry.
"Polluters spent hundreds of millions of dollars and have nothing to show for it today," said Heather Taylor-Miesle, director of the Natural Resources Defense Council Action Fund.
"Our polling very clearly shows that voters didn't buy what the polluters were selling. This is a decided issue. The public stands with us from clean energy to addressing climate change," said Taylor-Miesle. "This election and our polling indicate a mandate from the American people on the environment and public health. Now is the time act."
The new poll by Greenberg Quinlan Rosner Research was conducted nationally November 4-6; it surveyed 1002 voters in 11 battleground states. Among the findings:
•    The fossil fuel industry and its allies in Congress spent millions of dollars attacking President Obama on the Keystone XL pipeline, Solyndra, and as being anti-coal. The attacks did not work. Across all of the battleground states in this survey, the President won 51 to 47 percent.
•    The message on energy from the fossil fuel industry and its allies in Congress did not work. It was cited by just 14 percent of voters as the best reason to vote against President Obama. And it ranked last among people who voted for Republican challenger Mitt Romney and last in the Midwest, where it was heavily focused against the President.
•    President Obama and Democrats retain more credibility on energy than Republicans. Voters surveyed believe Obama will do a better job on energy than Romney by a seven point margin, 51-44 percent. And they think Democrats will do a better job on this issue than Republicans by a 50 to 43 percent margin.
•    Overwhelming Support for Renewable Energy: Nearly two in three voters, 64 percent, say they have a favorable impression of renewable energy, compared to only 13 percent who say they have an unfavorable impression. This strength of support crosses demographic and partisan lines, with a wide variety of voters giving renewables high marks. Voters also favor increasing wind power by a 71 – 9 percent margin, and favor increasing solar power by a 78 – 5 percent margin.
•    Voters are ready for the country to invest in renewables even if they have to pay more. By a 54 – 39 percent margin, voters side with an argument that favors investing in clean energy companies through tax credits over an argument that suggests the government should not be picking winners and losers in energy. By a 56 – 39 percent margin they also say they are willing to pay a few dollars extra on their electricity bills for renewable energy; and
•    Voters give the EPA a 50 – 27 percent favorable/unfavorable rating, including a 44 – 30 percent rating with Independents.
"We did it. Despite the hundreds of millions of dollars the fossil fuel industry dumped into this election to elect Mitt Romney, we proved that corporations are, in fact, not people," said Michael Brune, executive director of the Sierra Club.
"Sierra Club and our 1.4 million members and supporters congratulate President Obama on his hard-fought victory, and we look forward to working with him to build on the historic progress our nation has already achieved as a global clean energy leader," said Brune.
Jeremy Symons, senior adviser to National Wildlife Federation Action Fund said, "These elections have opened a window of opportunity to realign environmental politics and revive bipartisan cooperation to tackle the conservation issues facing America. As GOP leaders look for ways to broaden their appeal, we invite them to return to the party's Teddy Roosevelt roots and offer a vision of Republican environmental leadership that connects with the strong conservation values of voters.
"This is the second presidential election in a row where the public has rejected Big Oil's dirty energy agenda," said Margie Alt, executive director, Environment America. "America is starting to understand that Sandy's October Surprise will increasingly become less of a surprise, and that it's time to slash global warming pollution and repower America with clean energy."
Copyright Environment News Service (ENS) 2012. All rights reserved.