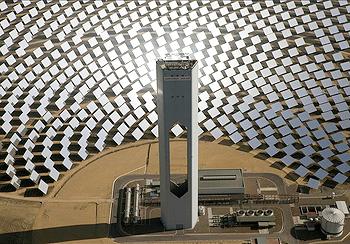 LONDON, UK, October 20, 2014 (ENS) – The new "A List" of leading climate performance businesses from around the world, released Friday by the Climate Disclosure Project, numbers 187 companies, including several that have drawn vehement environmental protests, such as TransCanada Corporation and Bayer AG.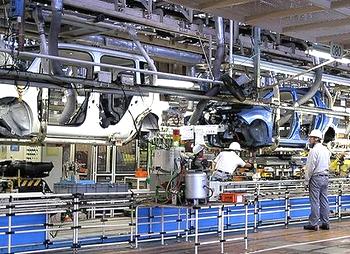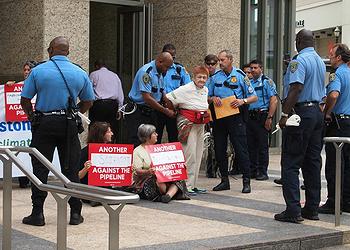 TransCanada has been the subject of protest demonstrations for years over its pipelines carrying Alberta tar sands bitumen, including the proposed Keystone XL pipeline that is currently awaiting a decision from President Barack Obama on whether it is in the U.S. national interest to permit the pipeline to cross the Canada-U.S. border.
Bayer CropScience is a major manufacturer of neonics, a widely-used class of pesticides implicated in high-profile bee die-offs. Bayer CropScience is a unit of the German chemical and pharmaceutical giant Bayer AG, which is listed as a climate leader in the CDP report.
The Carbon Disclosure Project, now known simply as CDP, was established in the UK in 2000 as an independent not-for-profit organization and represents 767 investors representing $92 trillion in assets, more than a third of the world's invested capital.
Every year, the CDP organization distributes standardized survey questions to private sector corporations and collects responses for assessment and public disclosure as a barometer of climate change information.
The CDP Global 500 Climate Change Report 2014 analyzed companies' environmental strategies and efforts to reduce greenhouse gas emissions based on the responses from the world's largest 500 listed corporations, and identifies the best performers. The FTSE Global Equity Index Series (Global 500) covers some 7,400 securities in 47 different countries.
For the first time this year, CDP has compiled an "A List" global list of climate performance leaders.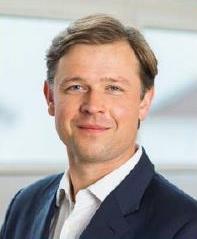 CDP Chief Executive Officer Paul Simpson said, "The businesses that have made it onto our first-ever global list of climate performance leaders are to be congratulated for their progress; they debunk economic arguments against reducing emissions. However, global emissions continue to rise at an alarming rate. Businesses and governments must raise their climate ambition. The data shows that there is neither an excuse nor the time for lethargy."
The A List represents just nine percent of the 1,971 companies scored this year but accounts for US$23 billion of the annual investment to reduce carbon emissions – just under half of the US$50 billion invested by the full sample.
Simpson said, "The bottom line is at risk from the climate crisis. The unprecedented environmental challenges that we confront today are also economic problems. This irrefutable fact is filtering through to companies and investors."
The 14th annual CDP index lists companies from the FTSE Global Equity Index Series (Global 500) that demonstrate strategies designed to improve a company's impact on the environment. The FTSE Global Equity Index Series covers some 7,400 securities in 47 different countries.
The 2014 CDP Global 500 report is online at: www.cdp.net.
The largest leading companies by market capitalization include Apple Inc., Microsoft Corporation and Google Inc. Almost half of the performance leaders are headquartered in Europe, with a further third located in the United States or Japan.
More than a quarter of the Spanish and Belgian companies that took part in CDP's climate change program were awarded an A, proportionally giving Spain and Belgium the most leaders. Companies based in Portugal, the Netherlands and South Korea also performed well.
Canada, Switzerland and Australia have small proportional representation on the "A List." Of those corporations that failed to disclose vital climate change data, the three largest in terms of market capitalization are Berkshire Hathaway, Amazon.com Inc. and Comcast Corporation.
Information provided by nearly 2,000 listed companies was independently assessed against CDP's scoring methodology and ranked accordingly. Awarded an A grade for their performance, they earn a position on the first global ranking of corporate efforts to mitigate climate change.
In his forward to the report, Simpson wrote, "There is a palpable sea change in approach by companies driven by a growing recognition that there is a cost associated with the carbon they emit. Measurement, transparency and accountability drives positive change in the world of business and investment. Our experience working with over 4,500 companies shows the multitude of benefits for companies that report their environmental impacts, unveiling risks and previously unseen opportunities."
CDP calculates that collectively the climate performance leaders have reduced their total, absolute, greenhouse gas emissions by 33 million metric tons in the past reporting year.
CDP says this performance is "equivalent to turning London's car owners into cyclists for two-and-a-half years."
The news follows a renewed political focus on climate commitments at the UN Secretary General's Climate Summit in New York last month and a growing consensus on the scale of the economic threat of climate change.
Former U.S. Treasury Secretary Henry Paulson says climate change is, "the single biggest risk that exists to the economy today."
Earlier this year Standard & Poor's Ratings Services warned that climate change will hit countries' economic growth rates and public finances.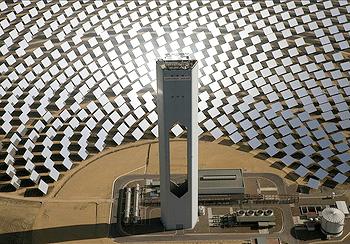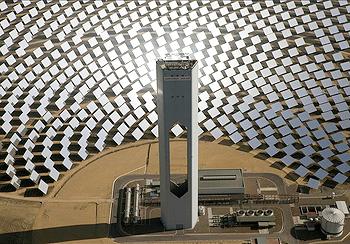 CDP says an A List leader will, "Yield win-win results, apply a business lens to climate change, Raise the bar on investment and shift away from short-termism."
The investments of companies on the Climate Performance Leadership Index 2014 to reduce carbon output yield average annual emissions reductions of nine percent per company and achieve impressive financial results, with an average internal rate of return of 57 percent for each project.
"A Lister" Iberdrola, the Spanish public multinational electric utility, discloses an investment of US$3.8 billion in energy monitoring and distributions systems to cut its emissions by 50,000 metric tons.
A List Spanish industrial technology firm Abengoa saves US$911 million annually by installing two solar power plants.
CDP has recognized eight automakers by placing them on the A List, including BMW AG, Daimler AG, Fiat, General Motors, Nissan, Renault, Toyota and Volkswagen.
Car manufacturer General Motors implemented route redesigns, mode changes from road to rail, and other measures that have resulted in emissions savings of 244,000 metric tons a year and cost savings of US$287 million.
CDP acknowledged that Daimler has reduced the CO2 emissions of its new passenger car fleet in Europe by more than 20 percent to 134 g/km over the last five years.
By the year 2020, the CO2 emissions of Daimler's European plants are to be reduced by 20 percent compared with 1990, while unit sales figures are set to rise. This represents a two-thirds reduction in emissions per passenger car produced.
xxx
Nissan Motor Co. also scored a perfect "100A" showing that Nissan's efforts to reduce the environmental impact of its corporate activities through power conservation have been effective. Energy procurement is being shifted toward sustainable sources, such as biomass and solar power.
Last year, Nissan reduced CO2 emissions from global corporate activities while increasing vehicle production by 5.1 percent. The 2.0 percent cut in CO2 during the year put the company on track to achieve its goal of a 20 percent reduction by fiscal year 2016, compared to 2005.
The CDP report says, "Nissan should be commended for being the only company in this group to set an absolute target beyond 2020, reporting a target of 24 percent reduction … by 2050."
CDP says that the 2014 A List leaders "demonstrate robust accountability for their contribution to climate change and have a heightened understanding of the business implications as a result.
Although 96 percent disclose that climate change poses a risk to their business, 99 percent identify opportunities through mitigation strategies."
Construction group Samsung C&T Corporation, for example, calculates that responding to consumer demand for green products can increase its sales profits by at least nine percent within the next seven years.
James Bevan, chief investment officer at CCLA, a CDP investor member that manages investments for charities, faith organizations, and local governments, said, "The risks associated with climate change call for leadership from politicians, investors and businesses. CDP's A List and our own "Aiming for A" initiative help investors with this stewardship challenge. We're currently focusing on the 10 largest UK extractives and utilities companies, and are delighted to see Centrica and SSE join CDP's 2014 A list."
Copyright Environment News Service (ENS) 2014. All rights reserved.