1,200 New Amazon Species Discovered: Mammals, Birds, Fish, Plants
NAGOYA, Aichi, Japan, October 26, 2010 (ENS) – At least 1,200 new species have been discovered in the Amazon ecosystem, at an average rate of one every three days during the decade from 1999 through 2009, the global conservation organization WWF revealed today in a new report.
This is a greater number of species than the combined total of new species found over a similar 10-year period in other areas of high biological diversity – including Borneo, the Congo Basin and the Eastern Himalayas, WWF said in the report, "Amazon Alive!: A Decade of Discoveries 1999-2009."
Presented to delegates from 193 countries at the UN Convention on Biodiversity in Nagoya, the WWF report details the discoveries of 39 mammals, 16 birds, 55 reptiles, 216 amphibians, 257 fish and 637 plants – all new to science.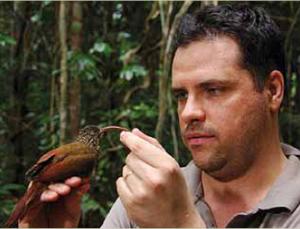 Brazilian ornithologist Alexandre Aleixo with a scythebill, one of 11 species with no known scientific description found on an expedition to the Altamira National Forest in 2009. (Photo © Zig Koch courtesy WWF)
"This report clearly shows the incredible diversity of life in the Amazon," said Francisco Ruiz, leader of WWF's Living Amazon Initiative.
"It also serves as a reminder of how much we still have to learn about this unique region, and what we could lose if we don't change the way we think about development, and promote conservation at a regional level that provides economic, social, and environmental benefits to people in the region and those within the Amazon's far-reaching climatic influence," he said.
The Amazon region encompasses the largest rainforest and river system on Earth. The region spans eight South American countries and one overseas territory, and is home to 30 million people. It consists of over 600 different types of terrestrial and freshwater habitats, from swamps to grasslands to montane and lowland forests. The Amazon is inhabited by 10 percent of the world's known species, including endemic and endangered plants and animals.
But during the last 50 years, humans have destroyed at least 17 percent of the Amazon rainforest – an area greater than the size of Venezuela, or twice the size of Spain.
The rapid expansion of regional and global markets for meat, soy and biofuels has increased the demand for land; about 80 percent of deforested areas in the Amazon have become cattle pastures. More clearing has been done to meet energy demands.
The Amazon forests not only shelter the most outstanding diversity of life on Earth, but also store 90-140 billion tons of carbon. WWF warns that releasing even a portion of this carbon through further forest loss and land use change, would accelerate global warming, compromising life on Earth as we know it.
"Urgent and immediate action is needed if we are to avoid this frightening scenario," said Ruiz. "The fate of the Amazon – and of its species whether known or yet to be discovered – depends on a significant shift in the current way development is embraced by all Amazon countries."
Today in Nagoya, the Brazilian Ministry of Environment presented the results of the first phase of the Amazon Region Protected Areas Program. Created in 2003 to ensure long-term resources to protect the Amazon's biodiversity, ARPA has become the world's largest rainforest conservation program.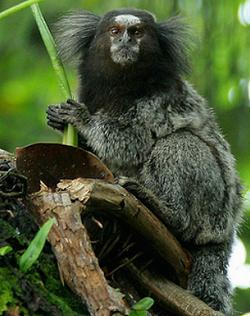 Mico acariensi, the Rio Acari marmoset (Photo © Georges Néron courtesy WWF)
The first phase, which ended in 2009, created 44 protected areas and set the establishment of another 62 in motion. The new areas total 24 million hectares.
The Brazilian government also has created a Fund for Protected Areas, which has raised US$25 million to date. A portion of these funds will go to indigenous communities in the Amazon region.
Brazil aims to create 20 million hectares of new protected areas in the Amazon during the next seven years: 10 million hectares of protected areas, and 10 million hectares designated for sustainable use.
If this goal is achieved, the program will have protected 60 million hectares of Amazon forests by 2017 through the consolidation of existing protected areas and the establishment and consolidation of new units.
The wealth of Amazon species needs all the protected habitat that can be preserved, and each year more new species are being discovered.
WWF said today that during the decade 1999-2009, 39 new mammals were found in the Amazon, including seven monkeys, a pink river dolphin, two porcupines, eight mice, nine bats, six opossums, five rats and a guinea pig.
One of the seven new monkey species is an inhabitant of the lowland Amazon rainforest. The Rio Acari marmoset, Mico acariensi, discovered in 2000, is a marmoset species endemic to Brazil. It was first seen by scientists as a pet kept by residents of a small settlement near the Rio Acari, a remote region of the Amazon, away from major human disturbance. It has not been studied in the wild, and there is currently no reliable information on its population status or major threats.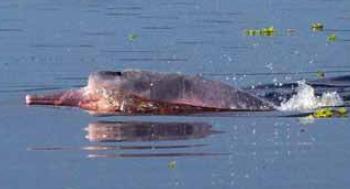 Inia boliviensis, a newly identified Bolivian pink river dolphin (Photo © Fernando Trujillo, Fundacion Omacha courtesy WWF)
The Amazon River dolphin, or pink river dolphin, was recorded by scientists in the 1830s, and given the scientific name of Inia geoffrensis.
The declaration of a new species of pink river dolphin happened during the first South American river dolphin census, led by Fundacion Omacha, Wildlife Conservation Society, Whale and Dolphin Conservation Society, Faunagua, WWF and other partners.
Over 15 months in 2006 and 2007, scientists navigated over 2,000 miles between the Amazon and Orinoco rivers and their tributaries. They surveyed 13 rivers in five countries – Bolivia, Colombia, Ecuador, Peru and Venezuela – and counted more than 3,000 river dolphins.
In 2006, they found scientific evidence of a separate species, Inia boliviensis. Unlike the Amazon River dolphins, their Bolivian relatives have more teeth, smaller heads, and smaller but wider and rounder bodies.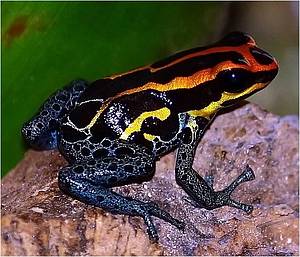 Ranitomeya amazonica, a newly discovered poison dart frog (Photo by Lars K courtesy WWF)
One of the most colorful new species identified during the Living Amazon Initiative is the Ranitomeya amazonica, a poison dart frog with a red and yellow pattern that looks like flames on its head, and legs patterned like water drops.
The frog's main habitat is lowland moist forest near the Iquitos area in the region of Loreto, Peru and it has also been seen in the Alpahuayo Mishana National Reserve in Peru.
A turtle, 28 snakes and 26 lizards have been discovered in the Amazon in the last 10 years.
The first new species of anaconda identified in more than 70 years was described in 2002 from Bolivia's northeastern Amazon province, and then found also in the floodplains of Bolivia's Pando province. The four meter (13 foot) long Eunectes beniensiswas snake was at first believed to be the result of hybridization between green and yellow anacondas, but was later determined to be a distinct species.
A member of the true parrot family, the Pyrilia aurantiocephala has an extraordinary bald head, and displays a brilliant spectrum of colors. Known only from a few sites in the Lower Madeira and Upper Tapajos rivers in Brazil, the species already has been listed as Near Threatened, due to its small population, which is declining due to habitat loss.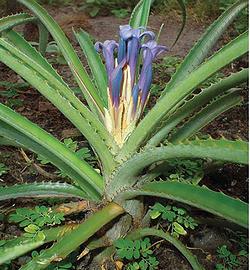 Bromelia araujoi, a newly found species of Bromeliaceae, in the same family as pineapples. (Photo © E. Esteves Pereira courtesy WWF)
A new species of catfish was found that lives in subterranean waters in the state of Rondonia, Brazil. Bright red, blind and tiny, the fish Phreatobius dracunculus was first found after a well was dug in the village of Rio Pardo, when they were trapped in buckets used to extract water. The species has since been found in another 12 of 20 wells in the region.
In addition to the vertebrate animals, thousands of new invertebrate species have been discovered by the Living Amazon Initiative. Owing to the sheer number of the invertebrates, these are not covered in detail by this report.
Within the last decade, hundreds of new plants, with a staggering diversity, have been recorded. The plants are from a wide range of plant families and include herbaceous, perennials and bulbous flowering plants, trees and shrubs, vines, ferns and lilies.
As part of its Living Amazon Initiative, WWF together with the IUCN, Amazon Cooperation Treaty Organisation and the Secretariat for the Convention of Biological Diversity and others are supporting the Latin American Technical Cooperation Network on National Parks, other Protected Areas and Wildlife, REDPARQUES, in building a conservation vision for the Amazon.
"This vision will build on the conservation strategies and protected area systems in each of the Amazon countries," said WWF. "It will help to meet commitments under the UN's Convention on Biological Diversity – in particular, its work on protected areas."
In his Foreword to the WWF report, Ahmed Djoghlaf, executive secretary of the Convention on Biological Diversity, said, "Today, when the world is reeling under the threat of climate change, conserving large intact tracts of tropical rainforests assumes paramount importance, not only for the people of the Amazon countries, but for all the individuals of the world. In this the International Year for Biodiversity, a shift in the paradigm of development must begin, with utmost urgency, to safeguard the Amazon biome's functionality and its incredible biodiversity."
Copyright Environment News Service (ENS) 2010. All rights reserved.