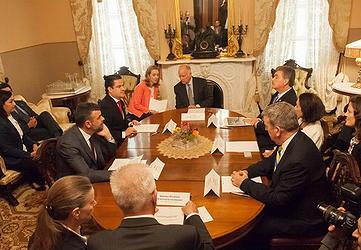 SACRAMENTO, California, May 19, 2015 (ENS) – California Governor Jerry Brown today signed a first-of-its-kind agreement with international leaders from 11 other states and provinces, representing more than 100 million people, to limit the increase in global average temperature to below 2 degrees Celsius. Scientists say catastrophic climate disruptions are likely above this warming threshold.
Called the "Under 2 MOU," this subnational agreement shows a path for nations to follow as they work toward a legally-binding global agreement to reduce greenhouse gas emissions ahead of this year's United Nations Climate Change Conference in Paris in December.
"This global challenge requires bold action on the part of governments everywhere," said Governor Brown at today's signing ceremony in Sacramento. "It's time to be decisive. It's time to act."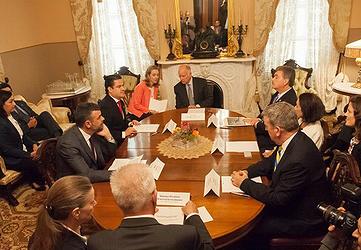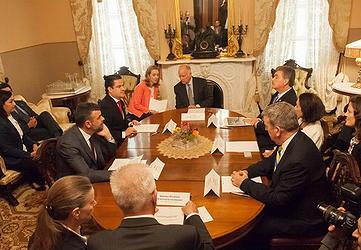 The 12 founding signatories to the Under 2 MOU span seven countries in advanced and developing economies on three continents. Their collective Gross Domestic Product, or GDP, amounts to $4.5 trillion, the fourth largest economic entity in the world.
The signatories include the U.S. states of California, Oregon, Washington and Vermont; the Canadian provinces of British Columbia and Ontario; the Mexican states of Baja California and Jalisco; the Brazilian state of Acre; and in Europe, Baden-Württemberg, Germany; Catalonia, Spain; and Wales, UK.
With the Under 2 MOU, the signatories are giving themselves just 35 years to either reduce greenhouse gas emissions 80 to 95 percent below 1990 levels by 2050 or achieve a per capita annual emission target of less than two metric tons by 2050.
These targets allow each individual government to tailor emission reduction plans to fit regional needs while cooperating with other signatories.
The Under 2 MOU creates an area of climate cooperation that stretches unbroken along the West Coast of North America from British Columbia, Canada south through Baja California, Mexico – a distance of roughly 5,500 kilometers (3420 miles).
British Columbia Premier Christy Clark said today, "Building on the success of BC's climate actions to date, which include a revenue neutral carbon tax and support for our growing clean tech sector, a recently appointed BC Climate Leadership Team will be engaging British Columbians to develop new climate actions that continue to reduce emissions while continuing to support development and a growing economy."
The signatories agreed on collaboration to expand the use of zero-emission vehicles. They will share technology, research and best practices for energy efficiency and renewables; ensure consistent monitoring and reporting of greenhouse gas emissions; reduce short-lived climate pollutants such as black carbon and methane; and assess the projected impacts of climate change on communities.
Acre Governor Tião Viana said today, "The Under 2 MOU is an historical opportunity to share our common efforts towards the sustainability. The state of Acre reaffirms its determination to pursue its sustainable production goals, enhance social inclusion and promote the conservation of forests."
Signatories to the Under 2 MOU also have committed to recruiting more global partners ahead of the UN Climate Change Conference in Paris, which takes place from November 30 through December 11.
This meeting, the 21st session of the Conference of the Parties to the UN Framework Convention on Climate Change, UNFCCC, is informally known as COP21.
To that end, California Air Resources Board Chair Mary Nichols hosted a reception with European partners today at the Business and Climate Summit in Paris organized by the French chapters of the United Nations Global Compact.
Other governments have shown interest in signing onto the agreement.
Rhône-Alpes Regional Council President Jean-Jack Queyranne said, "The commitments taken today are an important step of the mobilization of non-state actors towards COP21, and I am glad to be part of it."
Queyranne said the Rhône-Alpes Region will sign the Under 2 MOU during the World Summit Climate and Territories, set for Lyon, France July 1-2. There, many subnational governments and all international networks represented in the UN Major Groups will present their commitments and proposals for COP21.
The top UN climate official UNFCCC Executive Secretary Christiana Figueres congratulated the signatories for "putting their efforts behind this aim of a super-low emission future by the second half of the century. It represents yet another positive signal towards a transformational Paris agreement."
World Bank Group Vice President and Special Envoy for Climate Change Rachel Kyte said, "Local and sub-national governments are critical innovators in the fight against climate change. Their proven track record of building up solutions – from carbon pricing to electric vehicle roll-out to green buildings – provides an excellent model for national governments to follow as they advance plans for an ambitious Paris Agreement."
Environmental groups voiced their support.
Natural Resources Defense Council President Rhea Suh: "As these states and provinces know so well, change begins at home. Regional leadership is an essential ingredient in the global response to climate change. Today's announcement will help galvanize the groundswell of climate actions…"
Said Climate Group CEO Mark Kenber, "This global group of state and regional governments are not only signaling their commitment to act in line with climate science, but by putting the timetables and policies in place, they are also ensuring that these long term targets are achieved."
California is already suffering the effects of Earth's warming climate through a drought that has lasted four years.
Earlier this year, Governor Brown announced that by 2030, California will reduce today's petroleum use in cars and trucks by up to 50 percent.
California will also increase renewable electricity from one-third to 50 percent by 2030, double the efficiency savings from existing buildings and make heating fuels cleaner.
Brown said the state intends to reduce the release of methane, black carbon and other short-lived climate pollutants and manage farm and rangelands, forests and wetlands so they can store carbon dioxide, the most prevalent greenhouse gas.
Today's agreement follows last month's executive order from Governor Brown to reduce greenhouse gas emissions in California 40 percent below 1990 levels by 2030 – the most ambitious target in North America. The Under 2 MOU is consistent with California's existing commitment to reduce emissions 80 percent under 1990 levels by 2050.
The Under 2 MOU also builds on California's international climate change pacts with leaders from Mexico, China, North America, Japan, Israel and Peru.
Copyright Environment News Service (ENS) 2015. All rights reserved.