10/10/10: World's Biggest Climate Work Party Gathers Force
OAKLAND, California, October 8, 2010 (ENS) – More than 7,000 events are expected to take place in 188 countries for the 10/10/10 Global Work Party, "the single largest day of carbon-cutting action in the planet's history," according to organizing nonprofit 350.org.
The group's name indicates that the world must return to 350 parts per million of carbon dioxide in the atmosphere to forestall the worst impacts of global warming.
As of April 2010, the CO2 concentration level was 392 parts per million. Carbon dioxide and other gases blanket the Earth in the greenhouse effect, blocking the planet's natural ability to radiate the Sun's heat back out into space.
"Politicians may still be debating climate change, but citizens are getting to work solving it," said Bill McKibben, environmental author and founder of 350.org.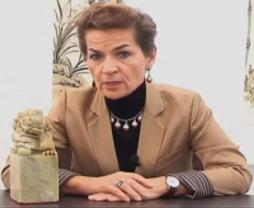 UNFCCC Executive Secretary Christiana Figueres made a video to show her support. (Image courtesy Tck Tck Tck)
Some politicians do support the Global Work Party. The United Nations' chief negotiator took a break from international climate talks in Tianjin, China today to record a message backing 10/10/10.
Christiana Figueres, executive secretary of the UN Framework Convention on Climate Change said, "I want to offer my personal support to the 10/10/10 Global Work Party on October 10. And I urge you to continue your inspiring work. When citizens are inspired to take action, it is easier for governments to initiate real climate change action. The upcoming United Nations Climate Change Conference at Cancun will be their opportunity to do so. They need to follow your example."
UN Secretary-General Ban Ki Moon gave 10/10/10 a boost in September with his endorsement of the Global Work Party. "It's time for us to roll up our sleeves and get to work on building the clean energy future that will generate economic opportunity and provide a better, safer, healthier world for our children," said Ban.
While the official work party day is Sunday, October 10, in the country most at risk of sea level rise, the low-lying Maldives Islands in the Indian Ocean, President Mohamed Nasheed started work early.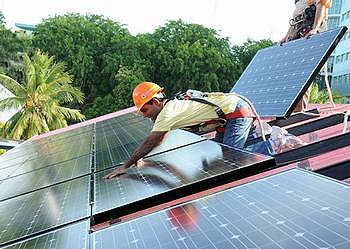 Maldives President Mohamed Nasheed installs solar panels on the Presidential Residence. (Photo courtesy 350.org)
A former carpenter, President Nasheed set the work party in motion on Thursday by installing a set of solar panels on the roof of his official residence in Male. The panels were donated by Sungevity, an Oakland, California company which sent a team to help President Nasheed install them.
"The Maldives stands at the front line of climate change and we don't have the luxury of time to sit and wait for the rest of the world to act. We are getting to work to start the transition from fossil fuels to renewable energy," said President Nasheed.
Back in Oakland on Sunday, a team of Sungevity installers will join with Grid Alternatives on the roof of the Green Youth Arts and Media Center to install another set of solar panels. GYAMC serves youth impacted by violence and poverty through programs in the arts, media production, and environmental sustainability, preparing them for careers in entertainment or green industries.
Illinois Governor Pat Quinn, a Democrat, said today he will be up on the roof of his official residence in Springfield on Sunday helping to install solar panels, and he is challenging every other governor in the United States to do the same.
"I am pleased to announce plans to bring the Illinois Governor's Mansion into the 21st century with a new set of solar panels," said Quinn. "We must do everything we can to increase our use of solar energy, which will help us protect natural resources and reduce our reliance on traditional energy sources."
The one kilowatt solar array will reduce CO2 emissions by 30 tons over the next 25 years, the equivalent of about 100,000 car miles or the planting of 1,100 trees. The panels were donated by WindFree Energy Company and BYD America, and the hardware by B. Weinstein Engineering. The International Brotherhood of Electrical Workers Local 193 is donating the labor to install the panels.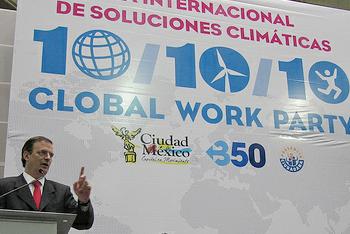 In Mexico City, Mayor Marcelo Ebrard pledges to reduce greenhouse gas emissions in the coming year. (Photo courtesy 350.org)
In Mexico City today, Mayor Marcelo Ebrard signed a commitment to cut carbon emissions 10 percent over the next year.
The mayor of this city of 22 million people, and Mexico City Environment Secretary Martha Delgado explained how they will achieve the 10 percent reduction – by opening a new line of the Metrobus, expanding the city's bike sharing program and bike lane system, building a new subway line, taking old taxis off the road with incentives, and implementing new recycling and waste reduction programs.
On Sunday, Mayor Ebrard will join thousands for a solar-powered festival in Chapultepec park.
The White House, too, is getting involved in the Global Work Party. Representatives from the White House asked 350.org if they could talk with some of the people organizing events across the country.
On Saturday at 5pm Eastern time, Jon Carson, the national field director for the Obama campaign and now a senior official for the White House Council on Environmental Quality, will be on the line on a public call-in to talk about the power of grassroots organizing, and what the Obama administration is doing to address climate change.
McKibben says he was worried when he first announced the 10/10/10 work party.
While last year's work party was a success with 5,200 events in 181 countries on October 24, 2009, McKibben said he feared that fewer people would want to get involved this year.
"It had been a discouraging year, with the failures in Copenhagen and in the U.S. Congress, and the unwillingness of governments all over the world to take any sort of meaningful climate action," he said. "People told me the movement was deflated, and that no one had any energy left."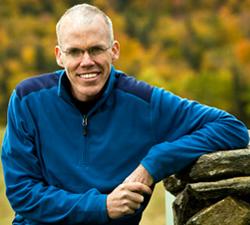 10/10/10 organizer and 350.org founder Bill McKibben (Photo courtesy Bill McKibben)
As it turns out, he had no need to worry.
"In the same year when global temperatures have set one scary new record after another, you are rewriting the record books for civic engagement," McKibben said this week. "We don't have the final numbers yet because registrations are still streaming in, but it's clear that we're on track to shoot past 7,000 events in 188 countries."
"That leaves four countries unaccounted for: North Korea, Andorra, Equatorial Guinea, and San Marino," he said. "Barring those, the entire planet is engaged. Which makes sense, since this is the first issue that involves the entire planet."
In the United States, over 1,200 events are planned, from Atlanta parishioners weatherizing their church to a hip-hop show at a community garden in Oakland.
In China and India, over 300 universities will join 10/10/10 as part of the Great Power Race, a student clean energy competition.
In Afghanistan, students will be planting hundreds of trees in a valley outside of Kabul.
In Congo, refugees will be planting a "Forest of Hope" outside of Goma, home to thousands of refugees from regional conflicts.
In Indonesia, 10 bike communities in Bandung City will plant 10 trees at each of 10 city parks.
In Hungary, at 10 am footballers kick off the Climate Soccer match, Olympic sportsmen vs. a team of climate change scientists.
In Russia and Croatia, organizers have signed up nearly 10,000 schools to plant trees on Sunday.
In Germany, people can get on the couch for some carbon cutting advice. The couch will be in Berlin on Sunday, traveling through the city offering low carbon advice to everyone on its way to the Brandenberg gate.
In Zimbabwe, the Cool Carbon Club in Harare has invited everyone to help clean up two cycle paths in the city.
McKibben asks that people take photos of their events to "show politicians and the media that people around the world aren't just ready for climate solutions – we're getting to work building them."
Email photos to photos@350.org. Put your city and country in the subject line, and put a short description of your event in the body of the email. McKibben says please try to get a "350" in your photo. "It's our universal message knitting this whole thing together. And if you can get a photo that shows how people are getting to work on climate solutions, even better."
Copyright Environment News Service (ENS) 2010. All rights reserved.
Environment News Service (ENS) © 2010 – 2012 All Rights Reserved.