$100 Billion a Year Climate Change Financing 'Feasible'
NEW YORK, New York, November 5, 2010 (ENS) – Funding of $100 billion a year by 2020 to help developing nations deal with climate change is "challenging but feasible" a high-level advisory group convened by United Nations Secretary-General Ban Ki-moon said today.
At the UN climate change conference in Copenhagen last December, developed nations pledged $30 billion of fast-track funding for developing countries through 2012 and committed to jointly raise $100 billion annually by 2020.
The new report by the High-Level Advisory Group on Climate Change Financing comes three weeks before the opening of this year's UN Climate Change Conference in Cancun, Mexico.
Co-chaired by Prime Ministers Meles Zenawi of Ethiopia and Jens Stoltenberg of Norway, the 21-member advisory group was established by the UN secretary-general in February.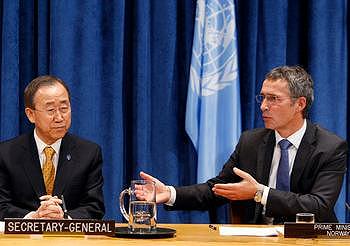 Jens Stoltenberg, Prime Minister of Norway and Co-chair of the High-level Advisory Group on Climate Change Financing, addresses reporters with UN Secretary-General Ban Ki-moon. (Photo by Paulo Filgueiras courtesy UN)
"Without an agreement on finance we won't reach an agreement on climate," Prime Minister Stoltenberg told today's news conference at UN headquarters in New York.
Prime Minister Meles said further progress would depend on the political will of leaders everywhere, but particularly in developed countries. The report "can be used to create an ambitious deal or a weak and miserly deal, or it can be left to languish in the desks of government bureaucrats," he said.
The $100 billion annual fund must come from a wide range of sources – public and private, bilateral and multilateral, the group advised.
"There is no silver bullet – no 'one size fits all' solution for raising these funds," said Ban at the news conference.
"It will need sustained political will, appropriate public policy signals for the markets, and financial ingenuity," Ban told reporters.
"This report can help governments in their discussions on climate finance, which is one of the most difficult areas in the negotiations," the secretary-general said. "I hope it will help them move forward."
In its report, the Advisory Group said grants and highly concessional loans are essential for adapting to climate change in the world's most vulnerable countries, particularly small island developing states, which are threatened by rising sea levels as glaciers and ice caps melt.
Afelee Falema Pita, representing the low-lying Pacific island nation of Tuvalu, told the UN General Assembly in September that his country would like to see three key commitments made at Cancun.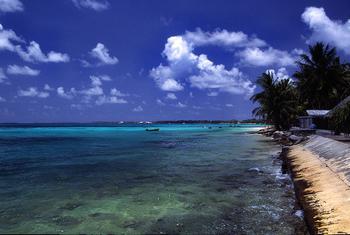 A low seawall protects a beach at Funafuti atoll, Tuvalu. (Photo by Stefan Lins)
"First, we would like to see all amendments and rules for the Kyoto Protocol agreed, so that such amendments are ready for ratification to avoid a gap in the commitments period," said Pita.
"Second, we should decide on a mandate to start negotiations on a new legally binding agreement based on elements of the Bali Action Plan," Pita said.
"And third, we should agree on a set of decisions that will provide interim steps to implement measures to be incorporated in the new legally binding agreement," he said.
But some say negotiators at Cancun should ditch attempts to secure legally binding greenhouse gas emissions reduction targets. On Thursday, the UK's Lord John Prescott, the former deputy prime minister, said on Radio 4's the Today Programme that the aim of binding emissions targets would not fly in this round of negotiations.
"We are threatening to destroy our own world, as we shamelessly squabble over dollars and degrees," said Camillo Gonsalves, representing Saint Vincent and the Grenadines, an archipelago in the Caribbean Sea.
"Saint Vincent and the Grenadines has no interest in fiddling merrily while the Earth drowns, suffocates or burns," Gonsalves said. "Climate change is the global challenge of out time, and failure and delay can no longer be a viable option."
The Advisory Group report stresses the importance of rapid and decisive actions.
"Now is the time to take decisions," it said, adding that mobilizing financing will require strong commitments to the goals set by nations to mitigate climate change and the introduction of new public instruments on carbon financing.
The Advisory Group said that the careful and wise use of public funds, combined with private funds, can generate "truly transformational investments."
In the lead-up to the November 29 opening of the Cancun summit, the United Nations Environment Programme is showcasing one solution each day – demonstrating how burning less fossil fuels and planting more trees will lower global greenhouse gas emissions.
From creating mass markets for solar water heaters, improving vehicle efficiency, using waste for energy, installing energy-efficient cooking stoves or planting trees and protecting forests, UNEP aims to prove that solutions to combat climate change are available, accessible and replicable.
One of the featured case studies is UNEP's Solar Loans for Solar Homes in India where more than 60 percent of Indian households have no access to reliable electricity supplies and depend on kerosene for light and on burning dung and wood for heat.
The solar loan program, a partnership involving the UN Foundation, Shell Foundation and two of India's largest banking groups, has accelerated market penetration of solar lights in the Indian countryside and inspired several similar initiatives in India and elsewhere.
Other projects to be featured include Green Passports for sustainable tourism, the greening of East African tea plantations, the massive potential of carbon financing in Africa and successful reforestation in Panama.
Copyright Environment News Service (ENS) 2010. All rights reserved.