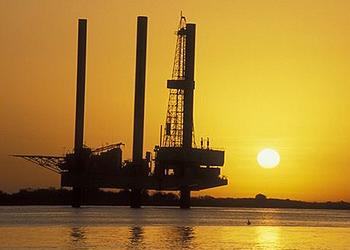 WASHINGTON, DC, April 28, 2017 (ENS) – President Donald Trump today signed an executive order that directs the U.S. Department of the Interior to study new oil and natural gas drilling off the coast of California, the Atlantic states, the Gulf of Mexico and the Arctic, revising the schedule of proposed oil and gas lease sales "to the maximum extent permitted by law."
In the Arctic, the order affects the Chukchi Sea, Beaufort Sea and Cook Inlet, where one of the world's last remaining great salmon runs still exists, although experts predict a weak Cook Inlet salmon run this year.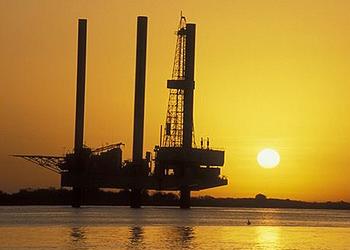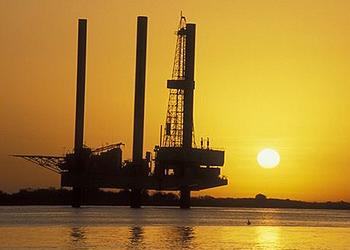 The federal government itself has estimated a 75 percent chance of a major oil spill in the Arctic's Chukchi Sea if drilling proceeds there.
But President Trump is undeterred by such warnings.
Accompanied by members of Alaska's congressional delegation and representatives of other coastal states, Trump said at the signing ceremony that the order "reverses the previous administration's Arctic leasing ban."
Trump said, "Our country is blessed with incredible natural resources, including abundant offshore oil and natural gas reserves. But the federal government has kept 94 percent of these offshore areas closed for exploration and production."
"This deprives our country of potentially thousands and thousands of jobs and billions of dollars in wealth," said Trump. "I pledged to take action, and today I am keeping that promise."
His executive order prohibits all designations and expansions of National Marine Sanctuaries and Marine National Monuments for the next 10 years unless
The order also lifts requirements for Exploratory Drilling on the Arctic Outer Continental Shelf, air quality control and safety of drilling in the Gulf of Mexico.
The order also directs the Secretary of the Interior to implement a streamlined permitting approach for privately funded seismic data collection to determine offshore energy resource potential.
Seismic testing is detrimental to whales. It deafens them and interferes with the ecolocation capabilities they use to find food and mates. According to federal government estimates published in 2015, as many as 138,000 whales and dolphins along the U.S. Atlantic coast from Delaware to Florida could be injured or possibly killed if seismic blasting is allowed.
Yet among the rules Trump has ordered rescinded or revised is the Technical Guidance for Assessing the Effects of Anthropogenic Sound on Marine Mammal Hearing and the Incidental Take and Incidental Harassment Authorizations and Seismic Survey permit applications under the Outer Continental Shelf Lands Act, and the Marine Mammal Protection Act.
That means that whales and other marine mammals may be injured or killed in greater numbers without consequences than is permitted today.
But Trump says increased offshore energy production will increase American energy supplies, revenue and jobs.
"I am going to lift the restrictions on American energy, and allow this wealth to pour into our communities," said Trump.
In 2008, federal leasing revenues for the Outer Continental Shelf were nearly $18 billion dollars. By contrast, in 2016, after eight years of the Obama administration, leasing revenues were approximately $2.8 billion.
Interior Secretary Ryan Zinke said, "That's a drop of more than $15 billion that would otherwise go to the Treasury or toward funding important conservation programs like the Land and Water Conservation Fund and the Historic Preservation Fund."
"We don't have to start from scratch," Zinke told reporters Thursday night. He said a review will likely take at least two years and the current five-year plan will remain in place in the meantime.
Zinke said the Interior Department is planning no set outcome of the review. "We're going to give local communities a voice," he promised.
The states of California, Oregon and Washington immediately made their opposition known.
California Governor Jerry Brown, Oregon Governor Kate Brown (no relation) and Washington Governor Jay Inslee said in a joint statement, "Today's unilateral action is short-sighted. For good reason there has been no federal expansion of oil and gas drilling along our shared coastline for more than 30 years. We still remember what happened in Santa Barbara in 1969, Port Angeles in 1985, Grays Harbor in 1988 and Coos Bay in 1999. We remember the oil soaked beaches and wildlife and the devastating economic impacts to local communities and the fishing industry."
"Now is not the time to turn back the clock," said the governors. "We cannot return to the days where the federal government put the interests of big oil above our communities and treasured coastline."
California Attorney General Xavier Becerra said today, "We will vigorously oppose new drilling off the shores of our coast. California is leading the way in clean energy production and policies that preserve our state's pristine natural resources. Instead of taking us backwards, the federal government should work with us to advance the clean energy economy that's creating jobs, providing energy and preserving California's natural beauty."
Naturally, environmental, conservation and clean energy groups are opposed to Trump's new policy.
The Wildlife Conservation Society, WCS, based on New York's Brox Zoo and active in conservation around the world, raised concerns with the new executive order that could withdraw protections for offshore areas, including the Hudson Canyon off the coast of New York.
John Calvelli, WCS Executive Vice President of Public Affairs, "WCS is disheartened by today's executive order that will put certain areas, especially in the Atlantic Ocean, back on the table for offshore drilling. After seeing positive policy changes based on the best available science last year, this can only be considered a major step backward for vulnerable marine species and the livelihoods of people who depend on marine resources, including fisheries which could be greatly impacted by fossil fuel development."
"Last year, a group of renowned marine mammal scientists sent a letter to the administration underscoring new scientific research that showed the impacts of seismic surveys on the endangered North Atlantic right whale and other marine life," said Calvelli. "The stress of widespread seismic airgun surveys may well represent a tipping point for the survival of the North Atlantic right whale."
Calvelli pointed out that in the Mid-Atlantic region alone, the commercial fishing industry supports more than 133,000 jobs and more than $16 billion in sales. "The tourism and recreation industries, reliant on clean water and abundant wildlife, add billions more," he said. "These existing economic uses that support both wildlife and livelihoods may be incompatible with expanded oil and gas development."
In November 2016, the Obama administration approved the latest schedule for oil and gas lease sales that would have lasted for five years until 2022. That schedule is now under review.
The White House says the Outer Continental Shelf is expected to contain 90 billion barrels of undiscovered technically recoverable oil and 327 trillion cubic feet of undiscovered technically recoverable natural gas.
Interior Secretary Zinke said, "I understand people may be concerned about any environmental impact that development may have, and that's a valid concern that the President and I share. The truth is, we fully expect that during the review process we will find ways to improve our regulatory requirements that strengthen safety precautions."
"Good stewardship of our lands and waters and responsible offshore development are not mutually exclusive," Zinke said.
"One thing that does not change between Administrations is our commitment to safety. That remains our number one priority. We have really smart, energetic folks working on our frontlines in the Gulf who dedicate their entire work day to maintaining a strong offshore safety culture. We are going to keep it that way and we will hold companies accountable where necessary."
But environmentalists are sceptical. "This attempt to greatly expand offshore drilling into the Arctic and Atlantic is a blatant prioritization of fossil fuel profits over the health of our climate and coastal communities. President Trump is ignoring the cries of citizens who have said offshore drilling poses too great a threat to their economies and ways of life," said Marc Yaggi, executive director of Waterkeeper Alliance.
"The oil industry has shown time and time again it is either unwilling or incapable of operating safely," said Yaggi. "More offshore drilling will only lead to more destructive oil spills."
The Natural Resources Defense Council is outraged and will fight the Trump drilling policy.
Rhea Suh, president, NRDC Action Fund, warned today, "Drilling off our coasts harms our oceans, marine wildlife and coastal communities with leaks and catastrophic oil spills – like the Deepwater Horizon tragedy, which dumped more than 130 million gallons of toxic crude oil into the Gulf of Mexico seven years ago."
"More drilling will also set us back in our fight against climate change, shackling us to the heavily polluting fossil fuels of the last century, driving more carbon pollution and slowing America's transition to clean energy," said Suh.
NRDC Action Fund Members, NRDC and the NRDC Action Fund are fighting back with every tool at their disposal. Lawyers are already preparing to challenge Trump in court, the Stop Arctic Ocean Drilling Act (H.R. 1784) has been introduced in the House.
Suh said, "Our policy experts are on Capitol Hill lobbying Congress for new legislation to counter the president's reckless scheme and slam the door on drilling in the Arctic and Atlantic, and in all American coastal waters, once and for all."
Copyright Environment News Service (ENS) 2017. All rights reserved.