Oil Spill Response Vessel Captain Dies in Gunshot Suicide
MOBILE, Alabama, June 23, 2010 (ENS) – An Alabama boat captain working the BP oil spill response died this morning from a gunshot wound that may have been self-inflicted.
William Allen "Rookie" Kruse, 55, was captain of The Rookie, a charter fishing boat working in the Deepwater Horizon oil spill Vessels of Opportunity program.
Based in Orange Beach, the boat was docked at the Gulf Shores Yacht Club and Marina at Fort Morgan when the shooting occurred. Kruse died about 7:30 this morning from a single shot from a Glock handgun. His body was found in the wheelhouse of The Rookie by his deckhands.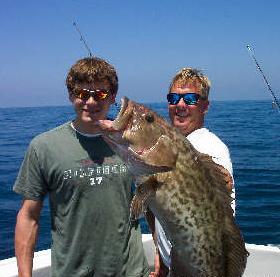 Captain William Allen "Rookie" Kruse, right, with a satisfied customer during a fishing expedition aboard The Rookie. (Photo by The Rookie)
"I'm very sorry to announce the death this morning of a captain in the vessel of opportunity program at Fort Morgan, Alabama," said U.S. Coast Guard Commander Chuck Diorio, a spokesman for the oil spill Joint Information Center in Mobile. "Our hearts go out to his family and the Gulf Coast community."
Diorio said the Gulf Shores Police Department is investigating the shooting.
"There are many facts that need to be determined surrounding this," Diorio said.
"He had been despondent about the oil crisis," Baldwin County Coroner Stanley Vinson told ENS. "We are waiting on the results of the autopsy, but there is no reason to believe this is anything other than a self-inflicted shooting. He left no note nor made any mention of doing himself harm."
"People that knew him are telling us he was despondent," said Vinson.
The oil spill has fouled local beaches. Last week, cleanup crews began removing oil from the beaches west of Gulf Shores in Baldwin County on the Fort Morgan peninsula.
National Incident Commander U.S. Coast Guard Admiral Thad Allen confirmed the death and the police investigation in a teleconference with reporters this morning.
Admiral Allen also said another person connected with the oil spill response died today in "an accident regarding a swimming pool, a swimming event," but he could give no further details.
The health and safety of the thousands of oil spill response workers on the job is the responsibility of the Department of Labor's Occupational Safety and Health Administration, OSHA.
At this point, 25 OSHA personnel are assigned to the Gulf cleanup operation and the agency is planning to double that number by bringing in two dozen more, said Jordan Barab, the deputy assistant secretary of labor for occupational safety and health, told reporters on the briefing call today.
In addition to checking to see that BP and its contractors are complying with federal standards, Barab said OSHA has been taking samples again, of worker chemical exposures "on the beaches, in the swamps, on the boats, everywhere that workers are."
"We have found no exposure levels to any chemicals that are of any concern, he said.
"The main problem we've been seeing down there, the main concern that we've had for worker health and safety has to do with heat," said Barab, a serious issue that was raised today in Congressional testimony by another OSHA official.
"One of the most serious health hazards facing those involved in the Gulf Oil Spill Response is heat stress. There have already been over 100 incidents of illnesses from heat among workers involved in the cleanup, some very serious," OSHA Assistant Secretary David Michaels said.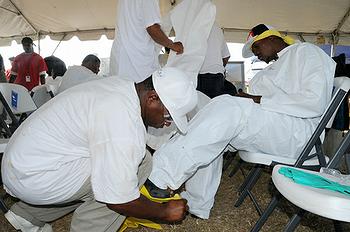 Oil spill cleanup workers contracted by BP help each other don protective suits and shoes before deploying to the beach at Port Fourchon, Louisiana. May 29, 2010. (Photo courtesy U.S. Coast Guard)
Testifying before the House Committee on Education and Labor, Michaels said, "Oil spill cleanup workers are on the front lines of the nation's response to the Deepwater Horizon disaster."
"From the outset, OSHA has insisted that BP implement a robust program to protect workers from heat stress and heat stroke, a potentially life threatening hazard for people working in cleanup operations," said Michaels. "Many of these people work 12 hours a day, 7 days a week, wearing chemical resistant Tyvek coveralls, boots and gloves, in the hot and humid weather along the gulf."
"BP has now implemented, at all work sites, a heat stress plan that includes a matrix setting out specific work and rest requirements based on the heat and relative humidity, and whether workers are wearing protective clothing and equipment, which can exacerbate the hazard, he said.
Depending on their assignments, said Michaels, oil spill cleanup workers face hazards from heat, falls, drowning, fatigue, loud noises, sharp objects, as well as bites from insects, snakes and other wild species native to the Gulf Coast region.
Many of these workers also face exposure to crude oil, oil byproducts, dispersants, cleaning products, and other chemicals being used in the cleanup process. "OSHA is working to ensure that employers protect workers from this vast array of hazards," he said.
Currently it is estimated that there are more than 33,000 people involved in the response, including over 13,000 cleanup workers employed by BP or its contractors, 1,600 National Guardsmen and women, workers on over 6,000 boats supporting the response operations, and more than 1,800 federal employees directly involved in the cleanup operations in four states.
Copyright Environment News Service (ENS) 2010. All rights reserved.