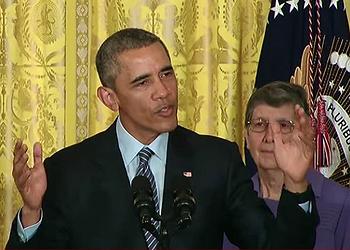 WASHINGTON, DC, August 3, 2015 (ENS) – President Barack Obama is convinced that "no challenge poses a greater threat to our future and future generations than a changing climate," he said today at the White House, launching his plan to cut heat-trapping carbon emissions from power plants 32 percent from 2005 levels by 2030.
Globally, 2014 was the hottest year on record, and 2015 is on track to break that record.
Obama pointed out the dangers of the planet's rising temperature. "The Pentagon says that climate change poses immediate risks to our national security," he warned. "While we can't say any single weather event is entirely caused by climate change, we've seen stronger storms, deeper droughts, longer wildfire seasons."
"Over the past three decades, nationwide asthma rates have more than doubled, and climate change puts those Americans at greater risk of landing in the hospital," Obama said.
He emphasized that there is no time to lose in changing human behaviors that result in more greenhouse gases entering the atmosphere.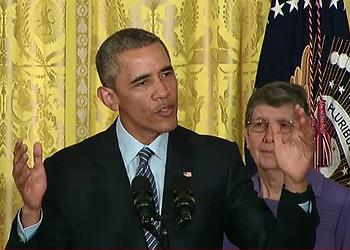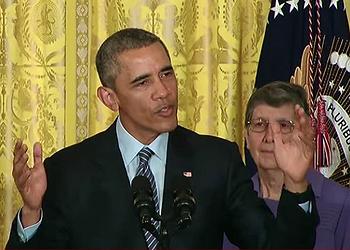 "This is one of those rare issues – because of its magnitude, because of its scope – that if we don't get it right we may not be able to reverse, and we may not be able to adapt sufficiently," Obama warned sternly." There is such a thing as being too late when it comes to climate change."
Power plants are the source of about a third of America's carbon dioxide emissions – more than cars, airplanes and homes combined.
Coal-fired power plants will have to make the biggest changes to comply with the Clean Power Plan; burning coal emits more carbon dioxide, CO2, than other fossil fuels such as natural gas.
Obama wants to see more electricity generated by wind, solar, hydro and nuclear power – all sources that emit little or no CO2, although none is environmentally risk free.
Praised by many environmental groups but criticized by others for not going far enough, the day-old Clean Power Plan that was two years in the making already faces threats of lawsuits by coal companies and opposition from Republicans representing coal extraction states.
On the Senate floor today, Senate Majority Leader Mitch McConnell, a Republican representing the coal-extraction state of Kentucky, called the Clean Power Plan a "blow to the economy and to the middle-class" that are "projected to cost billions."
McConnell said the regulations will "likely make it harder to maintain reliable sources of energy to meet demand."
"They'll also likely to result in higher energy bills for those who can least afford them, potentially raising electricity rates by double digits for the people I represent."
"They may also be illegal," McConnell said.
Senator Joe Manchin, a Democrat who represents the coal-producing state of West Virginia, was equally outraged by the President's plan.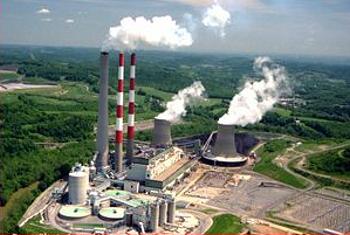 "This Administration's demonization of coal has already devastated the coal mining industry in West Virginia and in energy-producing states across the country. Because of unattainable and unreasonable regulations, thousands of coal miners have been laid off in West Virginia alone, and more than 26 coal companies have filed for bankruptcy," fumed Manchin, a former West Virginia governor.
"By requiring the adoption of costly carbon capture and storage technologies that have not yet been proven commercially viable, the EPA is essentially setting a standard that is impossible to meet," said Manchin.
Coal generates almost 40 percent of the electricity in America, Manchin pointed out, citing Department of Energy data showing that coal will still produce more than 30 percent of our electricity through 2040.
Republican Governor Matt Mead of Wyoming, America' biggest coal-producing state, said only, "The Clean Power Plan is scientifically flawed and if implemented will not achieve minimum reductions. It is in fact damaging – not just to Wyoming, but the nation. I will continue to fight regulations that are fundamentally bad for Wyoming and exceed the regulatory authority of the federal government."
But despite Republican claims of illegallity, the U.S. Supreme Court has ruled that the U.S. Environmental Protection Agency has the right and the duty to regulate emissions of carbon dioxide under the Clean Air Act.
Obama told reporters today that critics of his Clean Power Plan are wrong as other critics of environmental initiatives have been wrong in the past.
He cited Republican President Richard Nixon's pollution standards in 1970, Republican President George H.W. Bush's acid rain standards in 1990 and his own stricter auto fuel efficiency standards that "didn't cripple automakers" despite criticism when they were introduced.
"We've heard these same stale arguments before," the President said. "Every time America has made progress, it's been despite these kind of claims. Whenever America has set clear rules and smarter standards for our air, our water, our children's health, we get the same scary stories about killing jobs and businesses and freedom."
But Americans can meet this challenge, said Obama, "And if we don't do it, nobody will. The only reason that China is now looking at getting serious about its emissions is because they saw that we were going to do it, too. When the world faces its toughest challenges, America leads the way forward," he said. "That's what this plan is about."
Underlining the difficulty of controlling climate change, Obama said, "No single action, no single country will change the warming of the planet on its own. But today, with America leading the way, countries representing 70 percent of the carbon pollution from the world's energy sector have announced plans to cut their greenhouse gas emissions."
The United States has, in the past, been known to drag down international climate negotiations by failing to agree to the steep cuts in greenhouse gas emissions proposed by European and developing countries.
But this year's UN Climate Summit in Paris will be different, President Obama said. "In December, with America leading the way, we have a chance to put in place one of the most ambitious international climate agreements in human history."
Copyright Environment News Service (ENS) 2015. All rights reserved.