Europe, USA, Japan Will Harmonize Electric Vehicle Regulations
BRUSSELS, Belgium, November 22, 2011 (ENS) – The global introduction of electric cars is expected to accelerate with a new informal agreement signed by the European Union, the United States and Japan in Geneva last week.
The partners agreed to cooperate on harmonizing regulatory obligations related to electric vehicles in the global context. This is expected to lead to cost savings through economies of scale for automotive manufacturers.
Currently automakers produce relatively small volumes of electric vehicles in different world regions. But increasingly, automakers are selling their products into markets far from home. The agreement is seen as key in the context of economic recovery and general cost-sensitiveness of the industry.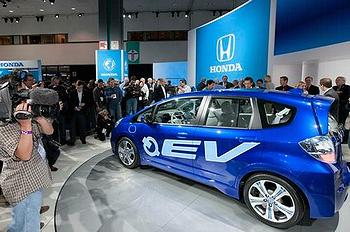 Japanese automaker Honda introduces the Fit EV at the Los Angeles Auto Show, November 18, 2011 (Photo by cool3c)
Because the rules for electro-mobility technologies are currently being developed on both sides of the Atlantic and in Asia, the cooperation offers a unique opportunity to develop common approaches.
"This is a crucial step towards the development and reach out of electric cars," said European Commission Vice President Antonio Tajani, who is responsible for Industry and Entrepreneurship.
"The regulatory cooperation agreement will help to increase the market potential for this important breakthrough technology, contributing for competitiveness and a more sustainable road transport," Tajani said.
Under the proposed cooperating agreement, two informal working groups on electric vehicles will be set up under the United Nations' 1998 Agreement on Global Technical Regulations. This 1998 agreement establishes a process through which countries can jointly develop global technical regulations for vehicles and their components.
Currently, there are 32 Contracting Parties to the 1998 Agreement, including China, European Union, India, Japan, South Korea and the United States.
The initiative on the new cooperating agreement was taken by the European Commission; the U.S. National Highway Traffic Safety Administration and the U.S. Environmental Protection Agency; and Japan's Ministry of Land, Infrastructure, Transport and Tourism.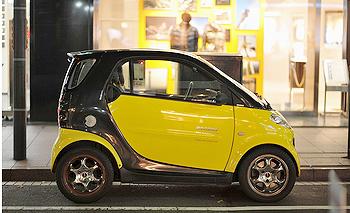 European-made Smart car in Tokyo, October 2010 (Photo by alfa-tipo33)
The working groups are open to all countries that are contracting parties to the relevant UN Agreement, including India and China. The first working group will address the safety aspects of electric vehicles and their components, including the battery. It will cover the safety of occupants against electric shocks during use and while recharging, as well as after an accident.
The second group will focus on environmental aspects of regulations as applied to electric vehicles.
The aim of both groups is to exchange information on current and future regulatory initiatives in this field, to avoid unnecessary differences between regulatory approaches and, where possible, develop common requirements in the form of a Global Technical Regulation.
The World Forum for Harmonization of Vehicle Regulations, also known as Working Party 29, operates under the UN Economic Commission for Europe, located in Geneva. It defines vehicle regulations, covering safety and environmental requirements for cars and other vehicles.
The aim of the forum is to promote harmonized technical requirements which reduce development costs and avoid duplication of administrative procedures for industry and so contribute to economic efficiency and lower costs for consumers and society.
The 1998 Agreement on Global Technical Regulations establishes a process through which countries from all regions of the world can jointly develop global technical regulations for vehicles and their components. It is complementary to an agreement signed in 1958 on international technical harmonization in the motor vehicle sector.
Copyright Environment News Service (ENS) 2011. All rights reserved.