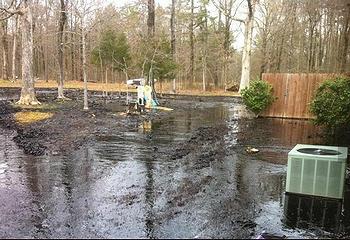 MAYFLOWER, Arkansas, April 1, 2013 (ENS) – An ExxonMobil pipeline carrying tar sands oil from Canada broke open in Arkansas on Friday, spilling thousands of gallons of black diluted bitumen into residential streets outside Little Rock and forcing the evacuation of 22 homes.
The City of Mayflower recommended that 22 homes on Starlite Road and Shade Tree Lane be evacuated; all residents evacuated following notifications by the Mayflower Police Department. Sunday they were told the evacuation could last at least six days.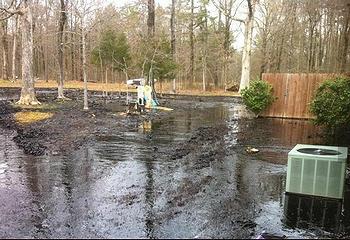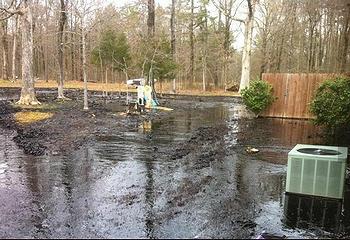 The Pegasus pipeline can carry more than 90,000 barrels per day of crude from Patoka, Illinois to Nederland, Texas. The pipeline has been shut in and crews are working to contain the spill. Some 120 ExxonMobil workers are responding to the incident in addition to federal, state, and local personnel.
"We regret that this incident has occurred and apologize for any disruption and inconvenience that it has caused," said Karen Tyrone, southern operations manager of ExxonMobil Pipeline Company. "Our focus is on protecting health, safety and the environment. We will be here until the cleanup is complete."
The U.S. EPA categorizes the incident as a "major spill," a category that includes any quantity greater than 250 barrels.
ExxonMobil said, "A few thousand barrels of oil were observed in the area; a response for 10,000 barrels has been undertaken to ensure adequate resources are in place."
The Mayflower Incident Unified Command said today that it has developed and endorsed a cleanup plan. The plan encompasses the affected neighborhood of the North Woods subdivision and surrounding areas.
Nearby Lake Conway was not impacted and 3,600 feet of containment boom has been laid out as a precautionary measure to ensure oil does not get into the lake.
Fifteen vacuum trucks and 33 storage tanks have been deployed to the site to clean up and temporarily store the oil. Approximately 12,000 barrels of water and oil have been recovered.
Crews are steam cleaning and pressure washing oil from property.  A plan to return residents to their homes is currently being developed. Final approval of that plan will depend on health authorities.
ExxonMobil Pipeline Company has established a claims hotline at 1-800-876-9291 for residents affected by the spill to register a claim and for more information. About 50 claims have been made to date.
Environmentalists warn that the Mayflower spill from ExxonMobil's Pegasus pipeline illustrates the risk that tar sands pipelines pose to American communities and the water resources they cross.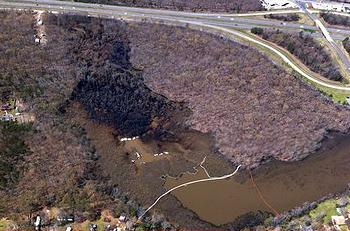 The Mayflower spill comes as the Obama Administration is considering whether or not to approve TransCanada's Keystone XL tar sands oil pipeline. The pipeline needs a Presidential Permit because it would cross the Canada-U.S. border.
Ahead of President Barack Obama's decision, the U.S. State Department's latest environmental assessment, issued in March, finds that a pipeline carrying tar sands oil poses no greater risk than pipelines carrying other types of oil. The State Department said the Keystone XL pipeline would have "no significant impact to the environment."
Tar sands oil leaves Alberta, Canada as thick, heavy bitumen diluted with a solvent to make it flow in a pipeline. This diluted bitumen is heavier and more difficult to clean up than ordinary heavy crude oil.
The U.S. EPA is still trying to get the Canadian company Enbridge to clean up tar sands oil from the company's July 2010 pipeline spill into the Kalamazoo River near Marshall, Michigan. Heavy rains caused the spilled oil to travel 35 miles downstream before it was contained.
In March, the EPA issued an administrative order requiring Enbridge to do additional dredging in sections of the river above Ceresco Dam, upstream of Battle Creek, and in the Morrow Lake Delta.
The dredging activity required by EPA will prevent submerged oil from migrating to downstream areas where it will be more difficult or impossible to recover.
On Sunday, Congressman Ed Markey, of Massachusetts, the top Democrat on the House Natural Resources Committee, expressed concerns about the transport and cleanup of Canadian tar sands oil following the Arkansas spill.
Markey again called on the Internal Revenue Service to close a tax loophole that allows oil companies to forgo paying money into an oil spill cleanup fund when importing tar sands oil. Earlier this year Markey introduced legislation to close the loophole.
"This latest pipeline incident is a troubling reminder that oil companies still have not proven that they can safely transport Canadian tar sands oil across the United States without creating risks to our citizens and our environment," warned Markey.
"Adding insult to injury, oil companies don't even have to pay a cleanup fee on imported tar sands oil to pay for costs of spills. So homeowners are left with a mess and the taxpayers foot the bill," said Markey. "Exxon should be forced to pay for all cleanup costs and assist affected Arkansas homeowners in whatever way they need."
"Whether it's the proposed Keystone XL pipeline, or this mess in Arkansas, Americans are realizing that transporting large amounts of this corrosive and polluting fuel is a bad deal for American taxpayers and for our environment," Markey said. "Tar sands oil is already the dirtiest, riskiest oil around, and should not be getting a free ride across America. It's time that we recognize the real effects producing and burning this oil will have on our climate, and the real world damage it can cause when it is spilled in our neighborhoods."
On the other side of Congress, on March 14, the U.S. Senate approved a bill that would give Congress, not the President, the authority to approve the long-delayed Keystone XL pipeline.
Arkansas Senator Mark Pryor, a Republican, co-sponsored the bipartisan legislation introduced by Senators John Hoeven, a North Dakota Republican, and Max Baucus, a Montana Democrat.
"The route has been approved and the studies have been completed. The President has been sitting on this valuable opportunity for far too long," Pryor said. "Our bill gives Congress the authority it needs to move forward with this vital project and create jobs here at home." Pryor has not commented on the Mayflower spill.
It is still not known what caused the 20-inch pipeline to burst or precisely how much oil spilled, Exxon officials said Monday. The cause of the spill is under investigation.
The spill comes just days after a National Wildlife Federation-led coalition called on federal agencies to develop stronger safety standards for pipelines carrying tar sands oil.
"It's clear we need tough new standards to protect wildlife, our natural resources and public health," said Jim Murphy, NWF's senior counsel. "Until the right standards are put into place, we shouldn't be exposing more communities and resources to tar sands risks."
Copyright Environment News Service (ENS) 2013. All rights reserved.