Illinois Plastics Recycler Indicted in Fox River Fish Kill
CHICAGO, Illinois, June 4, 2010 (ENS) – Illinois Attorney General Lisa Madigan announced criminal charges today in connection with dumping of a chemical cleaner into a South Elgin creek that leads to the Fox River in May. The chemical is alleged to have caused a fish kill in the creek.
A Kane County grand jury returned an indictment of D & Y Trade, Inc., a South Elgin wholesale plastics recycling business, its chief executive officer, Yu Tan Zheng, and An Hong, an employee at the business, on one felony count each of water pollution and additional charges of misdemeanor water pollution.
Officials in the Chicago suburb of South Elgin closed down the business on May 21 when they discovered D & Y Trade was illegally occupying a building in the 600 block of Sundown Road.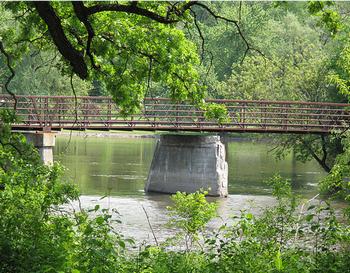 The Fox River at South Elgin, Illinois (Photo by JPatR)
The criminal charges are the result of the collaborative efforts of local, state and federal agencies: the South Elgin police and fire departments, the Attorney General's Office, the Illinois Department of Natural Resources, the Illinois Environmental Protection Agency, the U.S. Environmental Protection Agency, and the U.S. Coast Guard.
"As a result of the thorough investigative efforts of all of these law enforcement agencies, we were able today to obtain this indictment and will move swiftly to hold this company and these individuals accountable for violating the criminal environmental laws," said Madigan.
The Attorney General's Office coordinated the multi-agency investigation after South Elgin Police received a complaint from an area resident on May 15 that he had discovered foam and dead fish in his backyard pond and the nearby creek, which is located near the D & Y Trade facility.
Arriving at the scene, a South Elgin police officer observed an individual at the business allegedly pouring the contents of a blue plastic drum into a storm drain at the D & Y facility. The drain flows to a creek, which empties into the Fox River.
Dead carp, catfish, frogs and water snakes were pulled from the creek. A sampling of the material taken from the storm drain has been identified as an industrial cleaner toxic to fish and slow to biodegrade.
Based on today's indictment, the defendants will receive a summons requiring that they appear in court on July 9.
Felony water pollution is punishable by up to three years in prison and a $25,000 fine for each day of violation.
The Attorney General's Environmental Crimes Bureau Chief, Paula Becker Wheeler, and Assistant Attorney General Colette Kennedy will prosecute the case. The Kane County State's Attorney's Office is assisting with the prosecution.
The Fox River originates in Wisconsin and flows south until it meets the Illinois River at Ottawa, Illinois. Some one million people live in the South Elgin area surrounding the Fox River, known as the Fox Valley.
Copyright Environment News Service (ENS) 2010. All rights reserved.